Here are the current Special Offers – click on the links below to view each:
MY JUNE HOST CODE – KEJXG6EH
When you place an order for *$30+ using the link to my online store, you can pop my June Host Code into the Host Code box at the bottom of your Shopping Bag and I will be mailing you a sweet gift along with your Thank You card – in a world full of bills in the mailbox, who doesn't love to receive a little happy mail?  
So, what is that sweet gift this month?  In June, it's all about trying new fun stuff!  Place an order with me and you will receive…
ONE FREE BRAND NEW EMBELLISHMENT ITEM OF YOUR CHOICE FROM THE LIST BELOW…this is up to an $8.50 value for FREE! 
Here are the Adhesive items that you can choose from – which will you choose?
Pearl Basic Jewels
Rhinestone Basic Jewels
Mini Gift Bows
Faceted Gems – clear or gold
Mini Tassels Assortment
Sequin Assortment
Balloon Honeycomb Embellishments
Boxwood Wreath Embellishments
2016-18 In Color Glitter Acrylic Shapes
2017-19 In Color Bitty Bows
Gold Library Clips
Eclectic Shaped Paper Clips
Corrugated Elements
Hearts & Stars Elements
Touches of Nature Elements
Eastern Gold Vinyl Stickers
Naturally Eclectic Card Overlays
WOWZERS!  That is alot of choice for you!  Find them all on pgs 196-197 of the new Annual Catalog – which one will you choose?
To get your free embellishment item you MUST PLACE YOUR ORDER in my online store – click HERE to find it – AND you MUST PUT THE HOST CODE KEJXG6EH into the Host Code box!
Once done, simply EMAIL ME YOUR CHOICE OF FREE ITEM to sarah@sarahsinkspot.com and I will order your gift for you – it will ship to you separately from your order – it will come direct from me along with your Thank You card at the end of this month.
If your order is $150 or over, please do NOT use this Host Code as you will get your own rewards to spend on yourself – but I will still gift you a free gift too!  Once you have placed your order, please email me with your choice of free item and I will add it to my order for you.
*Please note that $30 is the amount of merchandise BEFORE shipping & handling and sales taxes are applied.
STAMPIN' UP!'S CURRENT SPECIALS:
THE NEW 2017-18 ANNUAL CATALOG IS NOW LIVE FOR ORDER – click HERE to find all the new goodies in the online store
Click on the picture of the cover below to view the new Catalog online – want a paper copy?  Please email me and I will be very happy to mail one to you!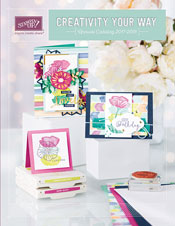 And don't forget that Stampin' Rewards are automatically applied to ALL orders over $150 – spend $150 and you get to choose $15 in free products – over this, the more you spend, the more you get for free!
What do you get to choose for your free Stampin' Rewards?
Choose ANY current Catalog products and/or the exclusive Host items that you can find by clicking HERE
And talking of rewards…during June Stampin' Up! are giving your MORE rewards on your qualifying orders!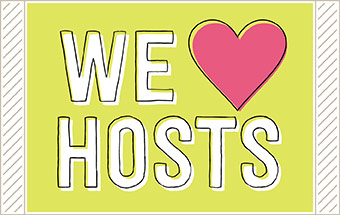 If you are planning to place a big order OR combine orders with a friend, you are going to score big with even more Host Rewards during June! Because during June, when your order merchandise total reaches $350 you are going to get an EXTRA HOST DOLLARS BONUS of $35 – this is going to give you a minimum of $77 of FREE PRODUCTS TO CHOOSE!
AND DON'T WORRY – YOU DON'T HAVE TO HOST A REAL PARTY! The name can be confusing, but this 'Host' promotion is for ANYONE who places an order of $350+ in my online store – yay!
Here is the table of Stampin Rewards for this promotion: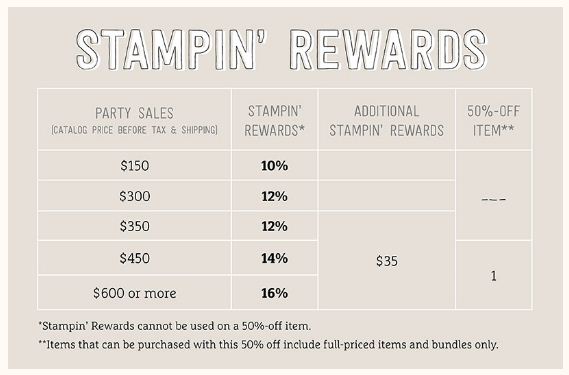 Got questions?  Please email them to me by clicking HERE