Hi and welcome – I'm Sarah Wills, an Independent Stampin' Up! Demonstrator and I LOVE what I do!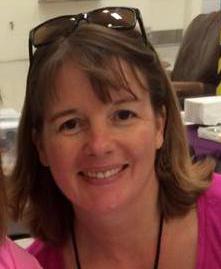 About me…
I live in northern Colorado and absolutely love it!  I am actually an English girl who moved to Austin Texas in early 2000 – in England I worked as a Registered Nurse traveling the countryside to visit patients in their homes but we had the opportunity to move here with hubby's job and so we decided to pack up and take the plunge to go live & work in a very different place…in fact we loved it here so much that we decided to stay and became Citizens in 2014! 
We lived in Texas until late 2021 – our kids had graduated high school and were spreading their wings in college, and so we decided to sell up and have an adventure ourselves!  After a lot of searching and thinking about where we wanted to land, we decided upon northern Colorado and we have not looked back – it is just beautiful here!
Aside from making our house our own and exploring Colorado in our travel trailer, my next project is learning how to garden in Colorado – after being used to gardening in England, then adjusting to gardening for 20 years in Texas, gardening in Colorado is a whole other adventure all by itself!
My stampin' background…
I became a Demonstrator in October 2007 – in fact just as soon as I could – the day after I received my social security number, I joined!
When we first moved here, I got out and about and met a lot of new people and along the way, discovered scrapbooking & card making – I absolutely loved my new found hobby and then I came across Stampin' Up! – and it opened up my world…
I loved it so much that I began to build up my business and in 2009 earned the #2 Rising Star Award – wow was I shocked!  And with it came a trip to Founders Circle held in St George UT with the top 100 US Demonstrators and what an experience that was…it made such an impression on me that I vowed to work hard to get back there – and that I did – another 5 times!
But the best bits about earning Rising Star were the lasting friendships that formed from that first Founders Circle trip – I met my wonderful stamping friends Kay Kalthoff and Sharon McNeely – and here we are on Awards Night that year – all in shock and stunned!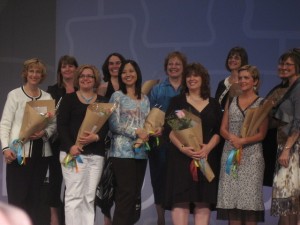 I love the opportunities that Stampin' Up! has given me to meet fellow crafters and make wonderful friendships across the miles, plus earn money to help support my family in a flexible way that fits right around my family's schedule…
It has also enabled me to travel to exciting places and be thoroughly pampered – so far I have achieved 6 Founders Circle trips to beautiful southern Utah (2009, 2011, 2012, 2013, 2014 & 2015) and many FREE incentive trips for myself & hubby to amazing places including Fiji, Hawaii, Thailand & Europe!
My commitment to you…
I truly believe that you get out of something what you put into it and I pride myself on working hard to achieve first rate customer service and have many very happy customers across the United States…
With each order you place in my online store I will mail you a thank you card that uses new products along with a sample or two – and during the month prior to a new catalog release, I mail out to all customers who have ordered with during the last year an envelope containing some samples of some of the new products, including the new In Colors for the annual Catalog release.
My customers have their orders delivered right to their door direct from Stampin' Up! and receive all of the hostess and promotional benefits that they are entitled to.  They also receive very prompt service – I pride myself on customer service and providing fast response to emails.
I use my blog to showcase products that I make and you can subscribe to receive all my blog posts in your email using the button to the right – you will also see a button to my customer mailing list to receive my Newsletter too.  Additionally you can find me on social media – please use the buttons on the top right of my side bar to follow me – thank you!
If you do not have a demonstrator and would like a copy of the current Stampin' Up! Catalogs, please contact me and I will be very happy to get them into the mail to you – I would love to have you become one of my customers or a member of my team – the Ink Spot Stampers – if you have any questions please contact me and I will be very happy to help.
Thank you for visiting – I truly appreciate your time,