THIS MONTH'S HOST CODE –  HBQF22XH 
FOR TWO WEEKS ONLY – SEPT 16-30 2019 – USE THIS HOST CODE ON YOUR ORDER AND GET A FREE PACK OF HOLIDAY CATALOG BOXES – THERE ARE 2 TO CHOOSE FROM!
When you place an order for *$50+ using the link to my online store from SEPTEMBER 16-30 + you put this September Host Code – HBQF22XH – into the Host Code box at the bottom of your Shopping Bag, I will be mailing you…
ONE FREE PACK OF BOXES FROM THE HOLIDAY CATALOG!  CHOOSE FROM GOLD FOIL BOXES OR COFFIN BOXES!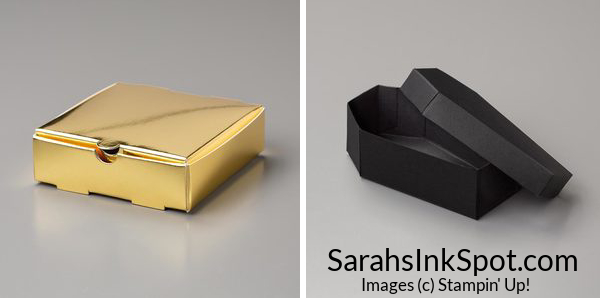 Which will you choose?
EXTRA EXTRA!!!  WHEN YOU SPEND *$100+ in my online store & use that Host Code you will receive BOTH!
How do you place your order?
Click HERE to visit my online store where you can shop 24/7
To get your free gift from me you absolutely MUST PLACE YOUR ORDER in my online store AND YOU MUST PUT THIS MONTH'S HOST CODE – HBQF22XH – into the Host Code box!
Once done, I will be automatically notified of your order and will add your free gift(s) to my order.  Your free gift will ship to you separately from your order,  direct from me along with your Thank You card later this month.  
If your order is $150 or over, please do NOT use this Host Code when shopping with me as you will get your own rewards to spend on yourself – but I will still gift you a FREE GIFT as detailed above as a BIG thank you! 
PLEASE NOTE THAT YOU ABSOLUTELY MUST USE THE HOST CODE ON ORDERS OF LESS THAN $150 IN ORDER TO GET YOUR FREE GIFT – NO EXCEPTIONS can be made!  
$50/$100 is the amount of merchandise BEFORE shipping & handling and sales taxes are applied