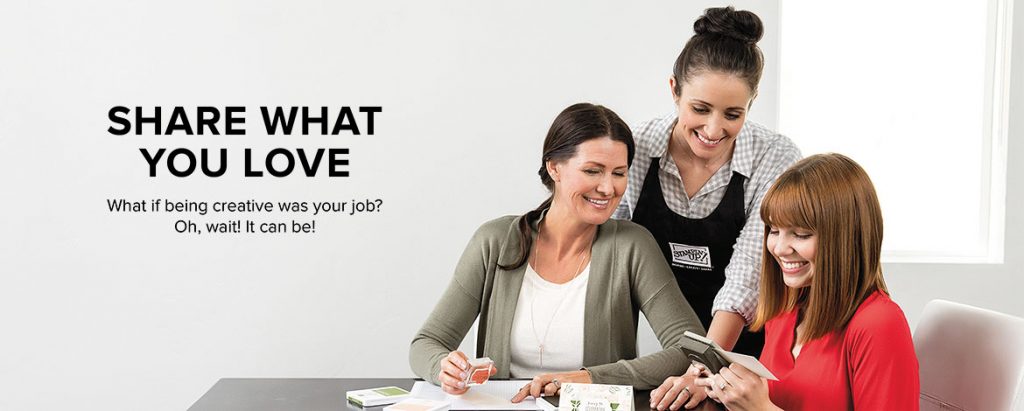 Love to paper craft?  Become a Stampin' Up! Demonstrator and open up your creative world and get at least a 20% discount on all of your favorite Stampin' Up! products all of the time!
You can join for JUST $99 and for that you get to fill your Starter Kit with absolutely any $125 worth of products – AND it ships to you for free too!
I did it and I have never looked back!  I joined simply to be a 'hobby' demonstrator and get a discount on product – but then a friend ordered from me and I realized how fun it is to craft with others and just how much I loved to share my hobby and so I began to build a business out of it…
Hobby or career/business demo?
All demonstrators are just that – demonstrators in the eyes of Stampin' Up! – there is no distinction or categorising – we  all join as Demonstrators and are all known by that one word…
BUT you may hear the terms 'hobby' and 'career/business' demos in the crafting world – so what's the difference?
If you are a hobby demonstrator or hobbyist –  you join simply to get a 20% discount on Stampin' Up! product and you get all of the perks and opportunities that any demonstrator gets including the option to attend events, receive free copies of new catalogs & publications, pre-ordering new products including Sale-a-bration items – all of it – the same as every other demonstrator!  You might take orders sometimes to help you out with your minimums but mostly it's all you!
If you are a career or business demo – then you have decided to make some money out of being a demonstrator and you take orders and build a team – you can do either or both of those – you can do things in person such as workshops & classes and/or have an online presence – the choice is entirely yours!  And because you are building your business, you get to work towards earning free incentive trips, cash bonuses and flex points to redeem for free items!
Or you might be between the two – you might simply hold a few classes or host a crop or take some orders from friends in the fall to make some extra money for the Holidays or spring for summer vacation…
The great thing about all of this is that you can do what you want, when you want to do it – no pressure, no strings, no risk!
About joining:
What do you get with the $99 Starter Kit?
You pay $99 and you choose up to $125 worth of ANY Stampin' Up! product to put into your kit
Once you have joined you get:
a minimum 20% DISCOUNT on ALL of your orders
the chance to earn more commission based on your personal & customer purchases
Stampin' Rewards (hostess benefits) on ALL of your orders of $150+
to see the new Catalogs online about a month before customers do & you also get a free paper copy too!
to pre-order new products about a month before customers do!
And there is no risk:
there is absolutely NO obligation for you to sell or purchase anything else ever again!
to remain an active Demonstrator you need to purchase or submit orders of $300 per quarter
Stampin' Up!'s quarters are Jan-Mar, Apr-Jun, Jul-Sept, Oct-Dec
the first quarter that you sign up in is *waived, giving you extra time to try it out!
if you meet your $300 in sales/purchases by the end of your quarter, you automatically stay a demo
if you do not meet that, you go into 'pending' for 1 month – this is a grace month giving you a chance to make it up
if you do meet it, you stay current – if you don't, you simply drop
and there is NO penalty to drop – you keep everything in your Starter Kit and you simply go back to being a customer!
*  The quarter that you join in is waived – meaning when you join now – IN OCTOBER – you will have until April 30th 2021 to purchase or sell your first $300 in product!
That is the thing I absolutely love – NO pressure to do anything ever – no obligation to buy or sell, and no obligation to hold any parties or workshops or classes – YOU are the person who decides it all!
AND YES – if you have been a demonstrator before but dropped, you CAN join again – ANYTIME!
How do you Join?
Simply & quickly by filling out an online agreement & Starter Kit form!  When you are ready, make sure you have your personal details handy (including social security number & debit or credit card) AND your list of items you want to put into your Starter Kit – as soon as you have completed the online paperwork, you will receive an email from Stampin' Up! congratulating & welcoming you…
That email will also include your login information for the Demonstrator website – log in and you can have a good look around at everything including a special section just for new demonstrators called Stampin' University AND you can also place your first order too – the same day as you join!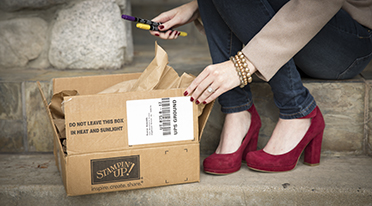 Would you like more information or do you have questions?
Click HERE to find my FAQ's
Click HERE to email me your questions