PAPER PUMPKIN is a fabulous subscription service that delivers a Kit to your door every month that contains absolutely everything that you need to create a set of cards or a project – including the Stamps & Ink!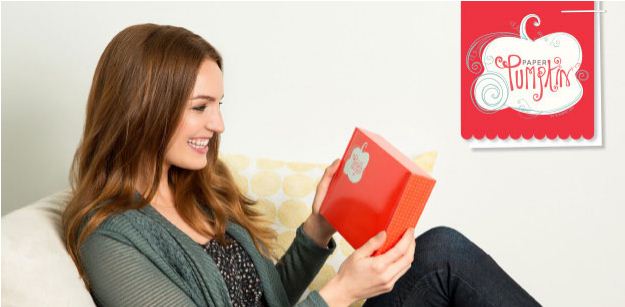 AND there are TWO different ways for you to subscribe – Prepaid or Monthly – pick which works best for you…
AND FAB NEWS – NEW SUBSCRIBERS GET SEPTEMBER'S PAPER PUMPKIN KIT AT 50% OFF!
Yup – if you've not tried it before, you can give Paper Pumpkin a whirl for one month for only $9.98 – delivered to your door!

Each kit contains a stamp set, ink spots and supplies needed to create a set of cards or project – all you need is to provide the time and some Snail adhesive!
Click HERE to try it – you MUST put the offer code HALFOFF0917 into the code box to get this pricing

If you are prompted to select a Demonstrator please select me – Sarah Wills in Volente TX – I appreciate it!
BUT HURRY – YOU MUST SIGN UP BY SEPTEMBER 10th TO GET THIS FAB DEAL!
You can choose to prepay for 1 or 3 or 6 or 12 months – this is a fantastic option and can SAVE YOU a bunch of money making each month as low as $17.92!  
You can find the Prepaid options in the online store by clicking HERE – simply add the item code into your Shopping Bag and check out – you will then receive an email from Stampin' Up! containing your redemption codes that you pop into a box at www.MyPaperPumpkin.com – once you have done this, your subscription will be activated – sit back and await the arrival of your first orange box!
And even more perks – because you place these on a regular order, Prepaid Subscriptions count TOWARDS you getting Hostess Rewards!
Here are your Prepaid options: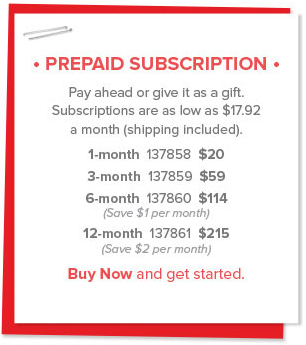 Did you know that you can purchase Prepaid Subscriptions as gifts for someone else?
With the Holidays just around the corner, it's a great gift idea for the papercrafters in your life – it's the gift that keeps on giving!
CLICK HERE TO FIND PREPAID SUBSCRIPTIONS  IN THE ONLINE STORE!

Or go the PAY AS YOU GO MONTH-TO-MONTH way – with this option you pay $19.95 per month (this includes shipping) and you can cancel or skip a month anytime you wish to – simply click a box on the website – no need to talk to anyone to do that!
Sign up before the 10th of any month, and your first kit will ship to you around the 15th of that month – to continue to receive your Paper Pumpkin kits, you simply do nothing – they will automatically ship out to you around the 15th every month!
CLICK HERE TO SUBSCRIBE MONTHLY!
ABOUT PAPER PUMPKIN
Paper Pumpkin is a monthly subscription service from Stampin' Up! – each month you receive a fabulous orange box in your mail and inside is a Kit – Card or Project – usually seasonal – and in each kit everything comes pre-cut, color coordinated and measured – all you have to do is the FUN bit of putting it all together with your own adhesive tape!
These kits are fabulous to take on road/plane trips too – with the Holiday season coming this is a fabulous way for you to take along some projects to do when visiting family without packing a ton of crafting supplies – it's a way to travel light and still get your stampin' fix!
I take mine when we go glamping in our Travel Trailer – its the perfect thing to grab & pack and I know that the only extra things I need are a clear block, scissors and my Snail adhesive!
AND you can gift them – my girls LOVE putting these kits together and I love seeing their creativity in what they make with them – AND it's a fun & fast way to craft with them!
To give you an idea of what you might get in a Kit:
This was the June 2017 Kit – we received a kit that contained EVERYTHING needed to make these fabulous cards & goodie bags – perfect for summer gatherings and oh so cute!

And here was the kit we received the month before, in May – a kit that contained everything needed to make 9 cards including 3 round ones and a very fun donut themed stamp set!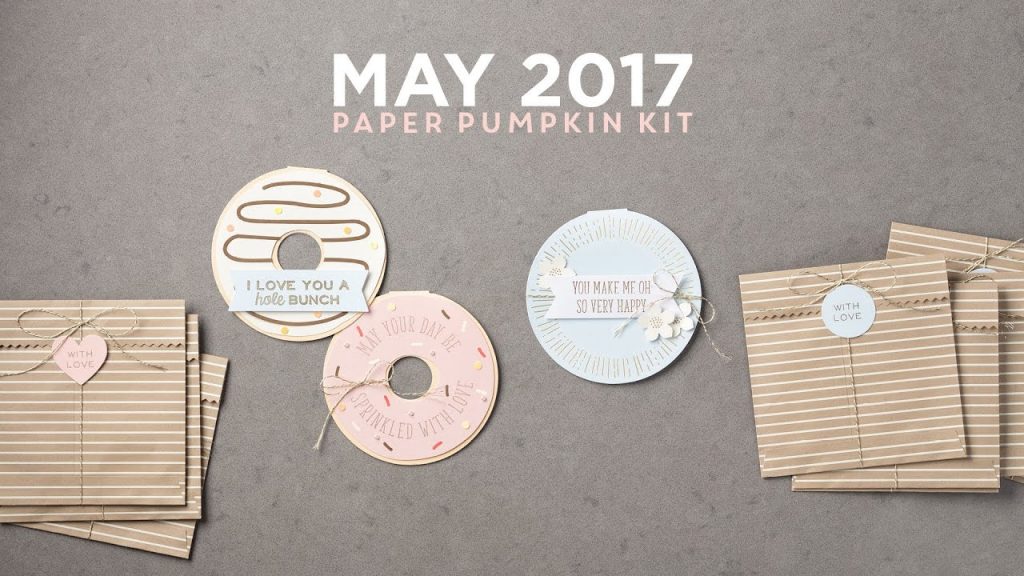 AND Stampin' Up! release REFILL KITS that are only available to subscribers so that you can create even more projects – find those refill kits that are currently available by clicking HERE
CLICK HERE TO FIND LOTS MORE VIDEOS OF PAST KITS ON THE PAPER PUMPKIN YOU TUBE CHANNEL!