PAPER PUMPKIN is a fabulous subscription service that delivers a Kit to your door every month that contains absolutely everything that you need to create a set of cards or a project – including the Stamps & Ink!  AND there are TWO different ways for you to subscribe – Prepaid or Monthly – pick which works best for you!
CURRENTLY ENROLLING SUBSCRIBERS FOR A NEW BEAUTIFUL CHRISTMAS THEMED KIT WHICH WILL ARRIVE TO YOU MID-OCTOBER!!!  

This kit is called PEACEFUL CHRISTMAS and if you want to receive this kit you MUST SUBSCRIBE BY OCTOBER 10th but DON'T WAIT – it might SELL OUT BEFORE THAT DATE!

With PEACEFUL CHRISTMAS, this glimmering and gleaming kit is your creative kickstart to Christmas cardmaking!  With sprinkles of snow, shimmering silver skies, and heartwarming holiday wishes, you'll have enough elements and embellishments to create 10 Christmas cards AND coordinating envelopes – PLUS you also get an EXCLUSIVE STAMP SET and a CLASSIC STAMPIN INK SPOT – and it all comes in a pretty box!
Speaking of coordination, make even more Christmas magic with Peaceful Place products!  The stunning Peaceful Place Suite Collection (item 156277) pairs perfectly with the kit's components. Brew a cup of cocoa, snuggle up with a soft blanket, and prepare for a cozy craft night in!
AND WHEN YOU SUBSCRIBE WITH ME TO GET THIS KIT USING ONE OF THE LINKS BELOW BY OCTOBER 10th 2021 I WILL BE MAILING YOU A FREE GIFT AFTER YOUR KIT SHIPS TO YOU WHICH IS A CLASSIC STAMPIN INK PAD IN THE COLOR OF YOUR CHOICE!   PLUS I will email you FIVE FREE PROJECT SHEETS to show you 5 alternate ways to use the items in your kit! 
REMEMBER THAT YOU MUST SUBSCRIBE TO GET THIS KIT BY OCTOBER 10th – please note that supplies may be limited toward the end of the subscription period – my advice if want this kit?  SUBSCRIBE NOW!
THIS IS MY OWN PERSONAL SPECIAL OFFER AND IS ONLY VALID FOR CUSTOMERS WHO SUBSCRIBE TO GET THEIR KIT WITH ME USING ONE OF THE TWO LINKS BELOW!
How do you do this? 
You have TWO OPTIONS – and with both options you can cancel or put your subscription on hold any time just by clicking a button on the website! 
OPTION 1 – AUTOMATIC MONTHLY SUBSCRIPTION 
CLICK HERE

to visit

paperpumpkin.com and create your subscription account – you will automatically be subscribed and billed so that you don't miss a single month.  Want to cancel or put on hold when you need to?  Simply log in and change your selections – easy as that!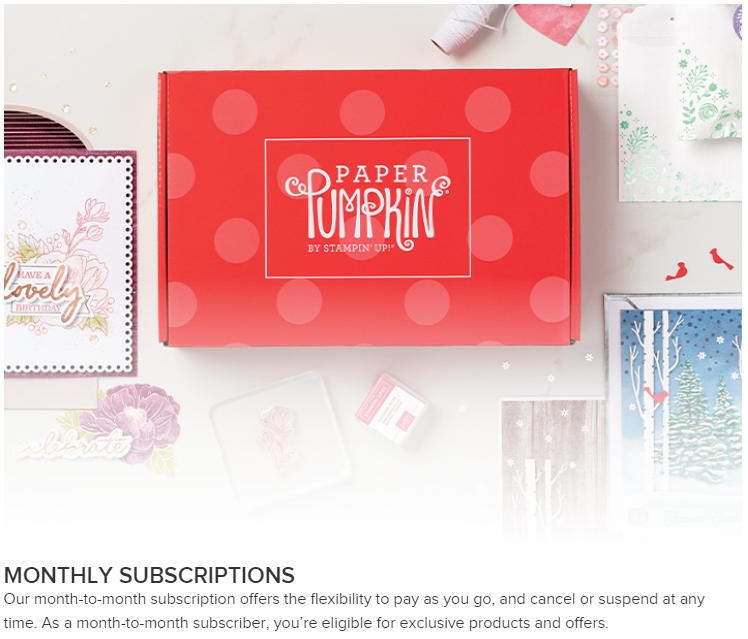 OPTION 2 – PREPAID SUBSCRIPTIONS
CLICK HERE to see these options in the online store

There are 1, 3, 6 and 12 month options to choose from – purchase the one you would like and you will receive an email with a code in it – go to paperpumpkin.com to pop in your code and your kit will be on it's way!

As with Option 1, you can cancel or put on hold your kits at any time

BONUS – these purchases count towards Stampin Rewards AND when you use my MONTHLY HOST CODE on qualifying orders you will also receive my host code gift too!  (valid on orders of $50+)  CLICK HERE to find out more!
AND EVEN MORE BONUS!  THROUGH SEPTEMBER 30th YOU ALSO EARN SALE-A-BRATION REWARDS ON THESE PURCHASES TOO!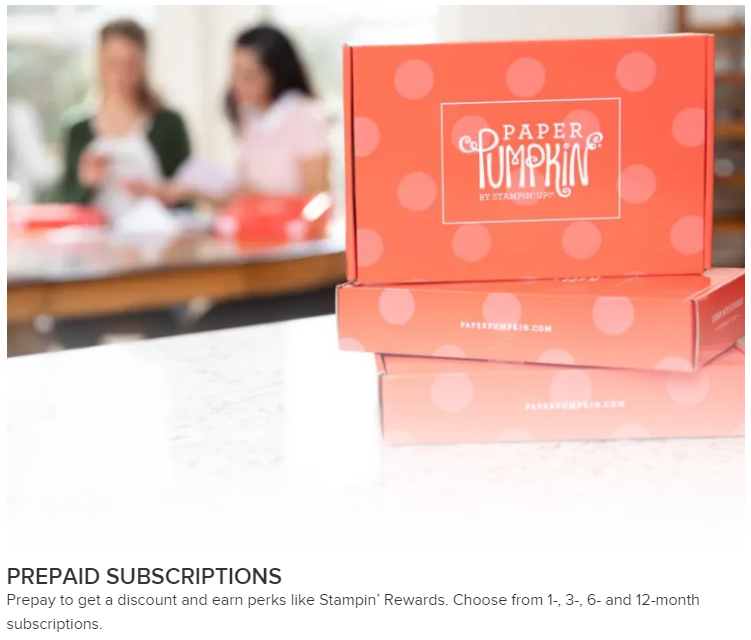 CLICK ON ANY OF THE PREPAID OPTIONS BELOW TO SEE THEM IN THE STORE: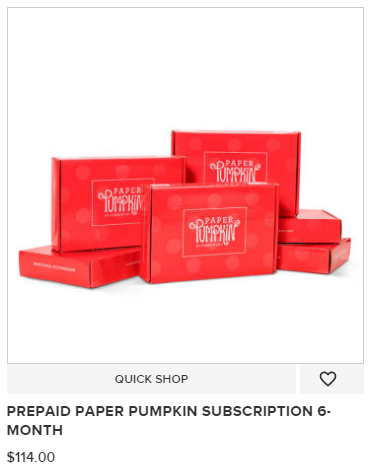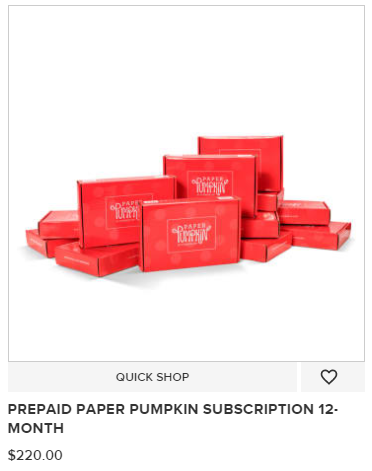 NOW YOU HAVE PURCHASED YOUR PREPAID CODES, HOW DO YOU REDEEM THEM TO GET YOUR KITS?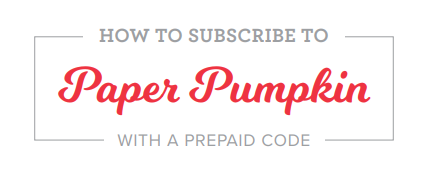 AND DID YOU KNOW THAT YOU CAN PURCHASE PREPAID CODES TO GIFT TO SOMEONE ELSE?
With the Holidays just around the corner, it's a great gift idea for the papercrafters in your life – it's LITERALLY the gift that keeps on giving!
AND THERE'S MORE!  
Sometimes Stampin' Up! offers EXCLUSIVELY TO CURRENT SUBSCRIBERS the chance to purchase REFILL KITS, PAST KITS AND ADD-ON PRODUCTS!
Click HERE

to find out what is currently available to you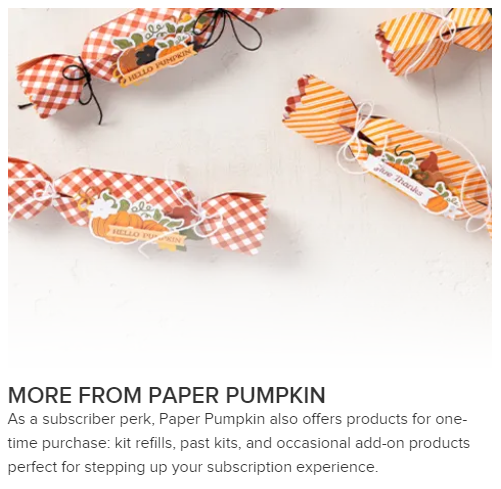 WONDERING WHAT IT'S ALL ABOUT? 
You can see past kits and watch videos detailing them by clicking HERE – scroll down to the bottom of that page to find them…

And you can see that EACH video has a link beneath it to download the stamp case insert so you can print it out and pop your stamp sets into those CLING MOUNT STAMP SET CASES that you can purchase in the store by clicking HERE!
GOT QUESTIONS ABOUT PAPER PUMPKIN?
Happy papercrafting!