PAPER PUMPKIN is a fabulous subscription service that delivers a Kit to your door every month that contains absolutely everything that you need to create a set of cards or a project – including the Stamps & Ink!  AND there are TWO different ways for you to subscribe – Prepaid or Monthly – pick which works best for you!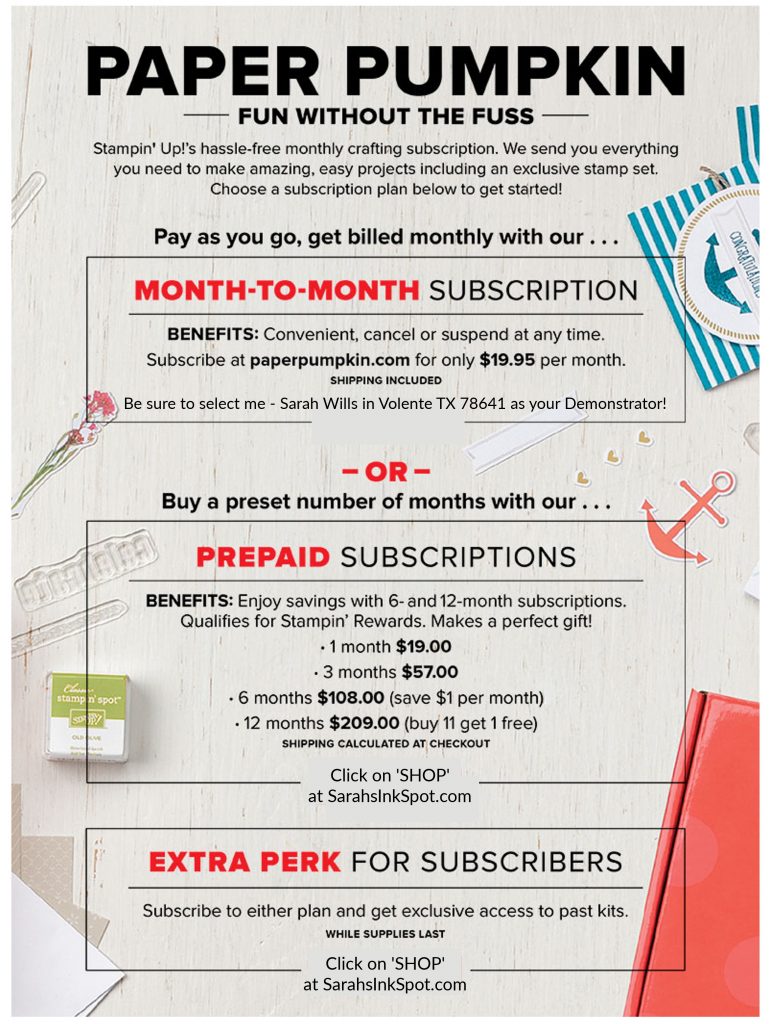 AND FAB NEWS – NEW SUBSCRIBERS GET AUGUST'S PAPER PUMPKIN KIT AT 50% OFF!
Yup – if you've not tried it before, you can give Paper Pumpkin a whirl for one month for only $9.98 – delivered to your door!

Each kit contains a stamp set, ink spots and supplies needed to create a set of cards or project – all you need is to provide the time and some Snail adhesive!
Click HERE to try it – you MUST put the offer code BLOOM0818 into the code box to get this pricing

If you are prompted to select a Demonstrator please select me – Sarah Wills in Volente TX – I appreciate it!
BUT HURRY – YOU MUST SIGN UP BY AUGUST 10th TO GET THIS FAB DEAL!

With the PAY AS YOU GO MONTH-TO-MONTH option you pay $19.95 per month (this includes shipping) and you can cancel anytime you wish to – simply click a box on the website – no need to talk to anyone to do that!
Sign up before the 10th of any month, and your first kit will ship to you around the 15th of that month – to continue to receive your Paper Pumpkin kits, you simply do nothing – they will automatically ship out to you around the 15th every month!


You can choose to prepay for 1 or 3 or 6 or 12 months – this is a fantastic option and can SAVE YOU a bunch of money making each month as low as $17.42 – here are your options: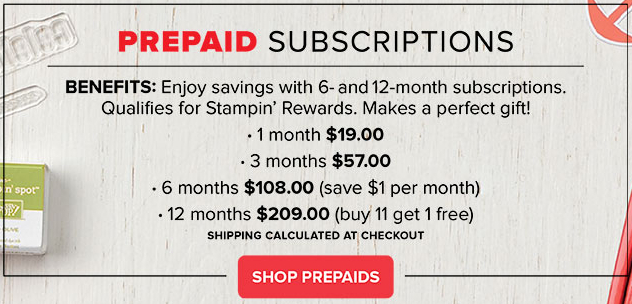 CLICK HERE

to find the Prepaid options in the online store 

Add the item code into your Shopping Bag and check out as usual

You will then receive an email from Stampin' Up! containing your redemption codes that you pop into a box a

t www.MyPaperPumpkin.com

Once you have done this, your subscription will be activated – sit back and await the arrival of your first orange box!
And even more perks – because you place these on a regular order, Prepaid Subscriptions count TOWARDS you getting Hostess Rewards!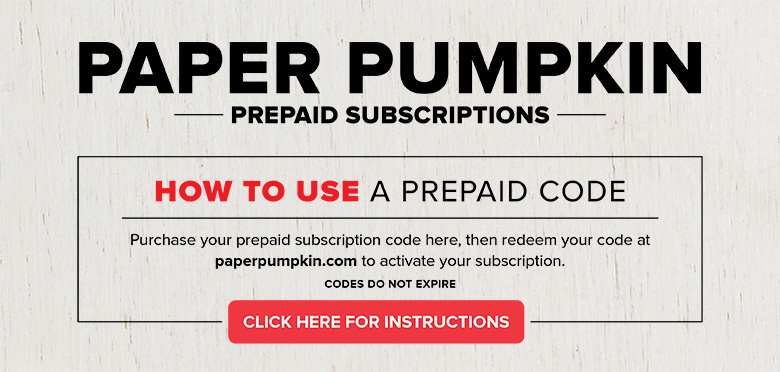 Did you know that you can purchase Prepaid Subscriptions as gifts for someone else?
With the Holidays just around the corner, it's a great gift idea for the papercrafters in your life – it's the gift that keeps on giving!

Wondering what it's all about?  You can see past kits and watch videos detailing them by clicking HERE – scroll down to the bottom of that page to find them…

And you can see that EACH video has a link beneath it to download the stamp case insert so you can see the images and be super organized with your collection!