IT'S HERE – Stampin' Up! have released the list of those Stamp Sets retiring on May 31st 2012…
IT MEANS THAT AFTER JUNE 1ST THE STAMP SETS ON THAT LIST WILL NO LONGER & NEVER BE AVAILABLE FOR PURCHASE AGAIN – THEY WILL BE GONE FOR GOOD!!!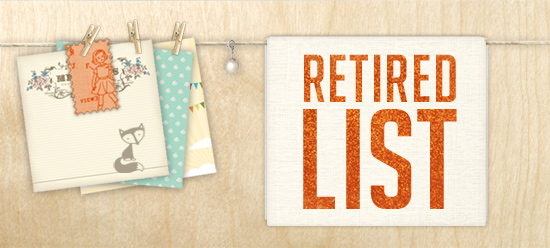 The list of retiring Clear Mount Stamp Sets is below – to view the MUCH BIGGER LIST of those available in Wood Mount click HERE
To make it super easy for you, each Stamp Set below has a link that you can click on which will take you directly to my online store where you can view it, add it to your basket and check out…

Want more than one Stamp Set?
No problem – even when you have added a stamp set to your basket, you can come back here, click on another set and then add it to the exact same basket – making check out as easy as pie!

AND DON'T FORGET THAT WHEN YOU PLACE AN ORDER FOR $50+ WITH ME DURING APRIL…
I am going to GIVE YOU A FREE a copy of the brand new 2012-2013 Annual Catalog – and I'll even mail it to you for free as well –  click here to find out more!
Here is that list of Retiring Clear Mount Stamp Sets:
| Page | Description | Clear Mount Item # | Price | Buy Now |
| --- | --- | --- | --- | --- |
| 16 | Turtle & Co. | 122872 | $14.95 | Buy Now |
| 23 | Dark & Dreary | 121151 | $14.95 | Buy Now |
| 23 | Scaredy Cat | 122557 | $14.95 | Buy Now |
| 28 | Studio Sketches | 122222 | $13.95 | Buy Now |
| 33 | Contempo Christmas | 120594 | $11.95 | Buy Now |
| 34 | Holiday Happiness | 120792 | $11.95 | Buy Now |
| 36 | Welcome Christmas | 120597 | $19.95 | Buy Now |
| 41 | Merry Winter | 122702 | $14.95 | Buy Now |
| 42 | Tidings of Joy | 122687 | $14.95 | Buy Now |
| 45 | A Christmas Carol | 122637 | $15.95 | Buy Now |
| 46 | I {Heart} Hearts | 118571 | $18.95 | Buy Now |
| 47 | Valentine Love | 122697 | $14.95 | Buy Now |
| 47 | With All My Heart | 118623 | $13.95 | Buy Now |
| 48 | He Is Risen | 121988 | $14.95 | Buy Now |
| 49 | Messages for Mom | 118580 | $18.95 | Buy Now |
| 53 | House & Home | 122577 | $14.95 | Buy Now |
| 55 | Not So Seriously | 123087 | $25.95 | Buy Now |
| 58 | Take a Spin | 122015 | $20.95 | Buy Now |
| 60 | Sweetheart | 120780 | $15.95 | Buy Now |
| 61 | Something Sweet | 118589 | $19.95 | Buy Now |
| 63 | Under the Big Top | 122877 | $18.95 | Buy Now |
| 67 | Party This Way | 120609 | $11.95 | Buy Now |
| 70 | For Everything | 120459 | $17.95 | Buy Now |
| 73 | Friends Fur-ever | 120504 | $25.95 | Buy Now |
| 73 | Tote-ally Tess | 118595 | $16.95 | Buy Now |
| 74 | The Nicest Things | 120531 | $14.95 | Buy Now |
| 77 | Little Lambs | 120525 | $16.95 | Buy Now |
| 79 | Pendant Park | 120012 | $17.95 | Buy Now |
| 80 | Always Elegant | 120477 | $11.95 | Buy Now |
| 85 | Little Princess | 122727 | $14.95 | Buy Now |
| 85 | Nursery Times | 122812 | $14.95 | Buy Now |
| 86 | Family Business | 120471 | $17.95 | Buy Now |
| 87 | Pony Party | 120015 | $15.95 | Buy Now |
| 88 | Fox & Friends | 118565 | $14.95 | Buy Now |
| 88 | Funky Four | 120438 | $11.95 | Buy Now |
| 89 | Furry Folk | 122306 | $17.95 | Buy Now |
| 90 | Best Friends Forever | 122807 | $17.95 | Buy Now |
| 90 | Grunge Rock | 120555 | $15.95 | Buy Now |
| 92 | Barnyard Buddies | 122542 | $12.95 | Buy Now |
| 92 | Goal | 120639 | $8.95 | Buy Now |
| 92 | Home Run | 120642 | $8.95 | Buy Now |
| 92 | Slam Dunk | 120552 | $8.95 | Buy Now |
| 92 | Touchdown | 120636 | $8.95 | Buy Now |
| 96 | From Your Teacher | 122732 | $10.95 | Buy Now |
| 101 | Homegrown | 120486 | $16.95 | Buy Now |
| 101 | Uncharted Territory | 120456 | $14.95 | Buy Now |
| 104 | In Wilderness | 120537 | $16.95 | Buy Now |
| 107 | Friends Never Fade | 120618 | $13.95 | Buy Now |
| 110 | Awash with Flowers | 120549 | $27.95 | Buy Now |
| 117 | Paisley Petals | 122547 | $18.95 | Buy Now |
| 118 | Butterfly Prints | 120738 | $12.95 | Buy Now |
| 118 | Growing Green | 120624 | $16.95 | Buy Now |
| 119 | Cottage Garden | 120003 | $14.95 | Buy Now |
| 120 | Plant Hope | 120540 | $15.95 | Buy Now |
| 122 | Happiness Shared | 120534 | $12.95 | Buy Now |
| 123 | Autumn Days | 120000 | $17.95 | Buy Now |
| 123 | Every Moment | 120522 | $13.95 | Buy Now |
| 124 | Flower Fest | 122280 | $19.95 | Buy Now |
| 128 | Notably Ornate | 120561 | $17.95 | Buy Now |
| 130 | Out West | 120543 | $14.95 | Buy Now |
| 133 | Frame It | 122852 | $18.95 | Buy Now |
| 135 | Have a Seat | 120447 | $11.95 | Buy Now |
| 135 | Timeless Treasures | 120615 | $15.95 | Buy Now |
| 136 | Charming | 125829 | $14.95 | Buy Now |
| 136 | Clearly for You | 121976 | $17.95 | Buy Now |
| 140 | Style Beautiful | 120483 | $16.95 | Buy Now |
| 141 | Floral Fillers | 122782 | $17.95 | Buy Now |
| 147 | Vintage Vogue | 118598 | $17.95 | Buy Now |
| 148 | Borderlines | 122642 | $16.95 | Buy Now |
| 155 | Party Time | 124342 | $14.95 | Buy Now |
| 156 | You're a Gem | 122270 | $11.95 | Buy Now |
| 158 | Sweetly Said | 122862 | $12.95 | Buy Now |
| 159 | Notes & Details | 122060 | $18.95 | Buy Now |
| 165 | Inviting | 120630 | $16.95 | Buy Now |
| 167 | Heard from the Heart | 120006 | $16.95 | Buy Now |
| 169 | Empire Alphabet Lower | 122837 | $23.95 | Buy Now |
| 169 | Empire Alphabet Upper | 122792 | $23.95 | Buy Now |
| 169 | Spencerian Alphabet Lower | 123072 | $23.95 | Buy Now |
| 169 | Spencerian Alphabet Upper | 122787 | $31.95 | Buy Now |
| 170 | Sweet Shoppe Alphabet Lower | 120648 | $23.95 | Buy Now |
| 170 | Sweet Shoppe Alphabet Upper | 120582 | $23.95 | Buy Now |
| 171 | Broadsheet Accents | 120621 | $11.95 | Buy Now |
| 24 | Paz y Amistad (Celebrando Creatividad)* | 124672 | $18.95 | Buy Now |
| 10 | Array of Sunshine | 122487 | $8.00 | Buy Now |
| 10 | Happiest Birthday Wishes | 122617 | $15.00 | Buy Now |
| 11 | Posy Punch | 122482 | $9.00 | Buy Now |
| 12 | Perfect Words | 122472 | $9.00 | Buy Now |
| 12 | Simply Soft | 122567 | $11.00 | Buy Now |
| 13 | Faith in Nature | 122492 | $8.00 | Buy Now |
| 13 | Tagtastic | 122747 | $10.00 | Buy Now |
| 14 | Ain't Love Grand | 122507 | $10.00 | Buy Now |
| 15 | Precious Butterflies | 122517 | $12.00 | Buy Now |