If you received this Coffee Filter Witches Broom Treat Kit in the mail from me, here is where you will find how to put it together…
In your Kit you will find the coffee filters, cello tube bag, punched shape and twine that you need to put it together – just add a piece of candy or a straw or a pencil for the broomstick – and then it's ready for gifting!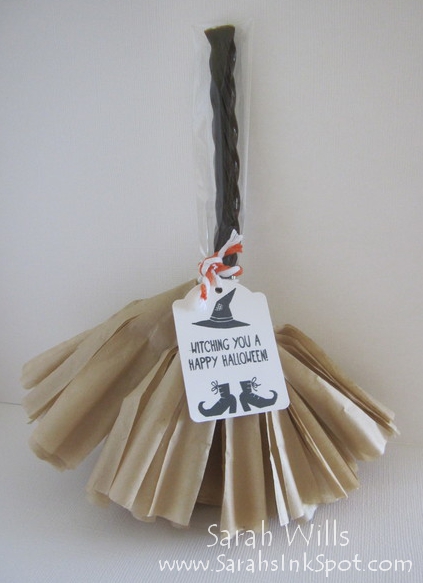 To make the broom:
Take your coffee filters and open them up – separate them for maximum 'fluff'…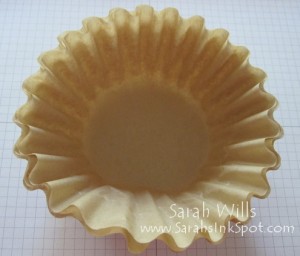 Keep them in a stack and fold in half…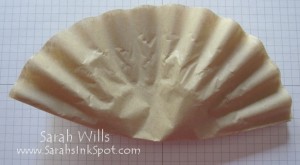 And half again…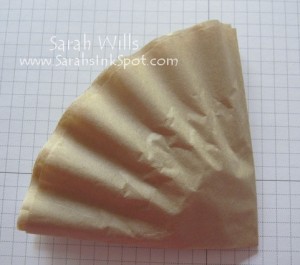 Using a pair of scissors, cut slits from the edge up towards the center – a good place to stop cutting is where the filter is smooth and not ruffled…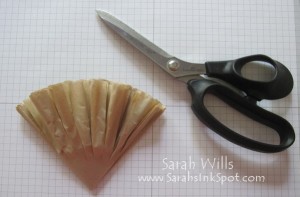 And this is what you will have…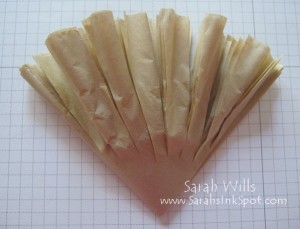 Then cut a small piece out of the pointed end – this will create a hole through which you push the broomstick…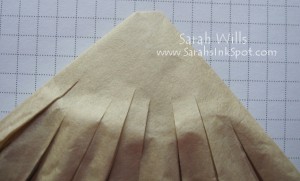 And then open up the filters…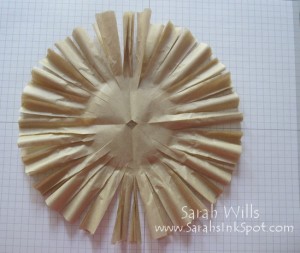 The broomstick:
You can fill a cello tube bag with a black Twizzler or for non-candy items, you can either use a black or halloween themed pencil or straw (you don't need a tube bag for those items).
I used a Twizzler for mine that I popped into a perfectly sized food safe 1″ x 8″ Cello Tube Bag – pg 200 of the annual Catalog – or click HERE to find them online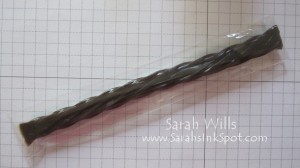 If you want to use non-candy items, I found some examples in the Target dollar spot that would be perfect to use for broomsticks…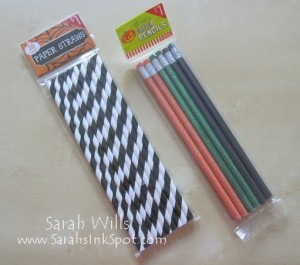 LOVE both those stripey straws and glittery pencils!
Whichever you decide to go with, post the broomstick through the hole in the filter – you can secure it in place either using a piece of scotch tape or tie around a piece of twine or thread.
And tie around the piece of Tangerine White Two Tone Twine – and add the tag – you can stamp using any stamps you wish – for the tag here I used three stamps from the new photopolymer set Tee-Hee-Hee that you can find on pg 47 of the Holiday Catalog or online by clicking HERE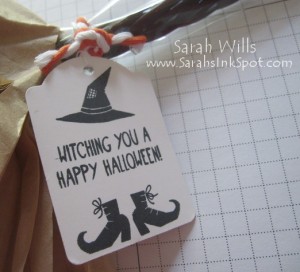 Sarah's Note:  I just LOVE using photopolymer stamps for projects like this – I used three individual stamps from Tee-Hee-Hee to make my tag and check this out – you can put ALL THREE of them on the same block – meaning you stamp them ALL at the same time – meaning that the three stamps are stamped together just as if they were one individual stamp!  LOVE it!  This makes stamping a bunch of tags quick & easy!
Here is my single block with them all in place…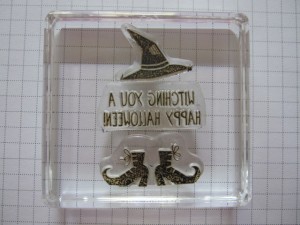 And here is the finished broomstick with tag attached…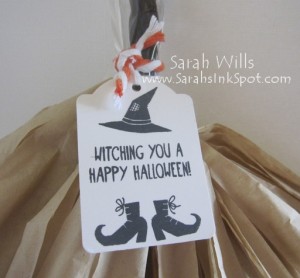 Want to make some more Coffee Filter Witches Broom treats like this? 
You will need…
Coffee filters – to get that broom effect, be sure to get the 8-12 cup Basket size in a natural or brown color

Cello tube bags – if you are using a stick of candy, you will want to protect it in food safe packaging – you can find 1″ x 8″ Cello Tube Bags perfect for this project on pg 200 of the Catalog or online by clicking HERE
The twine – is called White & Tangerine Two Tone Twine that you can find on pg 45 of the Holiday Catalog – or online by clicking HERE – it is a great deal at just $4.95 for 10 yards – this is more than enough for many many treats!
The tag – I made my tag shape using the Note Tag Punch that you can find on pg 13 of the Holiday Catalog – or online by clicking HERE – it is perfect for Halloween because it has a very cool gravestone shape too!

Stamps for the tag – you can use whatever halloween sentiment stamps you have to hand – I used three stamps from the photopolymer stamp set called Tee-Hee-Hee – you can find it on pg 47 of the Holiday Catalog or online by clicking HERE
Supply list for this box:
Cardstock:  Whisper White (100730)
Punch: Note Tag (135860)
Stamps: Tee-Hee-Hee (135125)
Ink: Memento Black (132708)
Misc: Natural Basket Coffee Filters, Candy, White & Tangerine Tango Two Tone Twine (135838), White Bakers Twine (124262), Tape