Stampin' Up! have announced that in the next big Catalog debuting in July there will be a BIG color renovation – this is very exciting news as we are seeing the release of 5 BRAND NEW colors along with the return of TEN previous In Color favorites!  I am sooo excited for the return of Pink Pirouette and Baja Breeze – my absolute favs!!!
Additionally ALL colors will be available in Markers, Watercolor Crayons and Pastels – this is fab news for you watercolorers out there!  These colors and options will be available to everyone from July 1st – but if you are a demonstrator you get to order them early – not a demonstrator yet?  Find out more about joining my Ink Spot Stampers group by clicking HERE
This is what our NEW core color collection will be from July – click on the chart below for a larger version and it will open in a new window: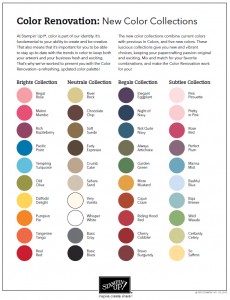 In a nutshell there will be 4 core color collections – Brights, Regals, Subtles and Neutrals – Kraft has been incorporated into the Neutrals section and will be known as Crumb Cake – sounds yummy…and as Kraft will become a 'color' it will also get it's own ink pad, marker etc – cool, eh?
What are the 5 NEW colors? Marina Mist, Daffodil Delight, Cherry Cobbler, Cajun Craze and Early Espresso – you can see them in the chart above.
What are the 10 RETURNING In Colors? Baja Breeze, Melon Mambo, Pink Pirouette, Rich Razzleberry, Riding Hood Red, River Rock, Soft Suede, Tangerine Tango, Pacific Point and Wild Wasabi
What's in the Brights Collection? Regal Rose, Melon Mambo, Rich Razzleberry, Pacific Point, Tempting Turquoise, Old Olive, Daffodil Delight, Pumpkin Pie, Tangerine Tango, Real Red
What's in the Neutrals Collection? River Rock, Chocolate Chip, Soft Suede, Early Espresso, Crumb Cake (formerly Kraft), Sahara Sand, Very Vanilla, Whisper White, Basic Gray, Basic Black
What's in the Regals Collection? Elegant Eggplant, Night of Navy, Not Quite Navy, Always Artichoke, Garden Green, More Mustard, Cajun Craze, Riding Hood Red, Cherry Cobbler, Bravo Burgundy
What's in the Subtles Collection? Pink Pirouette, Pretty in Pink, Rose Red, Perfect Plum, Marina Mist, Bashful Blue, Baja Breeze, Wild Wasabi, Certainly Celery, So Saffron
Additionally available will continue to be:  Brushed Gold, Brushed Silver, Confetti Cream, Confetti White, Glossy White, Naturals Ivory, Naturals White, Shimmery White and White vellum card stock as well as White vellum paper.
Will there be new In Colors every year? Yes – 5 will be introduced with the release of the new Catalog every year and will have a life of 2 YEARS which is fab news…so in July we will have 40 core colors plus 5 new In Colors (colors are not yet released) – watch for some sneak peaks of these colors during June (demos get to play with them during June to show you how cool they are)
To make room for these new colors some must retire from the collection…if you need to stock up on any of your favorites that will soon be retiring, you can order through your Demonstrator or if you do not have one you can order directly online 24/7 by clicking HERE… I would urge you to order sooner rather than later to avoid disappointment…
Here are the colors that will be retiring in June:
In a nutshell the retiring colors are:
Pink Passion
Pixie Pink
Pale Plum
Orchid Opulence
Lovely Lilac
Lavender Lace
Almost Amethyst
Bordering Blue
Brocade Blue
Ballet Blue
Brilliant Blue
Taken with Teal
Glorious Green
Handsome Hunter
Sage Shadow
Mellow Moss
Green Galore
Gable Green
Barely Banana
Yoyo Yellow
Summer Sun
Apricot Appeal
Only Orange
Really Rust
Ruby Red
Cameo Coral
Blush Blossom*
Creamy Caramel
Close to Cocoa
Going Gray
* Blush blossom will still be available in Marker form in the new Catalog – it is such a fab skin-tone color that they are keeping it for those stamps where you need to color 'skin'
This is such exciting news – we are going to have some old favorites coming back and some brand new colors to play with…I can hardly wait!