Here is a super cute treat that is fun & easy to make, and is perfect for kids & grown ups alike!  The basic shape of the coffin is made using a die from Home Sweet Home Thinlits Die and you just need to trim it up a little to create this fun opening box filled with candies!
Here is this sweet box opened…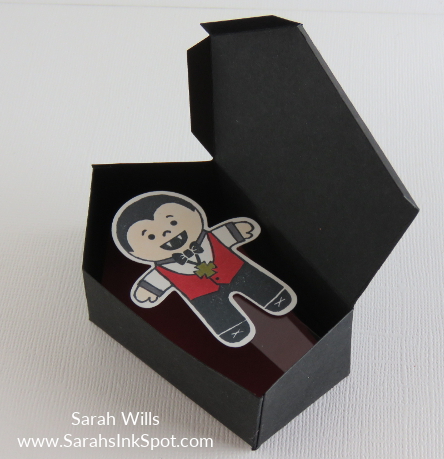 Dracula is on a piece of folded acetate so that you can bend him forwards to fill the box with candy and then fold him back again…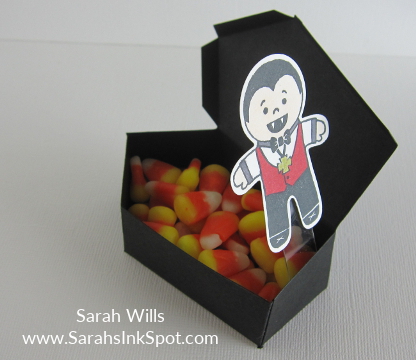 Here is my tutorial so that you can make your own cute Dracula in his Coffin treat – at the end of this tutorial you will find a printable version too so that you can print it out and keep it for reference – look for the red text & you'll find it!
Supplies I used to make this project:
Die – Home Sweet Home Thinlits (140279)
Stamps – Cookie Cutter Halloween (CM 142255/WM 142252) & Jar of Haunts (142247)
Punch – Cookie Cutter Builder (140396)
Halloween Night Bakers Twine (142027)
Cardstocks – Basic Black (121045), Whisper White (100730), Real Red (102482)
Acetate, Mini Glue Dots & Candy
The coffin:
Take the house shaped die from Home Sweet Home Thinlits and use it in your Big Shot to cut the shape from black cardstock…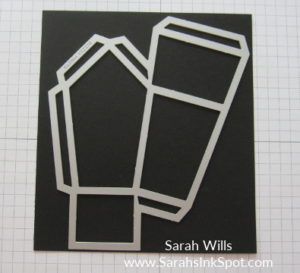 Repeat, so that you have two pieces…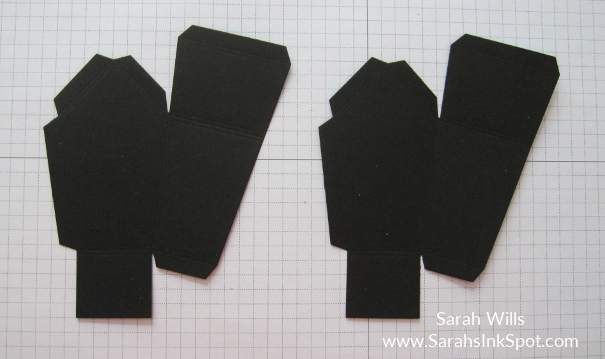 Next, you need to make a cut on the long edges – take one of your die cut shapes and line up your ruler with the score line shown below – draw a pencil line from the bottom to the top and use your paper trimmer to cut along it…and then repeat for the other piece…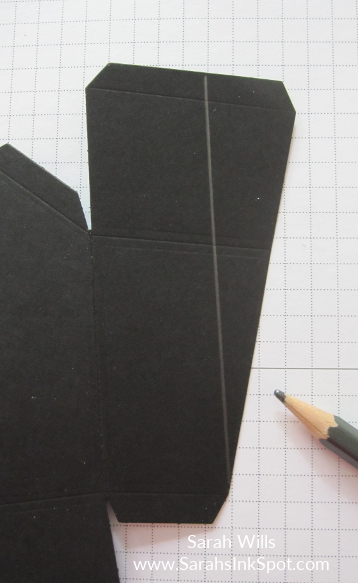 Take one piece and fold along the score lines…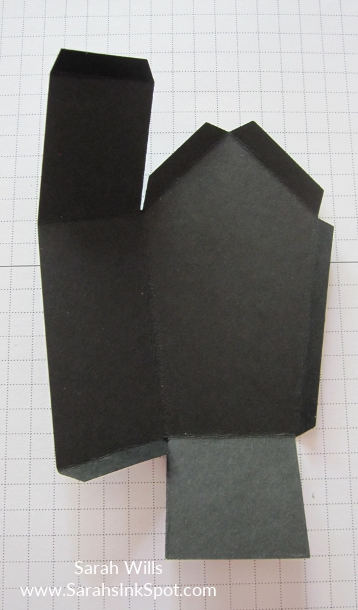 Add glue dots or use Snail adhesive along those tabs and secure in place…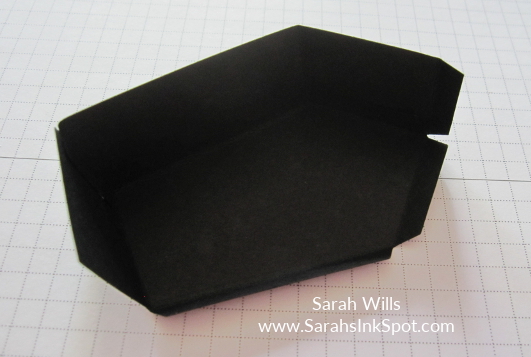 Take the second die cut piece and cut off the small black square flap at the bottom.  Then fold along the score lines …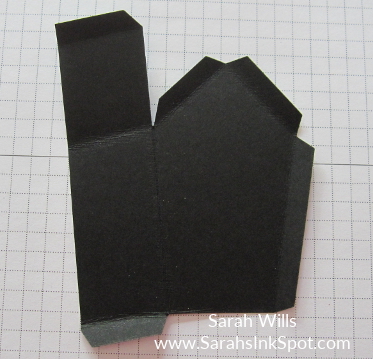 And use adhesive to attach to the first piece- and there is your basic coffin shape…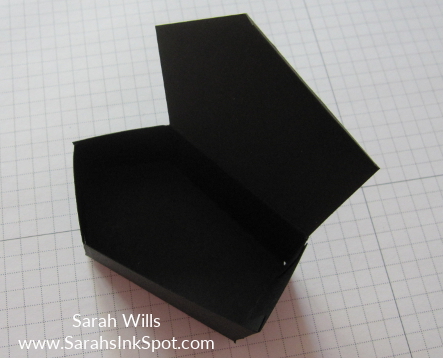 You can cut off the tabs on the lid or leave them – I have done both and I have found that whilst I like the look of the tabs cut off, the lid stays in place better with them on.
If you wish, you can line the interior of your coffin with red cardstock or even tissue paper – I have lined just the base of mine with red cardstock – to do this, I use the same die to cut that front panel and simply trimmed it to size with my paper trimmer…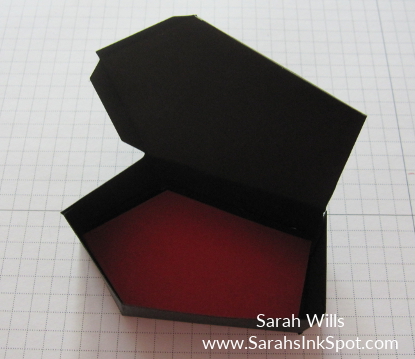 Dracula:
He is stamped using a stamp from Cookie Cutter Halloween and I shaped him using the co-ordinating Cookie Cutter Builder Punch.
I then cut a strip of acetate – 2 1/2″ x 1/2″ – and folded it…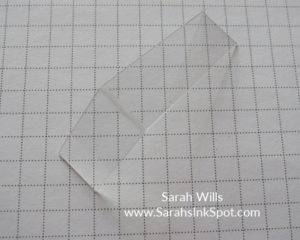 I attached him to one end and the other end I attached to the inside of the coffin – Mini Glue Dots are perfect for this…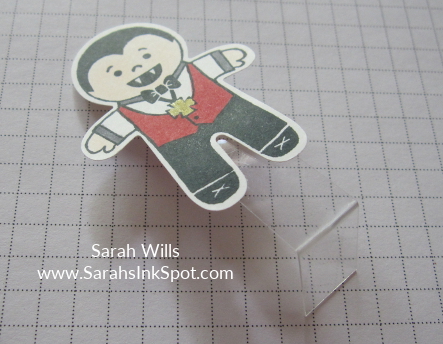 To fill your box with candy, simply unfold the acetate…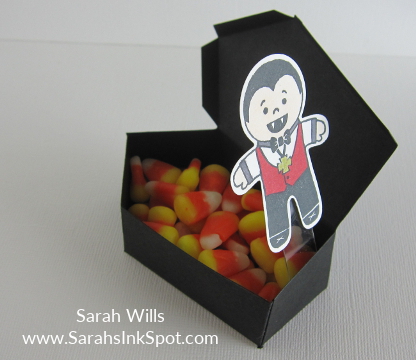 And then fold him back down again to close…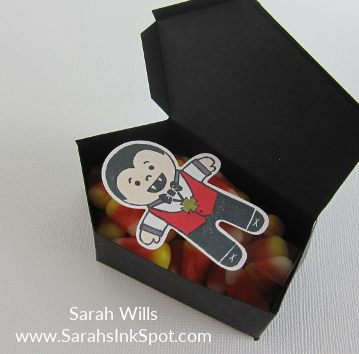 You can then decorate the lid however you would like and add a piece of Bakers Twine to keep the lid shut…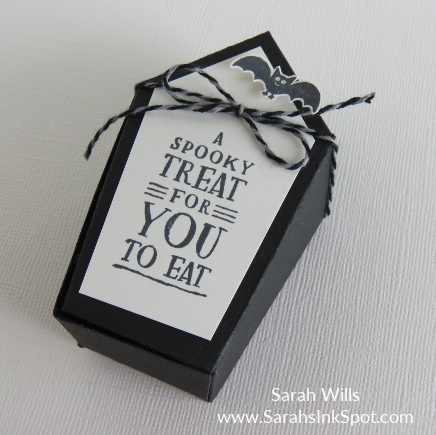 I hope you enjoy making your own box – if you have any questions about it, just ask – I am very happy to help…
WANT TO PRINT OUT THIS TUTORIAL?  PLEASE CLICK HERE FOR A PRINTABLE VERSION WHICH WILL OPEN IN A NEW BROWSER WINDOW
Please click HERE to view my other Project Tutorials