If you have placed an order with me this year then in your mailbox you will have received an envelope containing your copy of the Holiday Mini Catalog plus samples of new items in that fabulous catalog so that you can get a good hands on feel of the new stuff…
Your samples include a length of the gorgeous Raven Lace Trim & a piece of black cardstock that is embossed using the new Spider Web Folder…a swatch of Deck the Halls Designer Fabric & a Big Designer Button…a Glimmer Brad from the Brights collection and…
…a Make 'n Take card front for you to assemble!  It features luxurious Seam Binding in Cherry Cobbler, Designer Series Paper from the gorgeous Deck the Halls pack and a Tag made using a stamp from the set Tags til Christmas and the new punch that co-ordinates with that stamp, Decorative Label…and this is the card that you will create using those fab new goodies…simple but striking…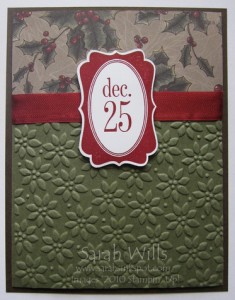 You might notice that this card has a Christmas theme but if you do not celebrate Christmas, no problem as you can still make a card using these supplies – I have used a piece of DSP that you can turn over and use the pattern on the other side – and you can also turn the tag over so that it is blank and you can stamp or layer it however you choose.
Your card base is a piece of Always Artichoke that I textured using the Petals-a-Plenty Embossing Folder that you can find on pg 214 of the main Catalog – I used this to show the dramatic and beautiful effect you can get with these folders as they can transform a card from a 'so-so' card to a 'wow' card in literally the few seconds it takes to make this happen…this folder can give a very christmassy feel as the flowers look like poinsettias.
You could make your card a landscape one or you can even go with your own design when using your samples…have fun playing with your new goodies and enjoy creating!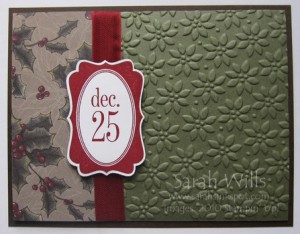 WANT YOUR OWN SAMPLE PACK INCLUDING THIS MAKE 'N TAKE CARD FRONT? Place an order with me during September and I will send you your own envelope of samples, the card front and the new Holiday Mini Catalog!*
To order from the main Catalog or the new Holiday Mini Catalog click HERE – and then click on 'shop now' on the page that link takes you to – you can shop, securely checkout and have your goods delivered to your door in a few easy steps – I am notified of your order by Stampin' Up! and will mail your Mini Catalog, Samples and Make n Take out to you straight way so you can play with them too!
* This offer is limited to one package per customer – orders may be placed directly online via my online store by following the link above or via email to me which you can do by clicking here – this offer applies to orders placed for catalog merchandise only (not for orders for catalogs, shares or test tubes)