Did you come here because you received my FREE Reindeer Punch Art Make & Take with your Halloween card?
Then this is where you will find out how to put him together…he is super cute and I hope you enjoy making him as much as I did…
This is what he will look like when you have finished: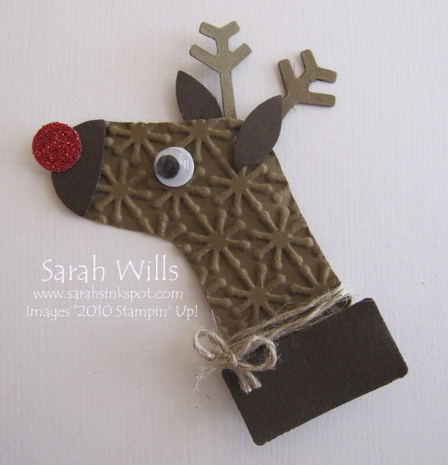 OK so here is what you do to put him together:

Firstly, open your bag – inside you will find a Cellophane Tube Bag, a piece of linen thread and some punched out pieces of cardstock…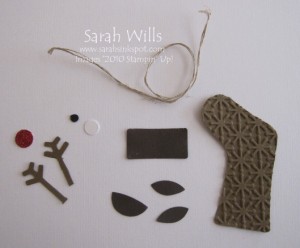 Gather together the following pieces will make up your basic Reindeer head – I used the Stocking Builder Punch to punch out all these pieces and textured the head using the Snow Burst Embossing Folder…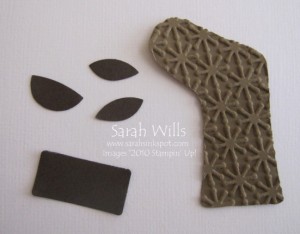 The easiest way to attach small punched out pieces is to use Mini Glue Dots (pg 206)…I simply pop each little punched out piece onto a glue dot and then peel each off and attach it in place.
Sarah's tip – this also makes it easy to keep track of your little punched out pieces – attach them to a glue dot as you punch them out and then you know exactly where they are…they can't become lost!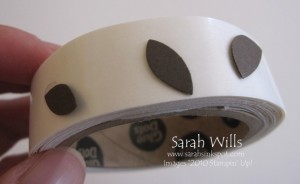 Adhere the nose in place at the tip of the stocking and then add Dimensionals to the bottom – this is where the wide brown collar will go.
Sarah's tip – see what I like to do?  I like to use every last bit on my sheet of Dimensionals and cut up the bits around the edge to use for projects just like this, where I need a narrow strip of them…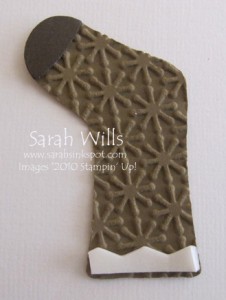 And then attach your collar in place…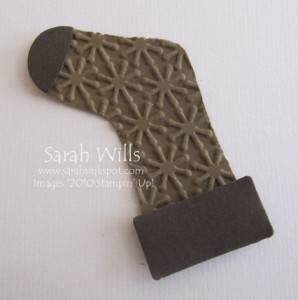 Next add your eye – in your bag you will have two circles – a 1/4″ white one and a 1/8″ black one – this makes his eye…
Now I prefer to use a googly eye for this bit – I couldn't mail these out for fear that they might puncture through your envelope – but please use a googly eye if you have one to hand and prefer it!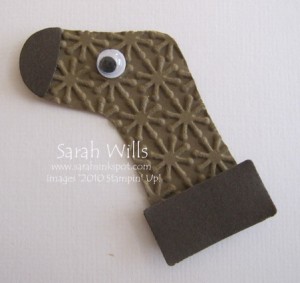 Add on his gorgeous glittery bright red nose…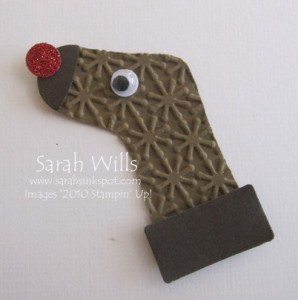 And next come his antlers – simple to make using the Snowflake Punch or a Snowflake Die…attach them to the back of his head like so…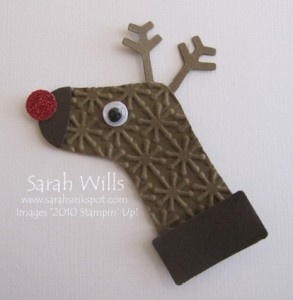 And then add his ears – one to the back and one to the front…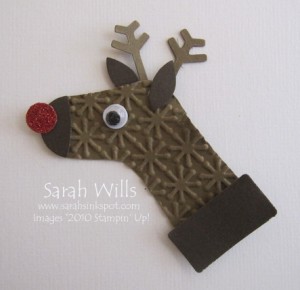 Wrap around the Linen Thread severals times around his neck and secure with tape at the back…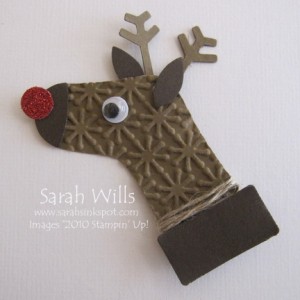 And then make a little bow to finish off…if you prefer you can add a button or jingle bell for a cute accent…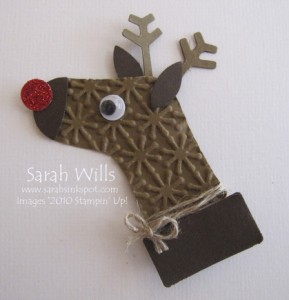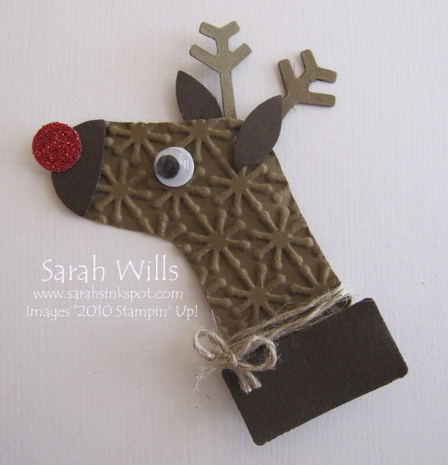 And there is one SUPER CUTE Reindeer that you can use as a focal point on a card or gift bag OR you can make cute Treat Toppers using him too…
To do this easily, simply add him to the top of the Cello Tube filled with treats – you can put M&Ms, Jelly Beans, a Twizzler, a Pencil – anything you can think of into this bag to make a cute treat.
You can even use this Cello Tube Bag and Reindeer Topper to make a tube of Magic Reindeer Food for the kids…
It is utterly adorable – if you haven't heard of Magic Reindeer food it is one cute tradition for Christmas Eve – you mix oatmeal with some glitter – the oatmeal is food for Santa's Reindeer and the glitter makes it shine so that they can find your house – the kids simply sprinkle it on the lawn the Night before Christmas – cute & fun…
There is even a poem to go along with it – and this is a cute gift that you can make using this idea and my Punch Art Reindeer…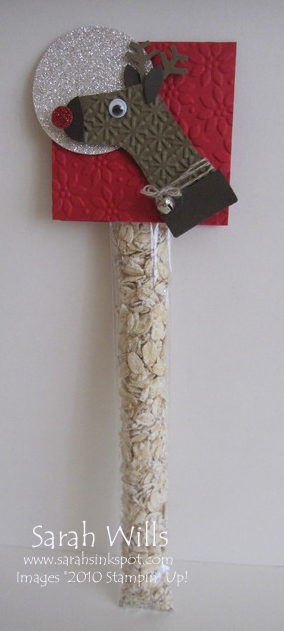 On the back of that red card is the cute poem…isn't this a cute package for the little ones?
I HAVE A FREE PRINTABLE TUTORIAL SHOWING YOU EXACTLY HOW TO MAKE THIS ADORABLE PACKAGE OF MAGIC REINDEER FOOD – click HERE to find it!
Want to print out this poem?  To make it easy I put together a document for you – there are 8 of these poems on one page – to find it click HERE – and then print or save to your computer to use later – easy as that!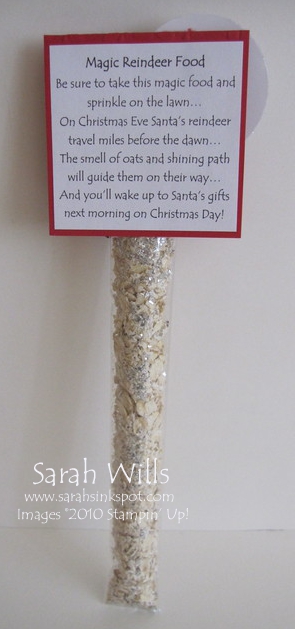 Where can you find the supplies so that you can make more Punch Art Reindeer?
From the Holiday Mini Catalog:
124095  Stocking Builder Punch  $16.95  pg 34
124096  Snow Burst Embossing Folder  $7.95  pg 33
121790  Red Glimmer Paper  $4.95  pg 41
Optional Extras:
124134  Cellophane Bag  (50) $2.50  pg 11
124116  Mini Jingle Bells (48)  $2.95 pg 30
From the main Catalog:
119852  Snowflake Punch  $16.95  pg 210
115318  Soft Suede Cardstock  $6.95  pg 180
119686  Early Espresso Cardstock  $6.95  pg 180
104199  Linen Thread  $4.50  pg 194
Other:
Googly eyes – or make your own using 1/4" & 1/8"
Circle Punches