If you received this Spooky Ghost Treat Kit in the mail from me, here is where you will find how to make it…
In your Kit you will find the pre-cut & scored cardstock, die cut shapes, ribbon & twine that you need to put it together – just add a pack of tic-tacs to put inside – and then it's ready for gifting!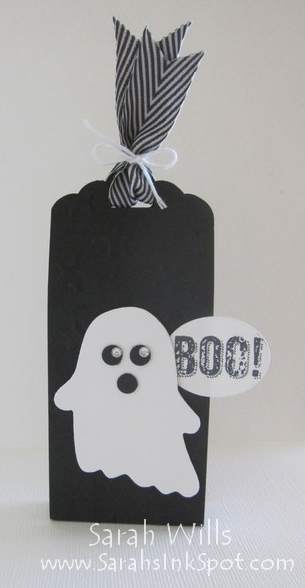 Here is a look at the side where you can see the pack of tic-tacs…they fit in there perfectly…
To assemble your treat…
Take the Black cardstock and fold along the two score lines
Pop your pack of Tic-Tacs inside – use glue dots to secure in place
Thread the Black Chevron Ribbon through the top holes and tie around the piece of White Bakers Twine & secure in a bow or knot
Trim the ends of the ribbon and twine
Attached your die cut Ghost to the front – I used Dimensionals to make him 'pop' out a bit
Add eyes & a mouth – you can use 1/4″ black circles or googly eyes or stamp a face onto him – see examples below – I used 1/4″ black circles with Rhinestones
Stamp a sentiment onto the tag and attach – I used the 'boo' stamp from the set 'Bite Me' that you can find by clicking HERE
And your treat is done & ready for gifting! Stamped ghostly face images… There are perfect stamps to make a ghostly face in the stamp set Fall Fest (pg 46 Holiday Catalog or find it online HERE) – here are examples of faces that you can make using stamps in that stamp set…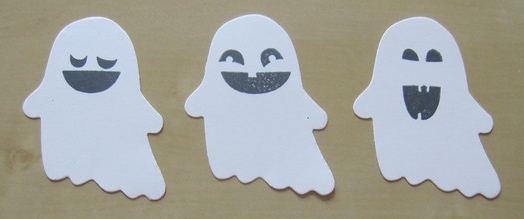 Enjoy putting your treat together – I hope it inspires you to create some Halloween goodies – if you have any questions at all please email them to me by clicking HERE and I will be very happy to help.
Want to make some more Ghost Tic Tac Treats like this? 
You will need…
Black cardstock – cut it to be 2″ wide & 9 7/8″ long – then score at 4 5/8″ & 5 1/4″
Starry textured background – I love the look of the starry textured background – to create this you will need the Lucky Stars Embossing Folder (pg 30 Holiday Catalog) – find it online by clicking HERE
Scalloped Tag Topper Punch – use it to shape the top of your treat – it has the built-in bonus of making that hole that you thread the ribbon through too!  Find it on pg 221 of the annual Catalog – or online by clicking HERE
Ribbon – Basic Black 3/4″ Chevron Ribbon fits perfectly through that punched hole and ties in with the black & white theme – find it on pg 207 of the annual Catalog – or online by clicking HERE Twine – White Bakers Twine is an absolute bargain at just $2.95 for 25 yards!  Find it on pg 206 of the annual Catalog – or online by clicking HERE
The Ghost – is made using one of the cute dies from Fun Fall Framelits that you can find on pg 46 Holiday Catalog – or online by clicking HERE
The tag – I used a tag die from Curvy Keepsake Box Die that you can find on pg 11 of the Holiday Catalog – or online by clicking HERE
Stamps for the tag – you can use whatever halloweeny stamps you have to hand – I used the 'boo' stamp from the online-only photopolymer stamp set called Bite Me – you can find that set online by clicking HERE
Supply list for this treat

:
Cardstock:  Basic Black (121045)
Punches: Scalloped Tag Topper (133324), 1/4″ Circle Punch (134364)
Embossing Folder: Lucky Stars (135817)
Ghost Die: Fun Fall Framelits (135856)
Tag Die: Curvy Keepsake Box Thinlits Dies (135853)
Ribbon: Basic Black 3/4″ Chevron (130010)
Stamp: Bite Me (134622)
Ink: Memento Black (132708)
Misc: White Bakers Twine (124262),
Basic Rhinestones (119246), Tic Tacs