This is a very simple but beautiful way to package a gift card – you can theme it for the Holidays, Thanksgiving, Weddings, Baby Gifts, Birthdays, Thank You's and Teacher Gifts and it is so easy to make.
It features a pull-out part that you attach the gift card to and slide it in…the recipient will LOVE it!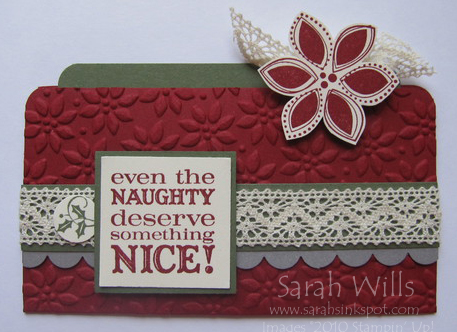 You will find the template at the end of this tutorial for reference -it has the measurements, score line and sticky strip locations on it.
To make this set first choose your cardstocks – I like to use 2 base colors and an accent color.
To make your 'folder' take a piece of cardstock and cut it to be 5″ x 4 1/2″ – place the 5″ side at the top of your paper trimmer or scoring tool and use a score blade to score at 2 1/2″ – this makes it easy to fold your cardstock in half.
Take a Corner Rounder and round all four corners…and then take a 3/4″ Circle Punch and use it to cut a semi-circle on the right side…this will be your thumb notch so that you can easily remove the gift card inside.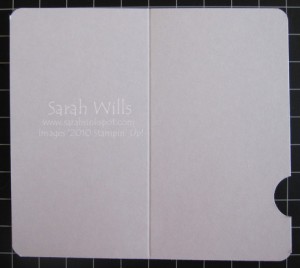 To make your pull-out piece, cut a piece of cardstock from your second color to be 3 3/4″ x 2 1/2″ in size and round all four corners…and this is what you should have…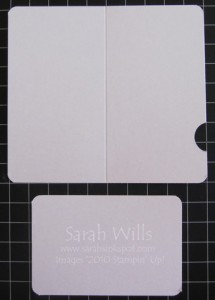 Take a strong adhesive such as Sticky Strip – apply it to the top and bottom edge on one half and close to stick together – this is your folder.
Next is the really fun bit – decorate your folder and pull-out piece as wished – I textured mine using an Embossing Folder before assembling it – you can add a small hole and twine or ribbon to the top edge of your pull-out piece if desired to make it easy for your recipient to slide out the insert.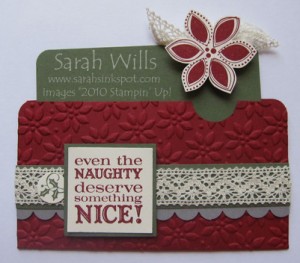 When finished decorating, simply attach your gift card using double sided tape or glue dots and there you have one beautiful handcrafted gift card holder that you can customise for any occasion…here is a birthday one that I made…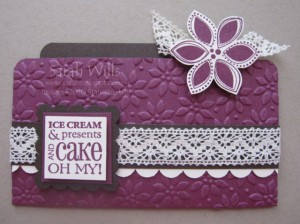 I would love to see your creations using this template – if you email them to me, I will feature them on my blog…happy creating!

WANT TO PRINT OUT THIS TUTORIAL?  PLEASE CLICK HERE FOR A PRINTABLE VERSION WHICH WILL OPEN IN A NEW BROWSER WINDOW
Please click HERE to view my other Project Tutorials
Template: