This is a fabulous way turn a card into a little special something…
This is a great card to make for friends, co-workers and teachers – and you can buy themed seasonal lip balms (I got mine from Avon) to make them for the Holidays, Halloween, Easter, Valentines Day…any occasion…
Here is a Holiday card that I made for cute teacher gifts – the stamp set has been retired but you can use any stamps that you have to hand…I decided to go with a snowman theme as my lip balm had one on it.
You could even use those cute Felt Flurries that you can see in the photo below – they were featured in last year's Holiday Mini and are AVAILABLE NOW FOR A LIMITED TIME ONLY IN THE CLEARANCE RACK – you can find them by clicking HERE and then 'shop now' in the top right corner.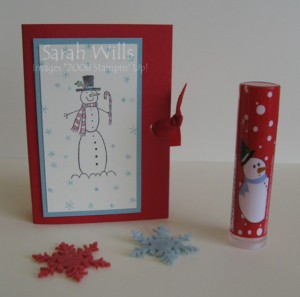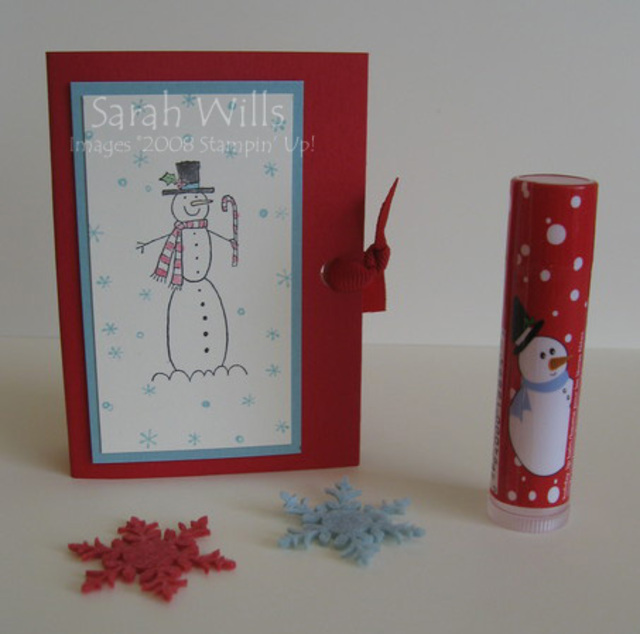 There are two pieces to this card as you can see from the photo below – you make an outer piece and an inner piece that has slots to hold the lip balm in place which is adhere together using a very strong adhesive – Sticky Strip works very well for this.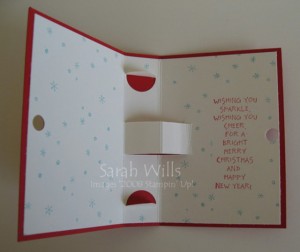 How to make them…
For the outer piece I used Real Red cardstock – I cut a piece to measure 5 3/4″ x 3 1/2″ and scored it at 2 1/2″ and 3 1/4″ and then folded along those score lines – please see at the bottom of this page to find templates of measurements that I used.
For the inner piece I used Very Vanilla cardstock – I cut a piece to measure 5 5/8″ x 3 1/4″ and scored it at 2 3/8″ and 3 1/4″. I then stamped my sentiment in Real Red Ink and the snowflakes in Baha Breeze Ink using stamps from the Wishing You Cheer set which has been retired but there are other cute snowy themed sets available in the current catalog…
To make the band to hold the lip balm, I measured 1 3/8″ down from the top of my Vanilla cardstock and made a mark on the first score line – then I measured 1 3/8″ across from this line and drew a line as a guide for the first cut. Then I measured 1 3/8″ up from the bottom and did the same as above for the second cut. Using a craft knife and self healing mat I then cut along these two lines. You should have a band that is 1/2″ wide and this will pop out and provide the band to go around your lip balm.
To ensure that my lip balm doesn't slide out of the band, I took my Slit Punch and made two slits – both at 1/4″ from the top and bottom edges of the cardstock – these will hold the top and bottom of the lip balm in place.
To assemble my card I adhered the inner Vanilla piece to the outer Red piece using strong adhesive and taking care not to stick down the little slit flap and the band – these need to be able to move out from the base. Sticky Strip is the perfect adhesive for this and you can find it on pg 192 of the catalog.
I stamped my image for the front of the card and attached it to the base. I then used a 1/4″ Circle Punch to cut holes in the front and back and finished my card off by threading through a piece of 1/4″ Real Red Grosgrain Ribbon to hold the card together – what a great little card to receive – it is so fun to make and didn't it turn out cute?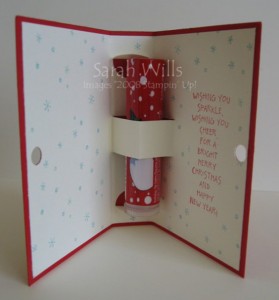 Measurements that I used…
Outer piece: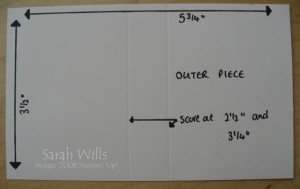 Inner piece: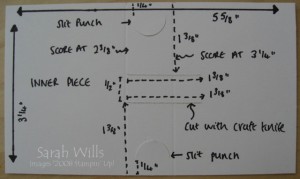 WANT TO PRINT OUT THIS TUTORIAL?  PLEASE CLICK HERE FOR A PRINTABLE VERSION WHICH WILL OPEN IN A NEW BROWSER WINDOW
If you have any questions about this tutorial or would like larger pictures of the templates above, please click here to contact me and I will be very happy to help.
Please click HERE to view my other Project Tutorials