Monthly Club Members…
Here you will find details on how to put together your beautiful Holiday Card Make & Take…

Your Kit contains ALL the pieces that you need to put it together – please read on for the step-by-step instructions – I hope you have fun putting it together…
With warm wishes,
Sarah
Holiday Reindeer Make & Take Card…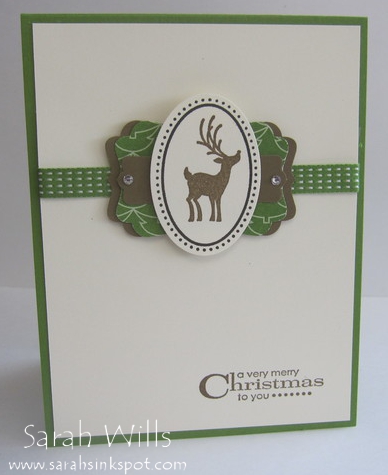 Take your Very Vanilla layer and stamp a sentiment on to the bottom of it – I used a stamp from More Merry Messages (pg 15 of the main Catalog) and stamped it using Soft Suede ink…
Then wrap around the piece of Gumball Green Stitched Satin Ribbon and secure it on the back of that layer using Scotch tape.
Add this vanilla layer to your Gumball Green base.
You have 3 punched shapes – the punches I used to make them are:
Decorative Label Punch
Modern Label Punch
Extra-Large Oval Punch
You have two Decorative Label pieces – one in patterned paper from Be of Good Cheer DSP (pg 164) and one in Soft Suede cardstock…
Cut the cardstock piece in half and adhere to each end of the back of the patterned paper piece.
Add the Modern Label Soft Suede piece on top of that – adding a small Rhinestone to each end.
And then the Oval piece on top of that using Dimensionals to make it stand out.
Then add these punched shapes to your card and voila – you are done – one CUTE and simple card that is so much fun to make using those punches…
Want to make more?
The products need to make them are listed below…click on the blue words to view each in the online store…
128069  Joyous Celebrations Clear Mount stamp set – pg 7 Holiday Catalog
128066  Joyous Celebrations Wood Mount stamp set
126896  Be of Good Cheer DSP – pg 164
126840  Gumball Green cardstock – pg 152
101650  Very Vanilla cardstock – pg 156
115318   Soft Suede cardstock – pg 156
126848  Gumball Green Stitched Satin Ribbon – pg 172
120907  Decorative Label Punch – pg 182
119849  Modern Label Punch – pg 183
119859  Extra-Large Oval Punch – pg 184
119246  Rhinestones – pg 175