This cute Turkey is made using a variety of Stampin' Up! Punches and fall colored cardstocks…
Isn't he cute?  You could make him for Thanksgiving decorations, cards and place settings like I made below – he is so easy and fun to make and it would be a great activity to get the kids involved in too…all punches that you need to make him can be found in the Catalog on pgs 200-203…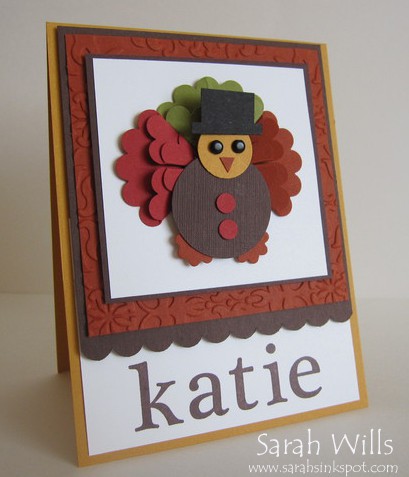 Here is my tutorial so that you can make your own cute punch art Turkeys – at the end of this tutorial you will find a printable version so that you can print it out and keep it for reference PLUS a list of all punches, where they are in the Catalog and ordering codes.
To make the feathers…take 3 pieces of cardstock in colors of your choice and your Scallop Circle Punch…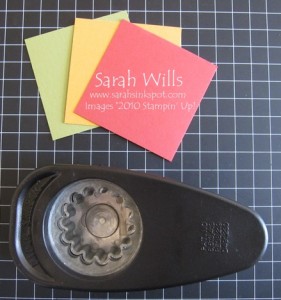 Punch out a scallop circle in every color…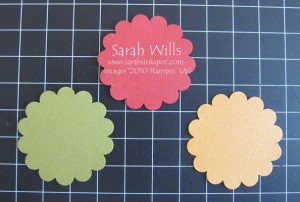 Take your first scallop circle and count 5 scallops – fold your cardstock like so…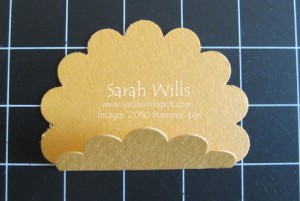 Then fold your scallop circle in half – this will give you a reference line…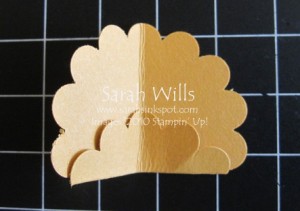 Turn your scallop circle over…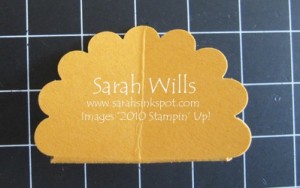 Take one side and fold it back on itself into the center line like so…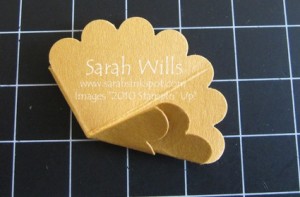 And repeat on the other side…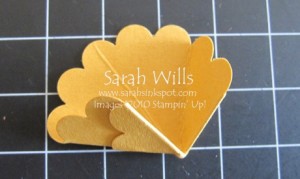 So that this is what you will end up with…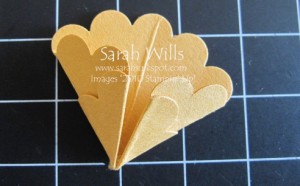 Repeat for the other 2 scallop circles so that you have all three looking like this…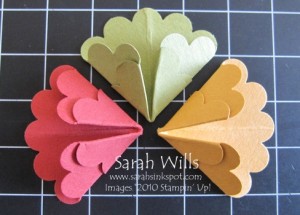 And then you need to punch out your other pieces using the following punches:
Body – 1 3/8″ Circle Punch
Head – 3/4″ Circle Punch
Feet – Boho Blossoms Punch
Buttons – 1/4″ Circle Punch
Hat – 1 1/4″ Square Punch – cut it down to make the hat and brim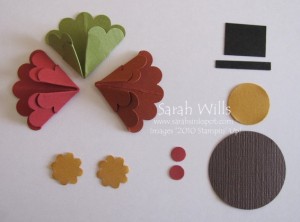 And then assemble them as follows – for the eyes I used Black Brads but you can punch out circles instead if you prefer…I decided to staple each of my scallop circles at the base to help them stay flatter…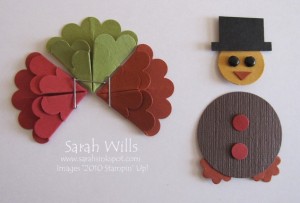 Place all three scallop circle pieces together and add Dimensionals…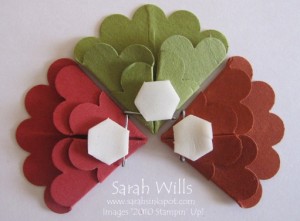 Attach the body…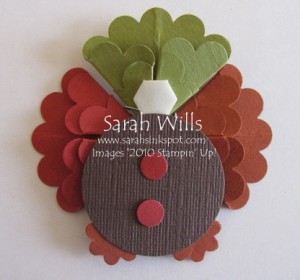 And then the head…and here he is – finished and ready to use…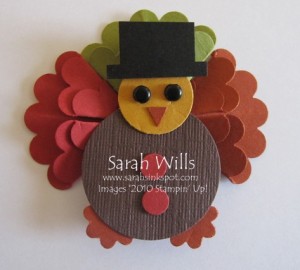 Didn't he turn out cute?  Have fun making yours!
WANT TO PRINT OUT THIS TUTORIAL?  PLEASE CLICK HERE FOR A PRINTABLE VERSION WHICH WILL OPEN IN A NEW BROWSER WINDOW
Please click HERE to view my other Project Tutorials
Punches used and where to find them in the Catalog:
119854  1 3/4″ Scallop Circle Punch  pg 200
119850  1 3/4″ Circle Punch  pg 202
119873  3/4″ Circle Punch  pg 202
119861  1 1/4″ Square Punch  pg 202
119858  Boho Blossoms Punch  pg 200