I am offering my customers the opportunity to purchase a Big Shot Bundle at a fabulous price for 10 days only!
Until Saturday October 31st 2009 you can purchase my special Big Shot Bundle at a super low price – you will receive ALL hostess benefits on your order including a Hostess Stamp Set and Free Merchandise of your choice – and right now you have the option to choose from those beautiful limited time Hostess stamp sets in the Holiday Mini Catalog…you can find the table of Hostess Benefits on pg 11 of the main Catalog. Your order will also ship directly to your home address.
All of the Big Shot items included in this Bundle can be found on pgs 194-202 of the main Catalog OR on various pages throughout the Holiday Mini Catalog.
This Special Bundle includes:
Big Shot Die-Cut Machine $99.95
Doctor's Bag $69.95
Standard Replacement Cutting Pads $8.95
Extended Cutting Pads $19.95
1 Embosslit of your choice – there are 7 to choose from – $11.95
1 Textured Impressions Embossing Folder – there are o 4 to choose from – $7.95
1 Sizzlit Die – there are 14 to choose from – priced at $4.95 – $5.50
1 Bigz Die – there are 20 to choose from – priced at $18.95 – $23.95
1 Bigz XL Die – there are 16 to choose from – priced at $34.95-$42.95
1 Originals Die – there are 11 to choose from – priced at $15.95-$18.95
The retail price of this Bundle is valued at up to $310.05
Sarah's special price through October 31st = *$250 plus tax and shipping (up to $60 off!)
This order qualifies at full retail for hostess benefits – for example, this means that the system might see $310.05 as the value of your order – even though you pay me *$250+ you still have an order that appears to be the full retail value of $310.05 – that value is what your Hostess Benefits will be based on and not the discounted price that you pay me – so that value order of $310.05 would qualify you for:
Any one Level-1 item OR one Level-2 item from the main catalog or the Holiday Mini Catalog AND Hostess benefits of $35 which includes your optional choice to choose any one item in the Holiday Mini for $10 as part of the Sweet Rewards Promotion – you can find details of this promotion by clicking here

If you'd like to add to the value of the Bundle and get your order to a retail value of $400 (add about $90) then you also get the option to purchase My Digital Studio for 50% off if chosen in your hostess benefits – fabulous deals!
To get this special pricing, you MUST email order to me – directly placed online orders will NOT be eligible for this promotion.
Click HERE to place your special order or to ask any questions that you might have – I will be very happy to answer any that you may have.
ABOUT THE BIG SHOT…
The Big Shot is a sturdy manual die cutting machine used to die cut materials for use on crafts, home décor projects, and even clothing – it's a big deal! You'll love what the Big Shot machine, a 6-time winner of Creating Keepsakes Reader's Choice Award for best die cutting equipment and dies, can do for you.
AND IT'S NOT JUST FOR PAPERCRAFTING – design your own custom pillow appliqués using the Tulipe Bigz die or make custom fabric flowers to embellish a quilt – check out the quilt below – the flowers were cut using a Bigz Die. From sewing to quilting to home décor, the Big Shot is the perfect tool for many types of crafting.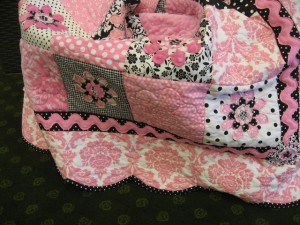 The Big Shot makes incorporating paper crafting into your hobby easy – use Stampin' Up!'s exclusive dies to create die cuts and stencils – making banners and home decor throughout the year is so easy – and planning and preparing your bulk or special projects is fast and economical with the Big Shot machine – cut out eight of the same chipboard letter or 20 scalloped pennants in just a few minutes. You'll be able to cut and score 3-D items in seconds. Or create embellishments for cards, scrapbook pages, or any other type of project by cutting multiple images at once.
When using Bigz and Originals Die with the Big Shot you can cut through over 50 materials listed below:
Thick corkboard
Thick chipboard (59 mil)
Colored magnet
Ruffle board
Paper wood
Balsa wood (3/32″)
Bass wood (1/16″)
Metal mesh
Aluminum (.016)
Tin (.008)
Adhesive and non-adhesive mat board
Drawer liner
Shelf liner
Vinyl
Static cling vinyl
Shrink film
Fine sandpaper
Clear acetate (20 mil)
Vellum
Card stock
Patterned paper
Flocked paper
Contact paper
Textured paper
Metallic paper
Linen paper
Suede paper
Embossed metallic paper
Basketball embossed paper
Faux alligator textured paper
Self-adhesive glitter paper
Fabric
Canvas
Iron-on fabric
Soft plush fabric
Burlap
Velvet
Corduroy
Lace
Heavyweight denim
Terry cloth
Funky fur
Thin leather
Quilt batting
Warm & natural batting
Fusible fleece
Self-adhesive craft metal
Self-adhesive cork
Self-adhesive foam
Self-adhesive magnet
Self-adhesive felt
Adhesive and non-adhesive rubber
Pop up sponge
Poly foam
100% pure beeswax (cut with parchment paper on top & bottom of beeswax.)
* Shipping & Handling and Sales Tax will be added to the Bundle price at applicable rates – S&H will be 10% and Sales Tax will be at the rate of your home address.
All orders must be placed and paid for by Midnight CT on Saturday October 31st 2009. The bundle ships directly to you from Utah via UPS Ground.
Thank You for reading this!
If you get to the end of this page and purchase the above bundle through me, tell me you read to the end and I'll add any single color pack of 8 1/2″ x 11″ card stock from pages 155-157 of the main catalog for FREE as my thanks – up to a value of $5.50.