Here it is – my beautiful Carousel Album Kit!
Included in your kit are all the contents needed for you to make your very own Holiday Carousel Album – just like mine below – plus instructions too – you are going to have so much fun putting this gem together!
It is a beautiful Album that would make a fabulous Holiday gift for family members – especially for Grandma & Grandpa…imagine it filled with photographs, sentiments and journaling…
On top is a beautiful front cover…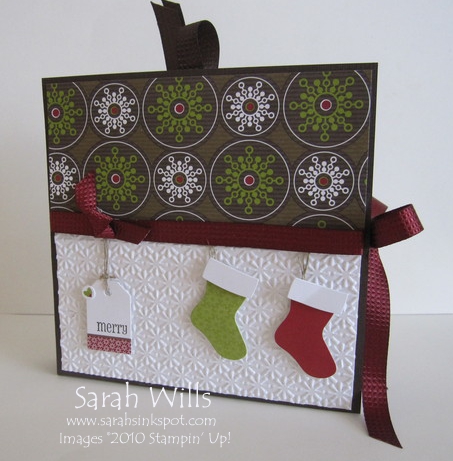 And yes, you get all that beautiful paper and embossing white cardstock too – along with those fun stockings and tag…
Undo that bow and revealed are lots & lots of pages and also lots of slide up or slide out pages from pockets – 20 IN ALL – this gives you LOTS of room to add photographs, journaling or even a gift card…here is a photo of it half open…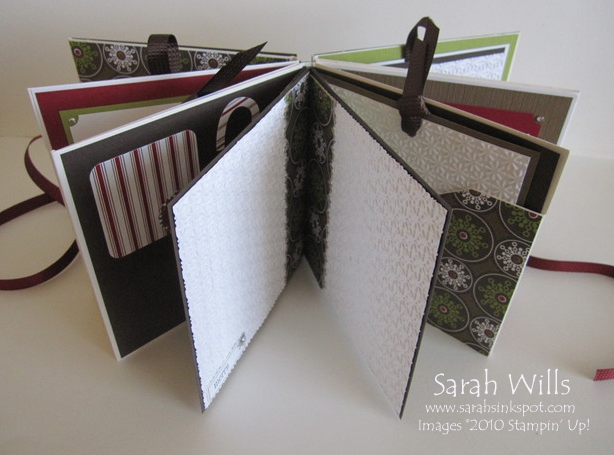 Now what makes it a Carousel Album? Well, the front cover comes around to the back cover and you can secure it with those beautiful ribbons…giving you a beautiful 360 degree holiday display of your treasured photos…and those ribbon tabs all slide-up to reveal more pages to decorate…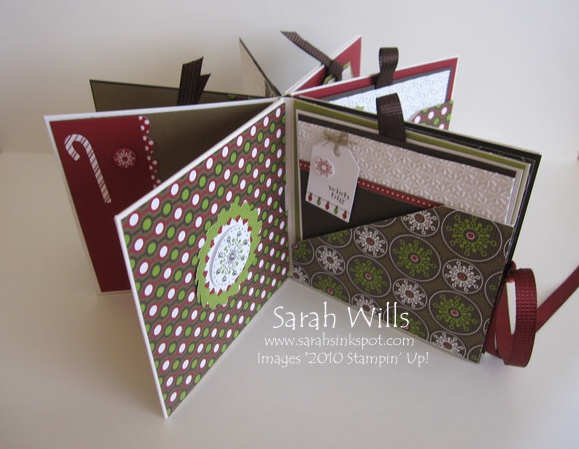 Here are a couple of pages found inside…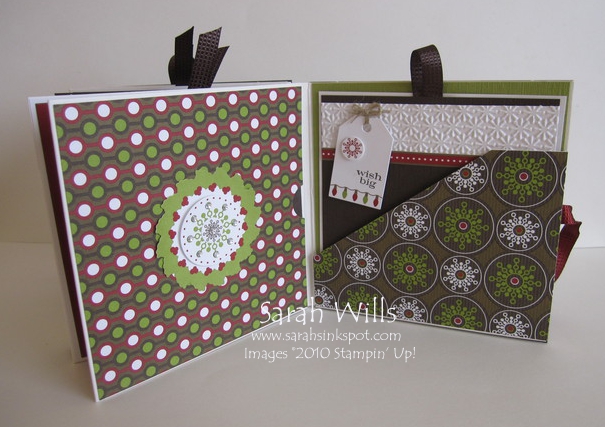 The one with the ribbon tab simply pulls up and out – and the brown one with the holly leaves is one that slides out from a side pocket…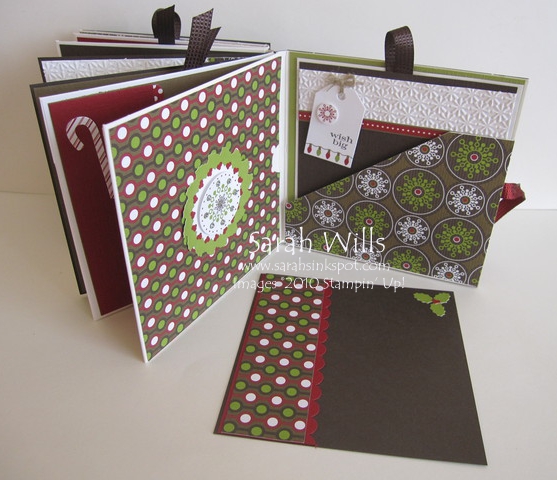 Here is another set of pages complete with a pull-out one – and see that little tab with the holly leaves on it?  The perfect size to house a gift card…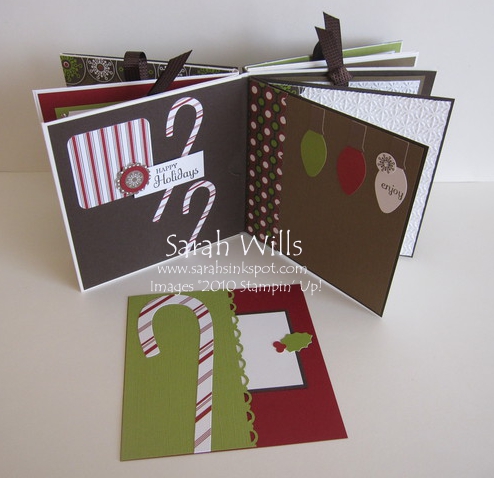 And another set…aren't they adorable?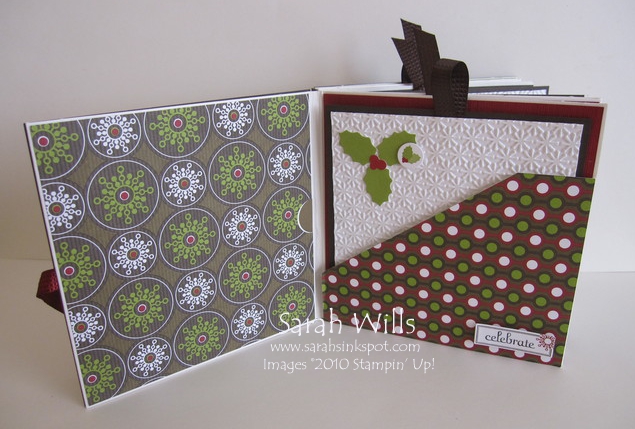 TO MAKE IT EASY FOR YOU TO MAKE YOUR OWN CAROUSEL ALBUM:
I have put together a Carousel Album Kit!
My Kit contains everything that you will need to make an album the same as mine – included in each kit are the following:
3 CD Folders
Pre-cut Cardstock Pages
Pre-cut & Scored Center Panel

4 sheets of 12×12 Textured Solid Cardstocks
3 sheets of 12×12 Christmas Lane Designer Series Papers
3 sheets of 6×12 self-adhesive Die Cut Stickers & Borders
Pre-cut cardstock Mats
Pre-cut cardstock Pull-out & Slide-out Inserts

Quilted Early Espresso & Cherry Cobbler Ribbons
Linen Thread
Whisper White Cardstock pieces textured with the new Snowburst Embossing Folder
Sparkly Rhinestones
Pre-punched border strips
Additionally you will receive my very detailed step-by-step instructions showing you how to complete your album:
These are different from the free tutorial below – you will be shown how to replicate my album exactly!

They are easy to follow & a step-by-step guide to assembling your album to be just like mine
They are complete with photographs of every page & insert making it easy for your re-create what I did

These instructions will be emailed to you

Please note that you will need to supply your own Stamps, Adhesive Tape, Sticky Strip & Dimensionals.
And of course if you choose to decorate yours differently you can – you will have lots of supplies in this Kit to be creative with!
When you order your kit  it will take 10-14 days for you to receive it – this is because I have to place my order for the supplies with Stampin Up and need time for that order to reach me and for me to assemble the kits and get them out to you!

HOW DO YOU ORDER YOUR KIT?

Click on the 'Buy Now' button below…the price INCLUDES shipping to you – please note that I can mail this kit to residents of the US only.
Would you like to purchase the step-by-step instructions only, with or without the 3 CD Folders?  You have those options below too!
Perfect for demonstrators who are planning a class or for those who already have supplies…click on the 'instructions only' option below to purchase your copy and they will be emailed to you within 24 hours – the 'instructions only' option is  also available to my international visitors too!