Here is a very cute & different way to use Ribbons on your Holiday cards this year…
Isn't this tree cute?  Just think – you could use yellow/orange/brown ribbons to create beautiful Thanksgiving cards too – you could even create place card holders using trees like this for your Holiday table…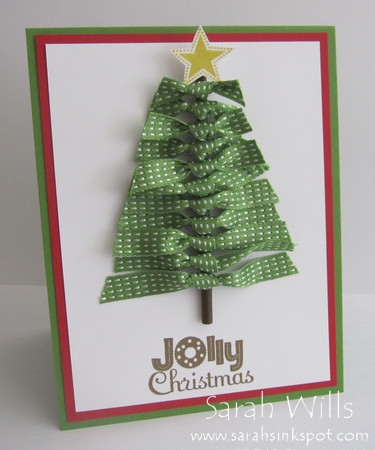 I just love how this tree turned out and will be making a bunch of them, especially to decorate teacher gifts…
I am going to show you how easy they are to make in just a few steps – all you need to make these cute embellishments are:
Ribbon of your choice – you can use one color like I did or a variety
4″ Lollipop stick
Mini Glue Dots
Sharp fabric scissors
Here is my tutorial so that you can make your very own Ribbon Christmas Tree – at the end of this tutorial you will find a printable version too so that you can print it out and keep it for reference.
The Ribbon Tree trunk:
Take your 4″ lollipop stick – I found them at my local Walmart at around $2 a pack and I know that large craft stores also carry them – and use acrylic paint or ink to color it.
I wanted mine to be Soft Suede and so simply took the lollipop stick and rolled it around my ink pad and it colored beautifully and quickly – and it dried super fast too!
I decided to cut 1/2′ off of the top to make room for my star and used wire cutters to do this…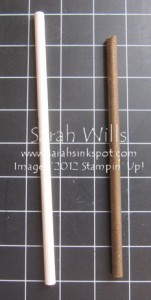 The Ribbon Tree:
You are going to cut your Ribbon of choice into lengths – I used Gumball Green Stitched Satin and cut mine at:
1 x 5 1/4″
1 x 4 1/2
1 x 4″
1 x 3 3/4″
7 x 3″ – it gets tough to tie knots if you go shorter than this!
Tie a knot into the center of each and attach each to a Mini Glue Dot…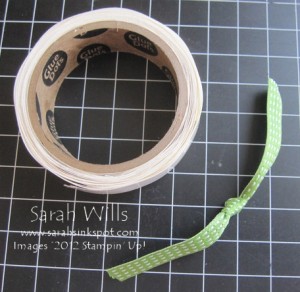 Now you are going to attach your ribbons to your tree trunk in one of two ways:
adhere each ribbon to the center of your tree trunk – from the largest at the bottom through to the smallest at the top – and then trim freehand using your fabric scissors
OR do what I did (because I am a perfectionist LOL) and use a template behind the tree to guide you in your placement & cutting.
If you choose Step 1 simply add each piece of ribbon to your tree and trim to shape – you are done!
If you choose Step 2 then follow the directions below:
Firstly you need to create a template to guide you in placement & cutting of your ribbons (this can be used more than once).
Cut a piece of scrap cardstock to measure 3″ x 2 1/2″…
Now you are going to make a pencil mark on your widest length at the half way point – 1 1/2″…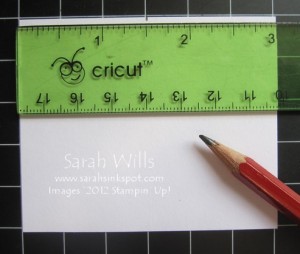 And using your paper trimmer, cut from this point down to the outside corner – repeat for the other side – to give you a triangle…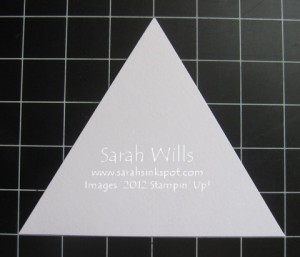 Set your tree trunk in position onto that triangle – to secure it just use a glue dot to stop if from moving around – this is not a permanent position, just temporary whilst you work on the tree.
As you can see from my photo below, this is the perfect size for a standard card front – but of course if you prefer it to be larger or smaller, adjust the size of your template accordingly…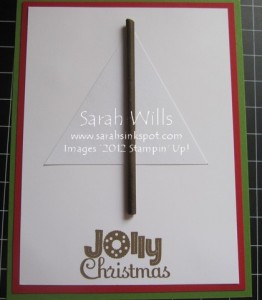 Move your tree trunk to a work surface and add your first ribbon…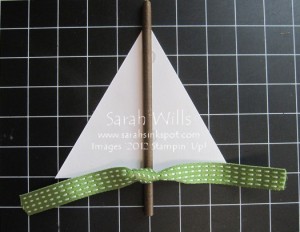 Gradually work your way up the trunk…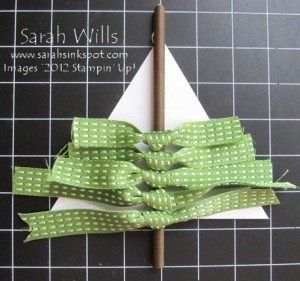 Until you reach the top…
Take your pair of sharp fabric scissors and – using the triangle template as a guide – hold your ribbons in place and carefully cut the tree shape…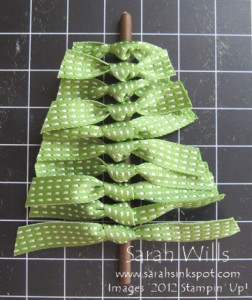 You can then add your tree to your card or project and add any other embellishments you would like – I added a cute star to the top of my tree that I found in the stamp set Jolly Bingo Bits…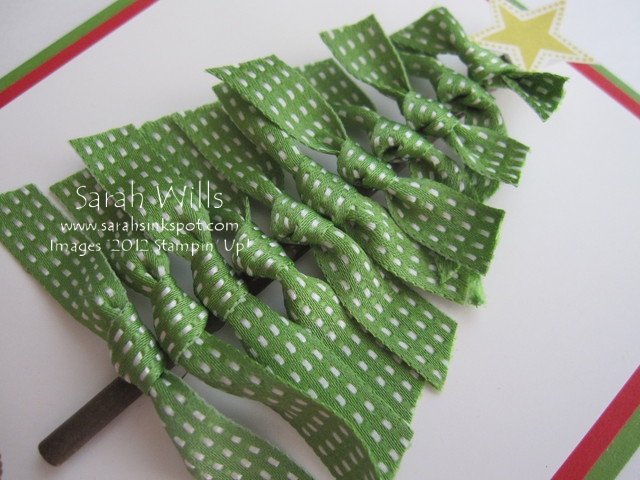 I hope you enjoy making these cute trees as much as I enjoyed designing them – please contact me if you have any questions and I will be very happy to help.
WANT TO PRINT OUT THIS TUTORIAL?  PLEASE CLICK HERE FOR A PRINTABLE VERSION WHICH WILL OPEN IN A NEW BROWSER WINDOW
Please click HERE to view my other Project Tutorials