Stampin' Up! now gives you TWO options to choose from for your stamp sets – you can order the traditional Wood Mount style OR the brand new CLEAR MOUNT style…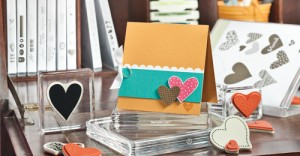 From the Occasions Mini and Sale-a-bration Catalogs forward, all new stamp sets will be offered with both of these options. Clear Mount stamps are not acrylic stamps – to ensure crisp stamped images they are still made using Stampin' Up!'s high quality rubber and have a label that you apply to each stamp so that when placed on the clear acrylic block, you can see exactly where to stamp your image.
What are the benefits? Clear Mount is a fabulous option for those who love using Acrylic Blocks to stamp with and/or have storage space restraints – with Clear Mount you have just one set of Acrylic Blocks that you use for ALL your clear mount stamp sets.  The Clear Mount sets store neatly and compactly in thin plastic folders.  And this option costs less money too meaning you have more money for more stamps!  Clear Mount is also fabulous for those hard-to-use-precisely-without-a-Stamp-a-majig sets as you can see through the clear acrylic block to position your stamp accurately.  Plus you can position more than one stamp on a block meaning that you can be very creative with your stamping very fast and large clear blocks can be used to create collages or spell words with alphabet sets – how cool is that?
How does it work? The Clear Mount system uses a cling coating on the other side of the rubber stamp to adhere it to the block –  the cling is a static cling and will not wear out, but you do need to keep both your blocks and stamps clean in order for the cling to function properly.
How do I store them? Clear Mount stamps come in a DVD-sized storage case and can be housed in any storage system designed to hold DVDs.  The artwork on the storage label is shown at 100% on the cover and thumbnail size on the spine.  The back of the case is clear allowing you to see the actual stamps from the back of the case.
The Acrylic Blocks – in order to use your new Clear Mount stamps you will need some different sizes of Acrylic Mounting Blocks – Stampin' Up! offers you some very high quality ones that have ergonomic grooves on all four sides for easy grip and traditional wood mount feel making stamping a dream – blocks found elsewhere do not necessarily have this wonderful feature that I just love…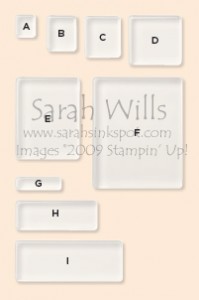 You can find 9 different sizes of them in the Occasions Mini Catalog by clicking HERE – the clear blocks are available individually or as a discounted bundle – here are the sizes, codes and prices:
| | | |
| --- | --- | --- |
| 118487 | Block A (1-3/16″ x 1-1/4″) | $3.95 |
| 117147 | Block B (1-5/8″ x 1-15/16″) | $5.95 |
| 118486 | Block C (2″ x 2-1/4″) | $6.95 |
| 118485 | Block D (2-7/8″ x 2-11/16″) | $8.50 |
| 118484 | Block E (3-7/16″ x 4-7/16″) | $11.95 |
| 118483 | Block F (4-7/8″ x 6″) | $16.95 |
| 118489 | Block G (3/4″ x 2-1/2″) | $4.50 |
| 118490 | Block H (1-5/8″ x 4-7/16″) | $8.50 |
| 118488 | Block I (2-1/4″ x 5-7/8″) | $11.95 |
| 118491 | Block Bundle (Blocks A-I) | $69.95 |
If you have any questions about this new option please Contact Me and I will be very happy to help.
Sarah