What is the Definitely Decorative line of products?
It is a home decor line of products featuring stencils and vinyl wall art that co-ordinates perfectly with many Stampin' Up! images and colors so that you can create beautiful effects in your home.
If you are brand new to Decor Elements, I invite you to read on, explore the Catalogs and check out the links below to a video and some helpful hints on applying them…and when you place your first Decor Elements order  don't forget to order a Decor Applicator Tool for just $1.99 to make applying them a piece of cake…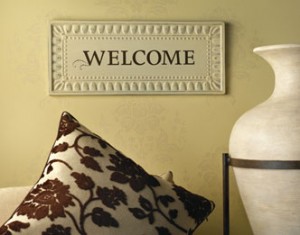 Décor Elements can be found in the Definitely Decorative Catalog which you can view by clicking HERE – it is vinyl artwork for hard, smooth surfaces. The product line is ever expanding and features letters, numbers and images – it that has endless possibilities – you can decorate walls, mirrors, frames, tiles in fact any hard surface – you can even use them on your car!
Stampin' Up! expands the product line every few months and the latest additions can be found by clicking HERE – in this add-on brochure you will find the fabulous new Chalkboard Decor Elements which are just unbelievable!
And you can find lots more information about the new additions to the product line that were added on January 5th by clicking HERE – there are some brand new images perfect for teen and kids rooms, nurseries and throughout your home.
How easy are they to apply?
Very – you can view a video by clicking HERE and there are instructions that you can print out by clicking HERE
And don't forget to check out what you can do with the Decor Stencils – you can use them on your walls, woodwork, floors and soft furnishing to co-ordinate your home decor with fabulous results…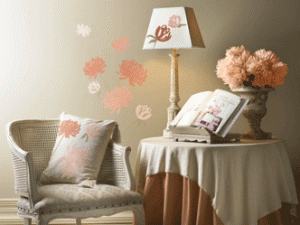 YOU CAN VIEW FURTHER IDEAS AND PLACE YOUR ORDER DIRECTLY ONLINE BY CLICKING HERE – click on Shop Now in the top right corner of that page and you can shop, checkout and pay using credit or debit card – your order ships directly to your address and you are entitled to all Hostess Benefits that are called Stampin Rewards online…
AND WHEN YOU ORDER THESE PRODUCTS NOW YOU CAN TAKE ADVANTAGE OF THE FREEBIES THAT SALE-A-BRATION HAS TO OFFER – CLICK HERE FOR DETAILS