This project is just adorable – perfect for Easter and also baby shower favors – the Bunny holds a cello tube that you can fill with small candies such as Jelly Beans and M&Ms or anything else you can think of…
Isn't he cute? And SO fun to make!  And what a great little treat to give to kids – they will LOVE them!
And those Cello Tubes?  They have a clear seal at one end that works beautifully since it keeps your goodies in the tube and is almost invisible thus keeping the cute look of your gift.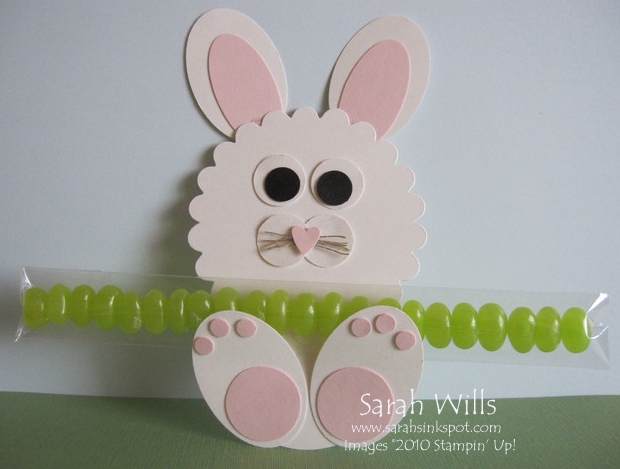 You can leave him as above or you can add cute paws to him holding onto the Tube…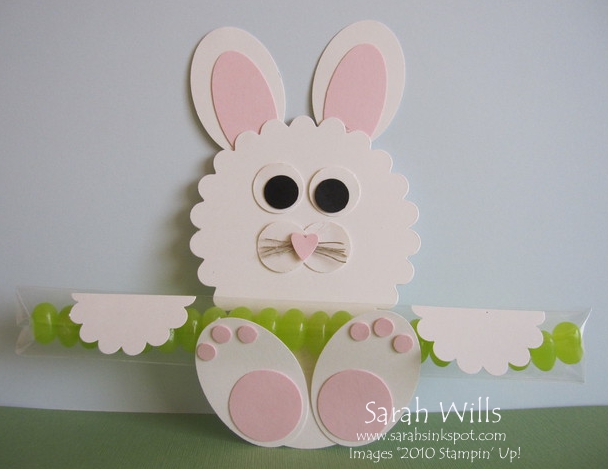 Something NEW I am offering on Tutorial Tuesday…lots of you have asked and so I am now offering a kit of consumable supplies to make my project!  You will find details about this at the bottom of this page!
And don't worry – my Tutorials will continue to be and will always be free every week!

Where can you get those Cello Tubes? They come in packages of 20 or 50 – find out more at the bottom of this page!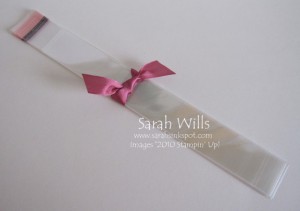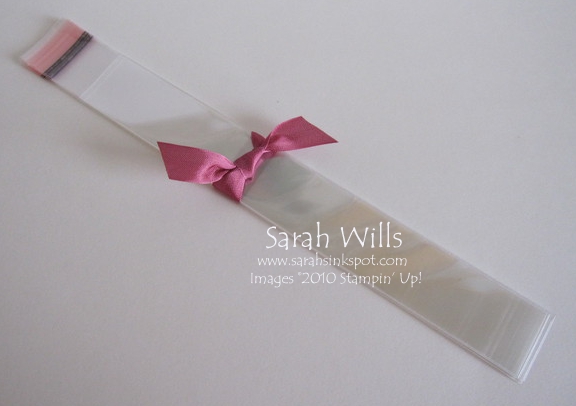 Here is my tutorial so that you can make your very own adorable Bunny – at the end of this tutorial you will find a printable version too so that you can print it out and keep it for reference.
Firstly you need to gather supplies – you will need cardstocks, a small cotton wool ball, a Cello Tube and some Linen Thread.
Next you need to punch and die cut shapes from cardstock – I used the colors Whisper White, Pink Pirouette and Basic Black.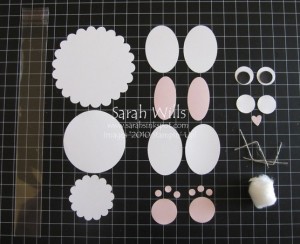 You need to cut the following shapes:
4 x White Ovals using the 2″ x 1 3/8″ Oval Punch
1 x White Scallop Circle using the 1 3/4″ Scallop Circle Punch
2 x Pink Ovals using the 1 3/4″ x 7/8″ Oval Punch
2 x Pink Circles using the 1″ Circle Punch
6 x Pink Circles using a 1/4″ Circle Punch
4 x White Circles using the 3/4″ Circle Punch
2 x Black Circles using the 1/2″ Circle Punch
1 x Pink Heart using the Heart-to-Heart Punch
1 x Scallop Circle using the Scallop Circles #2 Bigz Die
1 x Circle 2 1/2″ in diameter – I used my Circle Scissors Plus & Glass Mat
To assemble your Bunny:
Take two large white ovals and your two pink smaller ovals – adhere the pink ones to the white ones to form the ears – I like to have a wider white margin at the top of the ears and so overhang some pink oval at the bottom and then trim it off…
Isn't he just adorable?!
I know that you might not have all the Dies and Punches to be able to make your own and so…
I HAVE PUT TOGETHER A MAKE-A-BUNNY KIT!
Containing ALL consumable items needed for you to make 10 of these cute Bunnies!
What is in a Kit?
240 die cut and punched out pieces of cardstock
45″ Linen Thread
10 Cotton Wool Balls
10 Cello Tubes
How much is shipping?
The Kit price includes shipping.
Please note that you will need to supply adhesives and the candies to put into your cello bag
How do you purchase my Make-a-Bunny Kit?
By clicking on my Buy Now link below…
Just need the Cello Tubes?
Click below to buy them in packs of 20 or 50…
WANT TO PRINT OUT THIS TUTORIAL?  PLEASE CLICK HERE FOR A PRINTABLE VERSION WHICH WILL OPEN IN A NEW BROWSER WINDOW
Please click HERE to view my other Project Tutorials