If you are a member of my Ink Spot Stampers Team and received a Card Kit either in your Welcome Package OR your Rewards Package to celebrate your achievements, here are the instructions on putting it together…
Firstly a BIG congratulations!!!
You will have received a Card Kit containing everything you need to make 10 beautiful Cards as shown below…
The following supplies are included in your kit:
10 pre-cut & scored colored Card Bases
10 Medium Envelopes
10 colored cardstock Layers
10 White or Vanilla Layers
10 6″ pieces of Ribbon
10 3″ pieces of Ribbon
30 punched out cardstock Circles
30 punched out Designer Series Paper Circle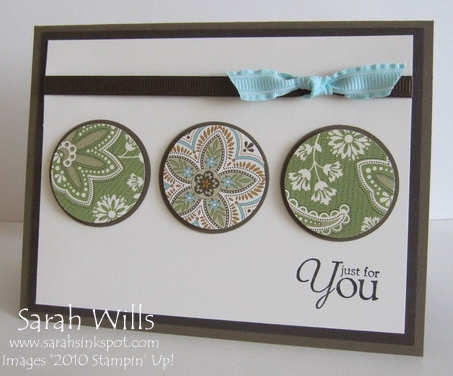 Isn't it beautiful?  And I love how it highlights the Designer Series Papers beautifully – the papers shown in the card above are from Spice Cake DSP that you can find in the Holiday Mini Catalog.
Please note that the cardstock colors, patterned papers and ribbons may vary in your kit – but rest assured what you receive will co-ordinate beautifully!
To put it together…
Take your card base and adhere the colored cardstock layer onto it.
Take your Neutral layer (White or Vanilla) and stamp a sentiment of your choice onto the bottom corner.
Find your 6″ piece of Ribbon and place on the top segment of your Neutral layer – turn over and use scotch tape to adhere each side of the ribbon to the back of your layer.
Turn back over and adhere this Neutral layer to your card base.
Adhere all your patterned paper circles to your cardstock circles.
You will find that you have 10 of one type of pattern for the center circles and 20 of another pattern for the outer circles – mine above has 2 green circles at each end and a flower in the center.
Place 3 circles onto your card base – you can adhere them using regular adhesive or if you want a lift like I did, use Dimensionals.
For your finishing touch take your 3″ piece of Ribbon and tie it around your long piece, finishing in a knot – and trim the ends.
And there you have one cute card that you can customize to any occasion – birthday, thank you, just for you…whatever you desire!
Now make up the other 9 cards and you have a full set complete with envelopes…
Of course if you prefer, you can make them without stamping the sentiment onto them – just leave them blank – that way you can use them as the need arises and stamp on a sentiment as an occasion comes up – how perfect to have a stack of cards to hand when you need them!
Not a member of my Ink Spot Stampers Team and want to join?
When you Join my Team during OCTOBER ONLY Stampin' Up! will GIVE YOU a FREE BIG SHOT OR $100 IN PRODUCTS OF YOUR CHOICE – how AMAZING is that??
AND you will ALSO get my personal welcome gift of a FREE Stamp Set of your choice valued up to $21.95 PLUS a Welcome Pack from me which includes a Card Kit of 10 cards just like the one above, a handmade Card and a hand-covered Journal using beautiful Designer Series Papers!
Here is an example of what you will receive in your Welcome Pack…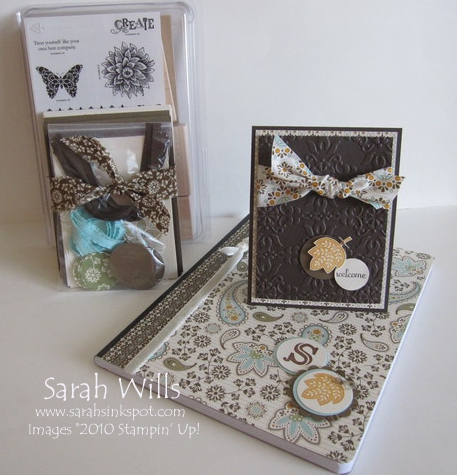 Want to know more?  Click HERE for all the details
Got Questions?  I have the answers!  Click here to email them to me and I will be very happy to help.