If you don't yet have that Owl Builder Punch then you really do need it – it is one of the most versatile punches out there…

Of course you can make Owls using it…but did you know that you can also use it to many more things amongst which are tulips, penguins, fish and now reindeer?
Yes, you can make the most adorable Reindeer using that punch and he is just perfect to use on your Holiday projects – I've seen a few variations around but this is mine…
Isn't he CUTE?!  And SO fast and easy to make!
What can you use this cute Reindeer for? You can make him a feature on Holiday cards and add a cute sentiment AND he is fabulous to use to as to make very affordable treat toppers for kids…I have examples below...
The Owl Punch is the BEST punch investment ever and you can find it on pg 213 of the Catalog or in the online store by clicking HERE
Here is my tutorial so that you can make your very own Owl Punch Reindeer Head – at the end of this tutorial you will find a printable version too so that you can print it out and keep it for reference.
To get a closer view of the photos below, click on them – this will enlarge each for easier viewing.
So what do you need to make him? Just your Owl Punch, the Snowflake Punch or Sizzlits Snowflake Die & cardstocks…
Simply punch out the body shape from the brown cardstock color of your choice – I used Soft Suede – and then trim off the owl feet…
Punch out the antlers using the Snowflake Punch or Die and trim two pieces to size…
Punch out the eyes using the smaller circle shapes on the Owl Punch…
Punch out the nose using the large circle shape on the Owl Punch – I used Red Glimmer Paper that you can find on pg 41 of the Holiday Mini Catalog
And this is what you will have: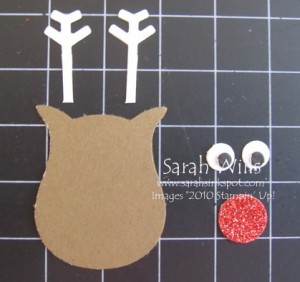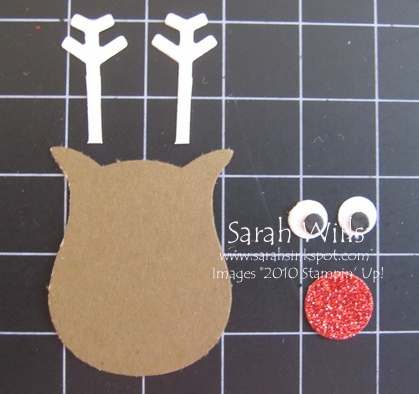 And then simply assemble – Mini Glue Dots make this super easy.
I decided to mount my Reindeer onto a base which I made using the 2 3/8″ Scallop Circle Punch & Silver Glimmer Paper and a Real Red 1 3/4″ Circle Punch & my Polka Dots Embossing Folder…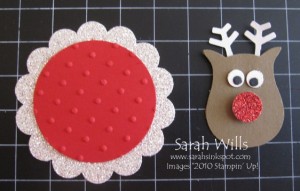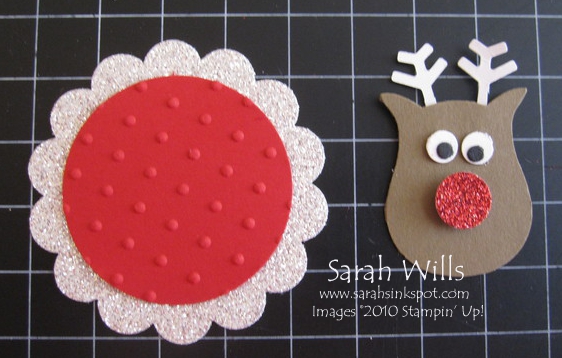 Here I used him to top a Glittery Pencil…I found these pencils in the dollar spot in Target and slipped them into the Cellophane Tube Bags that you can find on pg 11 of the Holiday Mini Catalog…

Here I used him to top a Lollipop…cute for the pre-school set…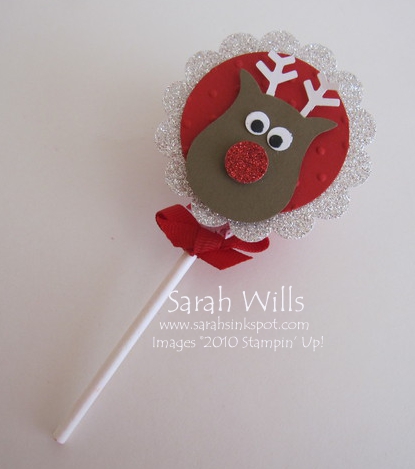 And here I used him to adorn a Candy Cane…a great treat for the girls to handout to their friends…
I know that I am going to be making a bunch of these – they are super fun and kids & grown-ups alike will LOVE them!
Earlier I mentioned that you can also make Penguins using the Owl Punch- another great embellishment perfect for the Holidays – AND I HAVE A FREE TUTORIAL showing you how to make them – find it by clicking HERE – here they are – cute!!!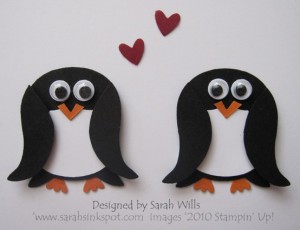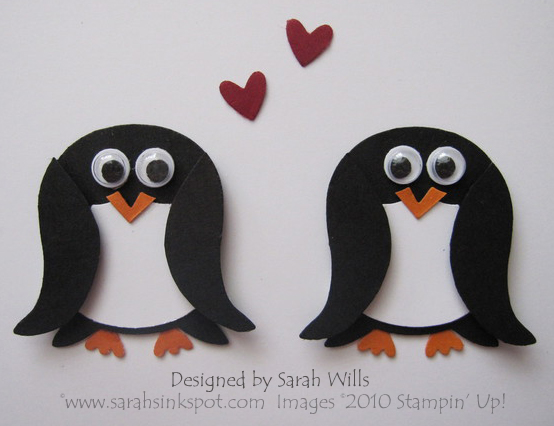 WANT TO PRINT OUT THIS TUTORIAL?  PLEASE CLICK HERE FOR A PRINTABLE VERSION WHICH WILL OPEN IN A NEW BROWSER WINDOW
Please click HERE to view my other Project Tutorials