The Big Shot is an amazing tool to have and it is not just a traditional die cutting machine for papercrafters…
Quilters, patchworkers, woodworkers and model makers are using it as it is such a cost effective system that allows you to cut shapes out of more than 50 materials…
You can die cut materials for use on scrapbook pages, cards, papercrafting, home décor projects to make custom and fabulous seasonal decorations and banners in your home, and even to use on clothing – check out this beautiful flower that I made which has a pin attached so that I can attach it to clothing or my bag – and you can see the fabrics that it cut through with ease – one of them is thick corduroy and the die had no problem with that – you can find a larger photo and details about how I made this flower by clicking here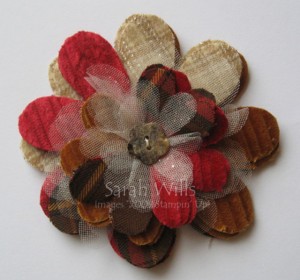 You'll love what the Big Shot machine, a 6-time winner of Creating Keepsakes Reader's Choice Award can do for you to take your paper crafting to a whole new level – it makes incorporating paper crafting into your hobby easy – planning and preparing your bulk or special projects is fast and economical with the Big Shot machine – cut out eight of the same chipboard letter or 20 scalloped pennants in just a few minutes. You'll be able to cut and score 3-D items in seconds. Or create embellishments for cards, scrapbook pages, or any other type of project by cutting multiple images at once.
QUILTERS AND PATCHWORKERS – design your own custom appliqués or make custom fabric flowers to embellish a quilt – the Big Shot die range also offers basic shapes such as circle and squares, pennant and star shapes AND THERE IS EVEN A 5-POINT STAR DIE – having a wonderful Mother-in-Law who is a big quilter, I know how much time this die would save her – it would take minutes to cut out the pieces for a star using this – and they would be completely accurate – here is that die: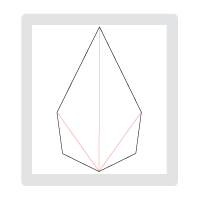 Plus you will also find alphabets & numbers and teddy bears & outfits which you can use to make beautiful baby and child gifts – these dies make cutting out a breeze. And what a great deal – compared to machines sold specifically to fabric crafters, the Big Shot is a fabulous and economical option…what a great addition to your craft room.
Check out the quilt below that is one of the beautiful creations made by Jill Olsen – the flowers were cut using a Bigz Flower Die…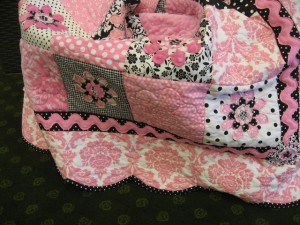 And look at some of the fabulous shapes that you cut out quickly and easily…below is an example of dies that will give you simple shapes such as circles and then more complex shapes such as alphabets and beautiful swirls…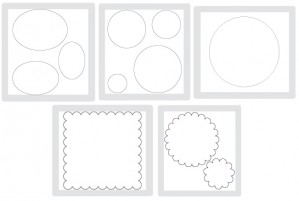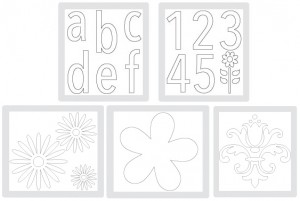 You can use the dies to cut through papers, cardstocks, vinyl, metals and fabrics – and Stampin' Up! has some exclusive dies too – you can find the Big Shot and it's dies on pgs 194 through 201 of the 2009-2010 Catalog and a list of the 50+ materials that it cuts through below…
AND YOU CAN EVEN MAKE YOUR OWN DECOR ELEMENTS – you can buy the 'raw' decor elements sheets along with chipboard sheets sized perfectly for using in the Big Shot – you can find these in the online store – when there, click on 'die cutting' and you will see 'raw materials' which is where you will find them.
To view the fabulous Big Shot and it's dies and to place your order directly online, click HERE – simply click on 'Shop Now' and you will see to the left a section on Die Cutting – you will find the Big Shot range there. If you have questions or would prefer to email your order to me, please click here
What is included when you purchase a Big Shot?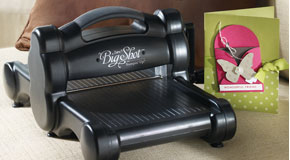 The Big Shot comes complete with the Multipurpose Platform and a pair of Standard Cutting Pads – everything that you need to get started with the Originals and standard Bigz Dies. Once you have purchased your dies, you are ready to cut…
What do you need to purchase so that you can use the other types of dies?
When you look at each die in the online store you will find listed what you need to use with it in the details – here is a quick guide:
When you purchase Bigz XL Dies you will need to purchase the Extended Cutting Pads to use with them
When you purchase Texturz Plates you will need to purchase the Impressions Pad and Silicone Rubber
When you purchase Decorative Strip Dies you will need to purchase the Extended Spacer Platform and the Decorative Strip Cutting Pads
For some Bigz Dies that have score lines you will get better results if you purchase the Premium Crease Pad or the Extended Premium Crease Pad (depending on the size of your die) – this is not essential but will make the end result easier to work with.
When using Bigz and Originals Die with the Big Shot you can cut through over 50 materials listed below:
Thick corkboard
Thick chipboard (59 mil)
Colored magnet
Ruffle board
Paper wood
Balsa wood (3/32″)
Bass wood (1/16″)
Metal mesh
Aluminum (.016)
Tin (.008)
Adhesive and non-adhesive mat board
Drawer liner
Shelf liner
Vinyl
Static cling vinyl
Shrink film
Fine sandpaper
Clear acetate (20 mil)
Vellum
Card stock
Patterned paper
Flocked paper
Contact paper
Textured paper
Metallic paper
Linen paper
Suede paper
Embossed metallic paper
Basketball embossed paper
Faux alligator textured paper
Self-adhesive glitter paper
Fabric
Canvas
Iron-on fabric
Soft plush fabric
Burlap
Velvet
Corduroy
Lace
Heavyweight denim
Terry cloth
Funky fur
Thin leather
Quilt batting
Warm & natural batting
Fusible fleece
Self-adhesive craft metal
Self-adhesive cork
Self-adhesive foam
Self-adhesive magnet
Self-adhesive felt
Adhesive and non-adhesive rubber
Pop up sponge
Poly foam
100% pure beeswax (cut with parchment paper on top & bottom of beeswax.)
Please click here to contact me if you have any questions about this wonderful product.