That's right – I need a few more sales this month and as the month ends on Friday (TOMORROW!) I am doing a TWO DAY GIVEAWAY!
What does that mean

?
It means that when you place an order with me TODAY OR TOMORROW for a minimum of $50* I am going to give you a FREE GIFT OF YOUR CHOICE from the selection that I have below!
BUT HURRY – I only have ONE OF EACH ITEM so it will be strictly FIRST COME FIRST SERVED – the list below will be updated as items are chosen and no longer available – strikethrough the text indicates the item is gone & no longer available…
AND YOU ARE ALSO GOING TO GET YOUR OCTOBER FREE COUPON ITEM TOO!  Yup, as well as choosing a free gift below, you will also get to choose a free pack of Clothespins too!
How do you place your order to get your free gift

?
Click HERE to visit the online store
You can shop & check out using your debit/credit card and your order will be delivered directly to your door
ONCE YOUR ORDER IS PLACED SIMPLY EMAIL ME WITH THE ITEM THAT YOU WANT FROM THE SELECTION BELOW AND I WILL GET IT INTO THE MAIL TO YOU!
 PLACE AN ORDER FOR $50+ AND YOU GET TO CHOOSE ONE ITEM FROM THE FOLLOWING FOR FREE – these items have a $5-10 value: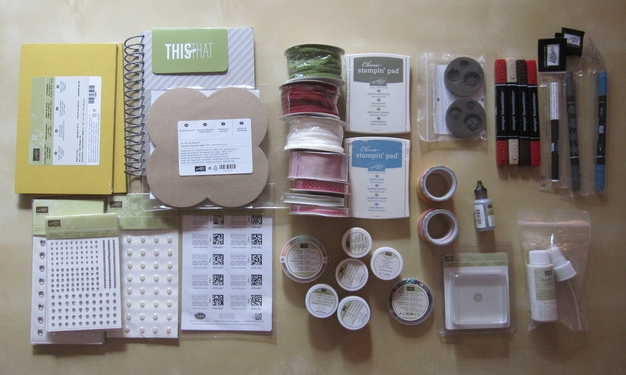 Cut & Ready Card Bases – In Color 2014-16 (20 card bases) – I have two of these available!  ONE IS GONE!  I HAVE ONE LEFT!
This & That Season of Style Journal (featured in last year's Holiday Catalog)
Gift Card Enclosures (pack of 10)
Bottle of Stampin Mist
Stamp Pad – Always Artichoke OR Marina Mist
Rhinestones – large jewels OR regular assorted pack
Large Pearls
Talking Tags
Sweater Trim Ribbon – Gumball Green OR Cherry Cobbler OR Whisper White
Pink Pirouette Two Tone Ribbon
Melon Mambo Scallop Dots Ribbon
Striped Organdy Ribbon – Old Olive OR Melon Mambo
Embellishments – In Color Sequin Assortment OR In Color Boutique Details
Embossing Powder – Wild Wasabi OR Melon Mambo OR Tangerine Tango
Heat & Stick Powder
Glitter – Champagne Glass OR Dazzling Silver Glitter Glue
Gingham Garden Washi Tape
Clear Block – size D – I have three of these!  ONE IS GONE!  I HAVE TWO LEFT!
Simply Pressed Clay Molds
Blendabilities – set of 4 – featuring browns & reds
Markers – set of 3 – Chalk, Basic Black & Island Indigo
And it gets better!!!
PLACE AN ORDER OF $100+ AND YOU GET TO CHOOSE FROM THESE ITEMS – these items have a $15-30 value!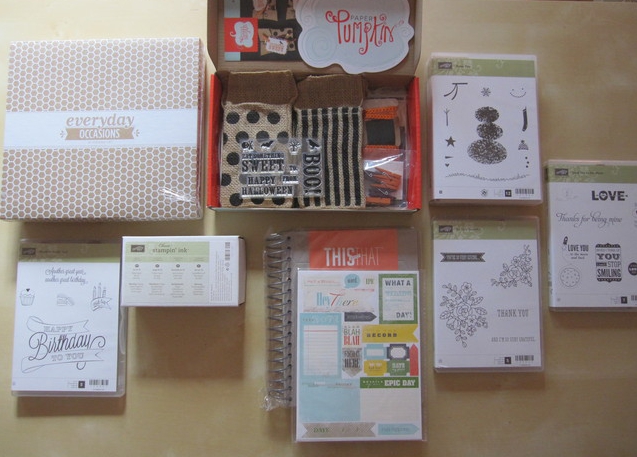 Everyday Occasions Kit – $30 value! – find it on pg 196 – this includes EVERYTHING you need to make 20 cards – including stamps & ink!
Paper Pumpkin Kit from September featuring those super cool treat bags & stamps!
Regals Ink Refills – $25 value! – full set of 12 refills!
This n That Epic Day Journal & Sticker set
Stamp sets – choose Snow Day OR Love You to the Moon OR Another Great Year OR So Very Grateful!  Please note that these stamps have been very gently used but are all in like new condition!
WHICH ITEM WILL YOU CHOOSE? 
That Everyday Occasions Kit is absolutely fantastic – my bet is that it will be the first thing to go – if you want this kit for FREE get your order & email in FAST – AS OF RIGHT NOW EVERYTHING IS UP FOR GRABS!
Please note:
You get to choose ONE FREE ITEM per order
You must use the link to my store to get your freebie – find the link HERE
FIRST COME FIRST SERVED – once an item has been chosen, it is gone – you will get to choose from the remaining items available
This offer runs from today – Thursday October 30th through midnight tomorrow – Friday October 31st 2014
The dollar amount is the cost of the merchandise BEFORE S&H and sales taxes as applicable are applied
Yes, October's coupon is valid on your order too!  Please email me with your choice of Clothespins asap so that I can get them ordered – find them on pgs 208-209!
AND you will also receive my October Thankful for You Make & Take/Sample kit in the mail along with a Thank You card  :-)
Got Questions?  Email them to me by clicking HERE and I will be very happy to help!