I was looking at those Sweet Treat cups and wondering how I could use them to make some cute Thanksgiving treats to give to the kiddies at school…so I got out one of those cups, some oval and circle punches and Fall colored cardstocks and got to work and this is what I came up with…I was looking for a name for my sweet little turkey and was going to name him Tom but my girls had other ideas…they decided that our turkey should be a 'she' and that her name is Tiffani…isn't she a cutie?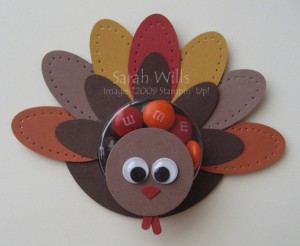 Those Sweet Treats Cups are in the Holiday Mini which you can view by clicking HERE – they make fabulous treat holders that would be perfect for Thanksgiving – and imagine what a cute thing to find at a Thanksgiving table place setting? Your guests will LOVE them…place your order now and you will still receive them in time to make your own cute turkeys in time for Thanksgiving…and those Sweet Treats Cups and the co-ordinating stamp set Sweet Centers are part of the Holiday Extravaganza Gift Giving Guide Promotion – buy them and you get a freebie – check out that promo by clicking here – and check out my very own special offer in the post below…
Tiffani is sooo easy and fun to make – firstly using my Circle Scissors Plus I cut out a 3″ Circle from Chocolate Chip cardstock. At the lower edge of that circle I punched out a 1 3/4″ Circle for my Sweet Treats Cup to go through. I used glue dots to adhere my cup to the base. I then took various colors of cardstock from the Earth Elements family – Really Rust, More Mustard, Close to Cocoa and Ruby Red – and for each 'feather' I made a slight punch using my circle punch so that the bottom edge of the feather would sit snug to the cup – I then took my Large Oval Punch and punched out the oval incorporating this curved edge – photos of this are below: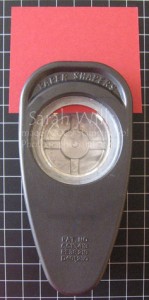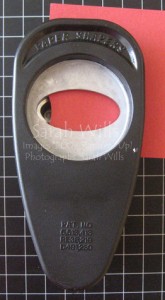 I used my Paper Piercing Tool to give each feather a more defined look and adhered them to my base using Mini Glue Dots. I then did the same process using Chocolate Chip cardstock and the Small Oval Punch and adhered these smaller feathers in place. For her head I punched out a 1 3/8″ Circle from Close to Cocoa and added some googly eyes that I found at a craft store – I made her beak using my Ticket Corner Punch and her waddle was made using the Horizontal Slot Punch.
Finally for the treats – I put some brown, red and orange M&M's into the cup, tore off the sealing strip and adhered it to a circle of cardstock – to get to the candy without breaking her apart I used my Paper Piercing Tool to make holes every 1/16th of an inch in a cross – the recipient just gently pushes through to retrieve the goodies…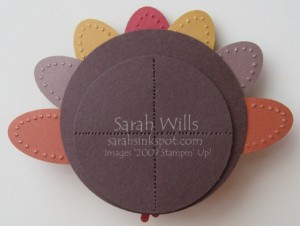 All of the Punches that I used to make her can be found on pgs 186-187 of the Idea Book & Catalog – and the Sweet Treats Cups and 1 3/4″ Circle Punch are on pg 7 of the Holiday Mini Catalog – you can place your online order by clicking here and then 'shop now' in the top right corner…and if you have any questions please contact me and I will be very happy to help.
Punch Art Turkey with Sweet Treats…