AND IT'S SOOO EXCITING!!!  In a color shake up Stampin' Up! are releasing 5 BRAND NEW COLORS and bringing back 10 RETIRED IN COLORS to add to the core color collection in July – this is fabulous news!
Want to know what In Colors are coming back? Baja Breeze, Melon Mambo, Pink Pirouette, Rich Razzleberry, Riding Hood Red, River Rock, Soft Suede, Tangerine Tango, Pacific Point and Wild Wasabi – isn't this exciting?
Want to know what new Colors are coming? Marina Mist, Daffodil Delight, Cherry Cobbler, Cajun Craze and Early Espresso – delicious names…
Want to see the new Color collection and to find out which colors will be retiring in June? Click HERE or on the picture of them below for lots more info and close-ups  :-)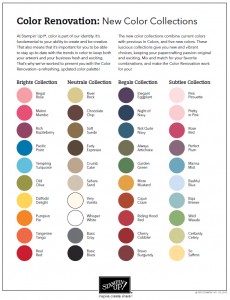 To make room for the new ones some have to go…if you need to stock up on any of your cardstocks & ink refills for those that will soon be retiring, you can order directly online 24/7 by clicking HERE… I would urge you to order sooner rather than later to avoid disappointment…
Additionally ALL colors will be available in Markers, Watercolor Crayons and Pastels – this is fab news for you watercolorers out there!  The new colors will be available to everyone from July 1st – but if you are a demonstrator you get to order them early – not a demonstrator yet?  Find out more about joining my Ink Spot Stampers group by clicking HERE
Want to see more NEW stuff? Yesterday Stampin' Up released some new Digital Downloads for My Digital Studio including a brand new alphabet set that will be featured in an upcoming catalog – Rough Type Alphabet which is just perfect for those rustic projects and I used it in my page below along with the gorgeous Pink Pirouette which is coming back soon – Rough Type is available for purchase NOW and you can see this and other brand new downloads by clicking HERE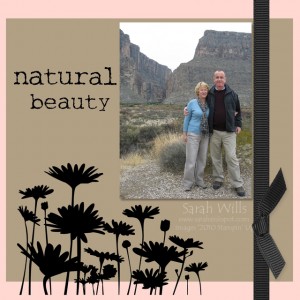 The page above is to say a BIG Happy Birthday to my dear Mum-in-law Diane – Happy Birthday Diane – hope you have a fabulous day  :-)
As always if you have any questions please click here to contact me and I will be very happy to help.
A New Stampin' Up! Color Renovation is coming…