With the holidays fast approaching there are some wonderful items in the Clearance Rack that you can use in your gift giving this year…but hurry…these items won't be there for much longer…
I purchased a few rolls of  Riding Hood Red 1 1/4″ Striped Grosgrain Ribbon to wrap around my gifts and embellish some gift baskets I am putting together…I love tying thick ribbon on the handles when packaging up baskets…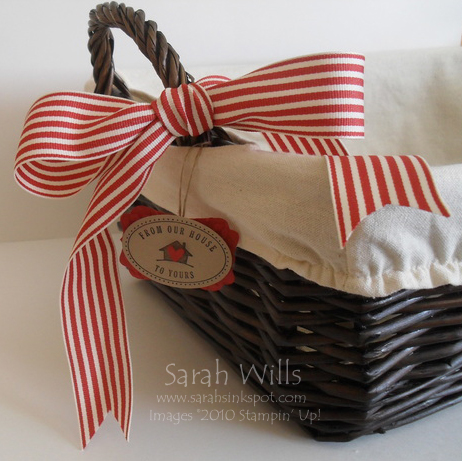 This ribbon is just GORGEOUS – it is wide and a pleasure to work with and it is in the Clearance Rack priced at JUST $1.99 for 10 yards…what a deal this is for very high quality ribbon…and trimming those ends into a V shape gives it a great look – how do you do that?  Simply take the end of your ribbon between your fingers and fold in half – cut on an angle, unfold and you're done!
The stamp on my tag? It's from the set Sweet Season (pg 34) and has stamps that are perfect for making tags for your holiday treats.
And check out these very cute Treat Bags that you can find there too – they are coated and made of heavy weight cardstock – perfect for packaging up some tasty treats…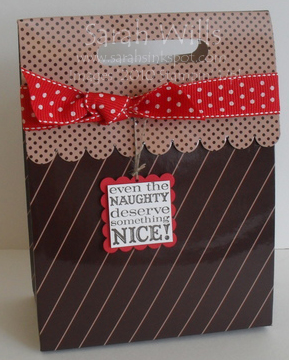 They come in a pack of 5 and are priced at just 99c making them JUST 20 cents each!!! Add a little ribbon around the top and a tag or embellishment, fill your bag and you are done!  These are perfect for housing gifts for teachers, co-workers, your mailman etc…
The ribbon I used to trim my bag  is Real Red 3/4″ Polka Dot Grosgrain Ribbon and is JUST $1.99 for 10 yards – I used about 12″ to trim my bag which cost me 7 cents – to make the Treat Bag & Ribbon above cost me the grand total of just 27 cents – isn't that amazing?  AND this ribbon is double sided giving added value for money – the reverse side is plain red with white stitching down the edges.
You can find & shop the Clearance Rack by clicking HERE and then by clicking on Shop Now in the top right corner…you will see it on the left side of that page…click on it and then click on 'show All' to make browsing it easy.

115608  Real Red 3/4″ Grosgrain (10 yards) –  $1.99
115690  Treat Box (pack of 5) –  $0.99
113099  Riding Hood Red 1 1/4″ Striped Grosgrain (10 yards) –  $1.99
BUT HURRY – there are lots more items available at up to 80% off but these items are only available whilst stocks last!