Firstly, apologies for slipping Tutorial Tuesday into Wednesday this week…the kids are home from school and with Thanksgiving ahead the time has flown by!

This week I am going to show you a cute way to package some cards to give as a gift – it's a Concertina Card Holder and is perfect for almost anyone – you can create cards for a few occasions and give them in a functional but beautiful case.  The case features 3 dividers to keep each card type separate and it is very easy and fun to make…
Please read on for more details plus the link to the printable tutorial showing you how to make this and details of this week's Blog Candy…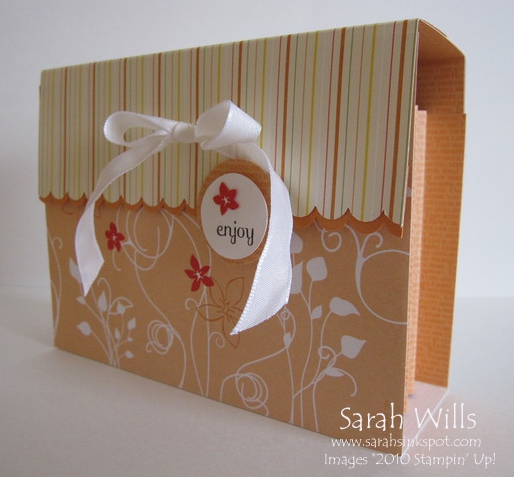 My base colors that I used for my Card Holder are Whisper White and Peach Parfait…the Designer Series Papers that you can see on the front and lid are from the beautiful pack Sunny Garden.  The lid is attached to the base by a piece of ribbon – I used Whisper White Taffeta – but you could also use a magnetic closure or velcro if you prefer.
Un-tie the ribbon and the lid opens up to reveal the inside – there are actually 4 compartments there each separated by a cardstock divider.  I stamped my card categories using stamps from the set Fabulous Phrases and punched each out using my Round Tab Punch.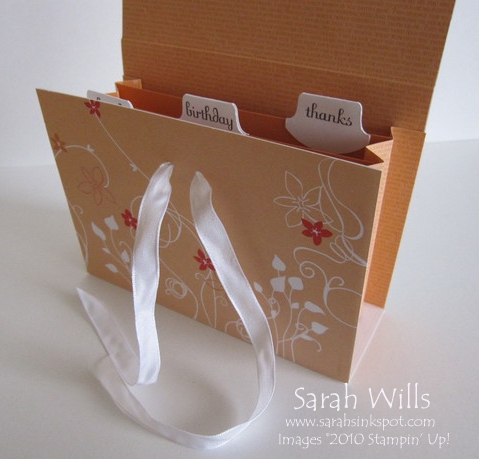 The inside and side panels are made using DSP from the In Color Patterns DSP Stack – again, in co-ordinating Peach Parfait…you simply fill your compartments with a few handmade cards and there is one beautiful gift for a lucky recipient…
WANT THIS TUTORIAL SHOWING YOU HOW TO MAKE THIS SWEET CONCERTINA CARD HOLDER?  Click HERE to find my Project Tutorials where it is at the top of the list – in that tutorial you will find a printable version too!
Onto this week's Blog Candy…leave me a comment to let me know what you think and you will be entered into a drawing where one lucky winner will be drawn this Friday morning – that lucky winner will receive a kit containing all the consumables they need to make their own Concertina Card Holder plus a set of 4 handmade cards made by yours truely!
So come back and visit me on Friday to see if you won and to check out my Festive Friday item for this week!
*** FOR 3 DAYS ONLY – I WILL HAVE MY VERY OWN BLACK FRIDAY DEAL SO BE SURE TO COME VISIT ME FIRST THING FRIDAY MORNING TO FIND OUT WHAT IT IS! ***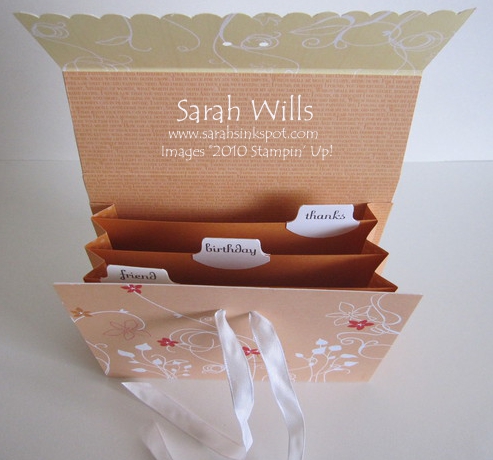 TO ORDER STAMPIN' UP! SUPPLIES ONLINE CLICK HERE!
Tutorial Tuesday adds folds…