With Christmas almost upon us, I decided to show you very cool little Twisted Treat Holders that you can make in minutes – these would be perfect for place setting treats at your holiday dinner table or for party favors…
They are made simply from a piece of patterned paper and you can add whatever embellishments you like…they are the perfect size to hold a few candies – to give you an idea of their size, approx 5 Hershey Kisses fit inside.
Please read on for details about how I made it, details of my Blog Candy and a link to my printable tutorial so that you can make your own…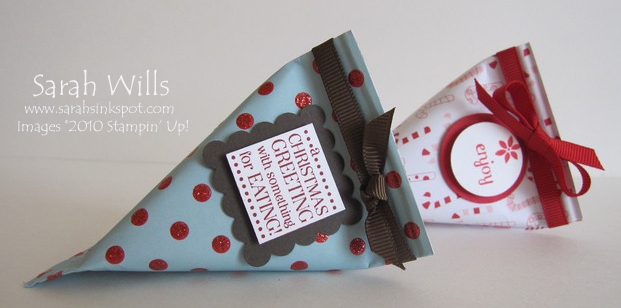 They are SO easy to make using just a piece of patterned paper sized 5 1/2″ x 4 1/4″ and you can easily adjust the size simply by changing those dimensions.
You fill them with candies or other little goodies and seal them inside – on the ends of each, you can see a crimped edge – this is very easy to make using a simple tool – the Crimper that you can find on pg 198 of the Catalog.
Here is my first one…I used a piece of paper from Candy Cane Christmas and added a length of 1/4″ Espresso Grosgrain Ribbon to the top and finished with a knot…I stamped a greeting from Tags til Christmas and attached it to a shape I punched out using my Scallop Square Punch…isn't it cute?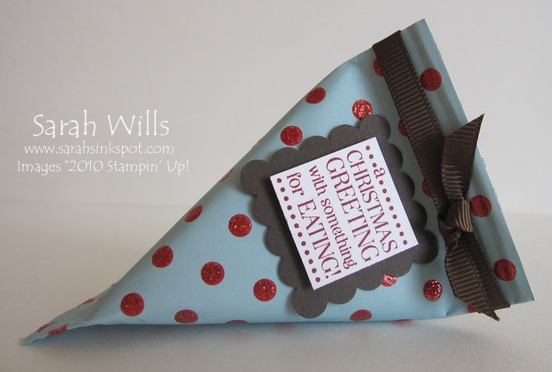 And here my second one…again, using a piece of paper from Candy Cane Christmas and at the top I added a piece of 1/4″ Real Red Grosgrain Ribbon and finished with a bow.  I made my sentiment tag using a stamp from Fabulous Phrases and that cute poinsettia is from Season of Joy – I then punched out circles using my 1″ and 1 1/4″ Circle Punches and attached it using Dimensionals and tape…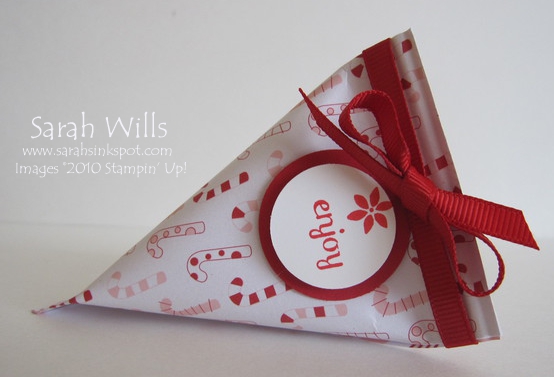 I think they turned out cute and are the perfect size for place settings – they literally take minutes to make each and are a great way to use up those Holiday themed papers…
WANT THE TUTORIAL SO THAT YOU CAN MAKE YOUR OWN TWISTED TREAT HOLDER? Click HERE to find it in my Project Tutorials section plus in that tutorial you will find a printable version too!
Onto this week's Blog Candy…leave me a comment to let me know what you think and you will be entered into a drawing where one lucky winner will be drawn this Friday morning – Christmas Eve – that lucky winner will receive a sampling of new papers & ribbons featured in the upcoming Occasions Mini Catalog – COOL!
Come back and visit me on Friday to see if you won!
TO ORDER YOUR STAMPIN' UP! SUPPLIES ONLINE CLICK HERE!
Tutorial Tuesday gets Twisted…