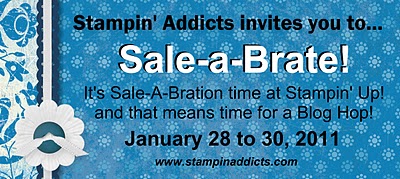 A warm welcome to stop no. 5 on the Stampin' Addicts Sale-a-bration Blog Hop!  You have just arrived from Joyce's  blog where she showed you some fun things to make using the Digital Content CD.

Every stop on this hop is showcasing a different stamp set that you can get for free during Sale-a-bration – yep, you choose one item for free with every $50 in merchandise that you spend!
I am using the stamp set Sweet Summer that you will find on pg 8 of the Sale-a-bration Catalog.  It is a set of 9 featuring beautiful flowers, stems and insects and as I found out when I played with it, it is a very versatile set…so please read on to see my projects and for details of my yummy blog candy…
My first item is very clean and very simple…featuring a cute swirly stem stamp…
I used same-color double layers for both my Espresso base and Vanilla mat – this is a great way to give a very elegant look to a simple card…
I added some little Pearls to my berries and just before the thanks for a cute touch and decided against adding anything else to showcase just what an great look you can get using one stamp from this set and two colors of card stock.
My second item is bold and fun and again uses that cute swirly stem stamp from this set…and this treat is one that shows you how versatile this set can be…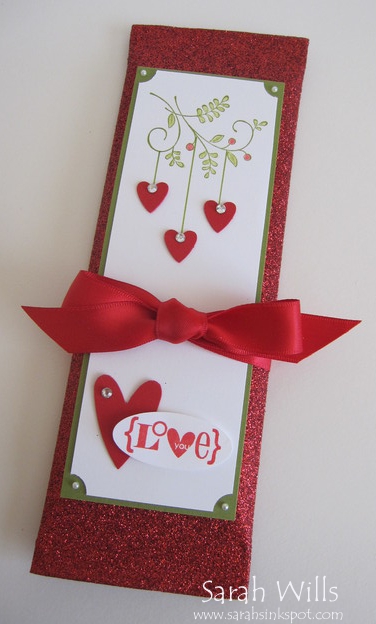 Underneath that gorgeous red sparkly Glimmer Paper that is wrapped a chocolate bar – this paper is featured in the Occasions Mini Catalog and  is a pleasure to work with because ALL of the glitter stays on it – there is none falling off as you cut into it – gotta love that!  And the sparkles are dazzling…
I decided to make this a Valentine treat and so added those hearts hanging from the stem and added even more sparkle with beautiful Rhinestones…cute!
Imagine the possibilities – you could create holiday cards by hanging punched out circles for ornaments…or easter cards by hanging oval eggs…
Want to know more details and see how I wrapped my chocolate bar?  Come back on Monday to find out!
My third item is a treat for kids featuring a cute flowerpot…I think girls will love this and it would make perfect sleepover or party favors…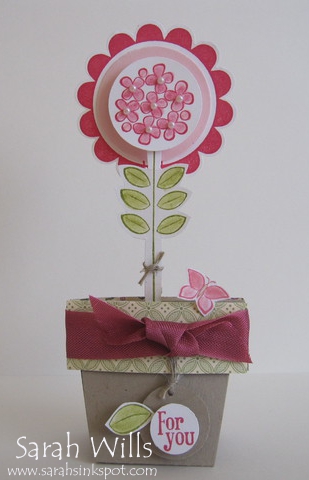 Do you know what the stem and flower pot are disguising? A Dum Dum lollipop!
My flower stem is disguising the lollipop stick and the flower pot is wrapped around the lollipop – isn't it cute?   Both the stem and cute flower at the top are stamped with stamps from Sweet Summer and I again added some Pearls to my flower centers…
I added the little leaf and butterfly stamps for a cute finishing touch – want to know how to make this little treat?  Come back on Monday for the details and tutorial!
My last card again uses that cute swirly branch…I just love the versatility of this little stamp and will be using it for years to come…
Another simple card using Baja Breeze and Crumb Cake and this time my stem is standing upright with those beautiful flowers attached…
This flower is another stamp from Sweet Summer and I stamped and cut out my flowers and added them with dimensionals to the stem along with a couple of Pearls…love the Pearls…
I added a sentiment from You're a Gem and a piece of beautiful Baja Breeze Seam Binding and there is one cute card!
Don't forget to come back and visit me on Monday for more details, photos and tutorials about my projects…and of course to find out the winner of my blog candy…speaking of which…

Leave me a comment to let me know which item is your favorite and you will be entered into a prize draw – the winner will be chosen by random.org on Monday and one lucky winner will win a roll of beautiful Seam Binding of their choice from the Occasions Mini Catalog!
Thank you for visiting – now you're off to visit Kim where she will show you some fabulous things that you can make using one of my favorite  Sale-a-bration sets, Bliss…
Stampin' Addicts Sale-a-bration Blog Hop is here!