We had a very fun and jumbled day riding around in a Jeep and with this in mind I decided to showcase another fabulous swap card that is also fun and a bit different…
I do not know the name of the talented stamper who made this but it's another eye catcher of a card – if you know who she is please let me know so that I can give her credit for this fab piece of art…
What I most like about this card is that it shows you that you can create your own backgrounds using stamps and inks and maybe even an embossing folder…its fun and easy to do…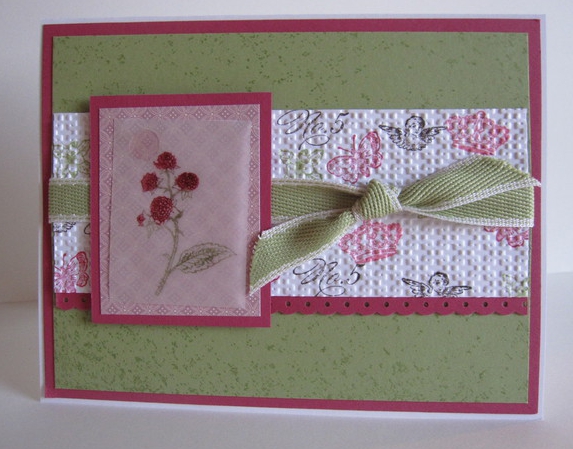 This card uses the colors Rose Red, Pear Pizzazz, Early Epsresso  and Whisper white.
To create the splatter effect that you can see  on the background piece of Pear Pizzazz above you simply need a Marker and Spritzer Tool – you simply clamp your marker into the tool and press the bulb – this puffs air onto your marker tip and in turn sprays the ink from it onto your cardstock – it is a great tool for creating splatters and even sand effects…
Isn't that white textured and stamped strip amazing?  To create a similar look you stamp your images onto a piece of cardstock and then run it through the Big Shot inside an Embossing Folder – the embossing folder used for this is Square Lattice and it gives an almost fabric look to your projects…for a closer look please click on the photo below…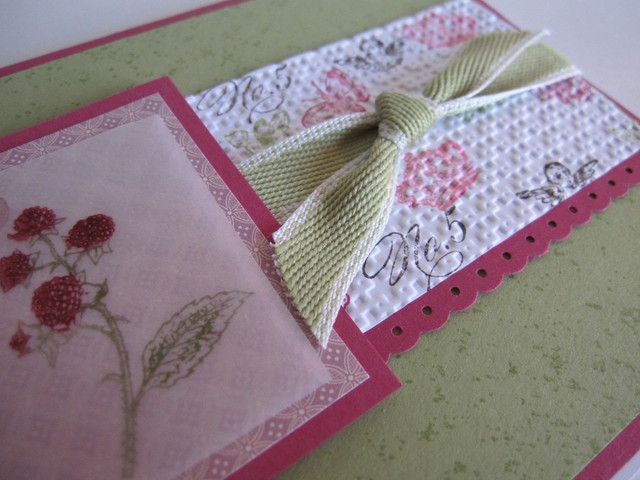 What stamps were used on this card?  All came from the set Clearly for You that features the cute cherub, crown and no. 5 that you can see above and you can find this set on pg 28 of the Occasions Mini Catalog – this is a fabulously versatile set and the images are styled perfectly to fit into the brand new Beveled Windowpanes.
And yes, that gorgeous stamp featuring raspberries is also from that set simply stamped onto a piece of Vellum and layered onto a piece of patterned paper from Springtime Vintage DSP featured on pg 15 of the Occasions Mini – and those raspberries look so true to life…
Finishing touches?  A piece of Pear Pizzazz Poly Twill Ribbon and a cute little border made using the Dotted Scallop Ribbon Border Punch.
I love that stamps, embossing folders and inks allow you to make your own backgrounds – it's fun to create exactly what you want, themed for any occasion – the possibilities are endless!