When I first saw the new Catalog there was a BIG must-have set that was at the very top of  my wish list…
And that set is My Friend which is featured on pg 139 – it is a set of 5 and features a beautiful silhouetted plant and gorgeous words – and I knew it would be fun and versatile to use.
I wanted to show you a very clean & simple card that I made using it – and I love how dramatic the black on white looks…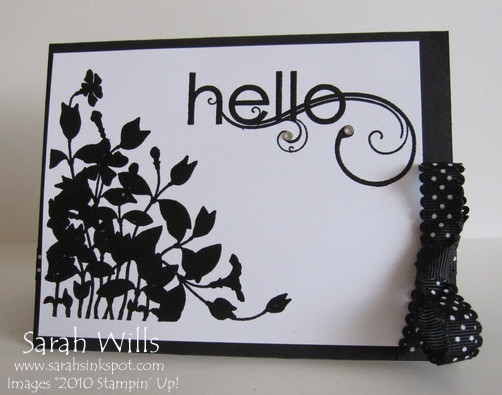 See how crisp those black stamped images look?  This is the fun part – if I just stamped them using black ink they wouldnt be so dramatic and 'black'…
So, what did I do?  Here is the FUN bit – I used my Black Embossing Powder to get that very black dramatic effect – I LOVE playing with embossing powders – they are such an easy & fun way to give any card a WOW factor!
Not used Embossing Powders before? You are in for a real treat!  You need a few basic supplies – a Versamark Ink Pad, a pot of Embossing Powder and a Heat Tool – then you:
take your stamp and ink it up with Versamark Ink (which is clear)
stamp it onto your cardstock
sprinkle on your embossing powder and shake the excess off
use your Heat Tool to transform it into a beautiful shiny glazed image
I have a free printable step-by-step guide to Embossing which you can find by clicking HERE
So as you can see I embossed my silhouette and 'hello' images and then I decided to add a couple of Rhinestones to the swirls of that sentiment to give it a bit of bling…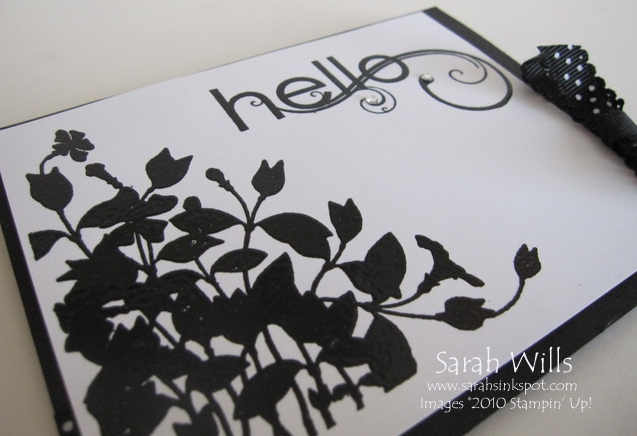 And for a finishing touch I added a piece of the brand new and beautiful Black Scallop Dots Ribbon and finished with a bow on the side…
I have a couple of spots available in my Scallop Dots Ribbon Share – click HERE to find all out about it
I just LOVE how easy & fun this card was to make – and I can't wait to hear if my swap club ladies like it…
Here is a list of the basic supplies you need to get you started with Embossing:
100005  Heat Tool – $29.95
102283  Versamark Ink – $7.50
Embossing Powders in a variety of colors – $4.75 each
Add-on's to make it even easier:
103083  Embossing Buddy – $5.95
102197  Powder Pals – $19.95
You can find all of these items on pgs 201-203 of the Catalog and if you click on each item above it will take you to that item in the online store.
And here are the images included in that beautiful set My Friend:
Available in both wood and clear mount versions – it is SIMPLY GORGEOUS!!!
CLICK HERE TO ORDER YOUR STAMPIN' UP! & EMBOSSING SUPPLIES ONLINE!

Clean Simple Black & White…