As soon as I saw the Blossom Builders Designer Printed Kit in the Occasions Mini Catalog I just knew that the printed die cut flowers in there would be perfect for making a fabulous Mini Chocolate Vase…
You can find the Blossom Builders Designer Printed Kit on pg 18 of the Occasions Mini Catalog and in just ONE KIT you get enough flowers & Rhinestones to make at least EIGHT Mini Chocolate Flower Vases making it a fabulous deal at just $9.95…
This would be a beautiful treat to make for teachers, friends & family for Valentine's Day and is fun to make…I have a free printable tutorial showing you step-by-step how to make one of your own – please read on for the details…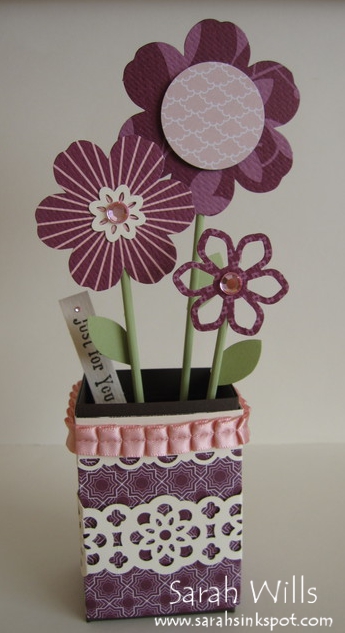 This turned out sooo cute – it's hard to see from the photo that it is much smaller than previous Chocolate Flower Vases that I have made – but to give you an idea, this Mini one measures just 8″ high by 2 1/2″ wide.
You can see that in my Vase above I used the Razzleberry colored flowers from the Kit – what I love about these flowers is that they are printed with patterns on one side, but are plain colored on the reverse so you get the choice of 2 sides to use for each…
They also have a beautiful texture to them and you can embellish them with the included Pink Rhinestone Jewels – you can see that I used two of those Pink Jewels for flower centers above…
And for my big flower I punched out a 1 1/2″ Circle from a piece of patterned paper from Twitterpated DSP that you can find on pg 13 of the Occasions Mini…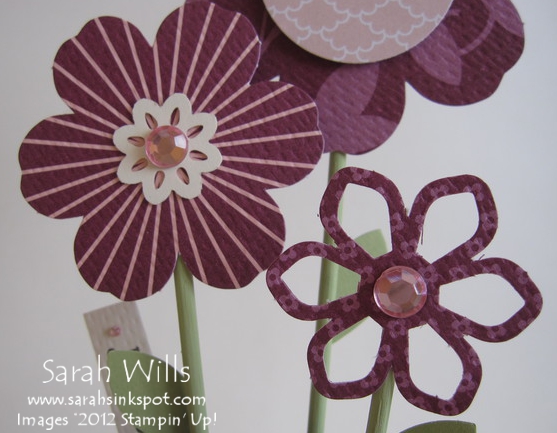 The stems? They are simply wooden skewers that I painted using a light green acrylic paint and attached to the back of each flower using a piece of tape – I then trimmed the sticks to size using some wire cutters.
The leaves? I used my 5-Petal Flower Punch to punch flower shapes out of Certainly Celery cardstock and used my paper snips to trim petals out and adhered them to the sticks using Mini Glue Dots – to hide those dots, simply roll each between your fingers to make a sausage shape and voila – hidden adhesive…
The label? In the Blossom Builders Kit you also receive 12 label die cuts – I simply stamped my sentiment using a stamp from the set Tea Shoppe (pg 10 of the Occasions Mini), added a small Pink Rhinestone Jewel to the top and popped it into the Vase…click on the photo below for a closer look…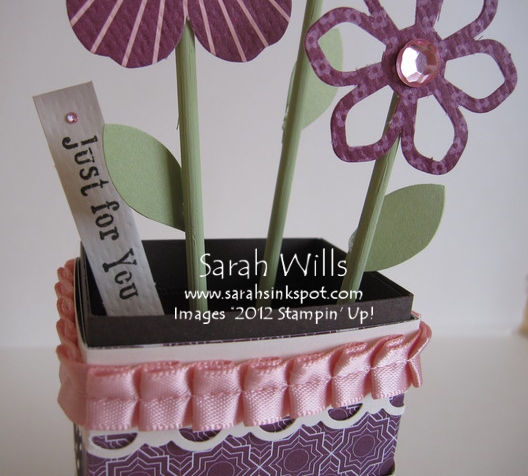 And check out the stamped image – the texture of the label makes the stamped words look a little rustic which is a perfect gardening themed touch…

The Vase? Made using Early Espresso Cardstock and covered with a piece of patterned paper from Pocketful of Posies DSP (pg 184) – I love how this DSP color co-ordinates beautifully with the flowers…
I made a top trim using my Scallop Trim Border Punch and Very Vanilla cardstock – and check out that ribbon…it is the GORGEOUS Blushing Bride Pleated Satin Ribbon that you can find on pg 12 of the Occasions Mini Catalog – what a beautiful addition to any project this makes…
I used my Large Lace Ribbon Border Punch (pg 211)to make that beautiful border around the center and there is one CUTE Vase.
OK so where is the Chocolate? It is inside the vase – there are 4 Ghiradelli Chocolate Squares that the flower stems nestle between and those squares just slide right out so that the recipient can eat them…again, click on the photo below for a closer look…you can also see that beautiful Pleated Ribbon…isn't it gorgeous?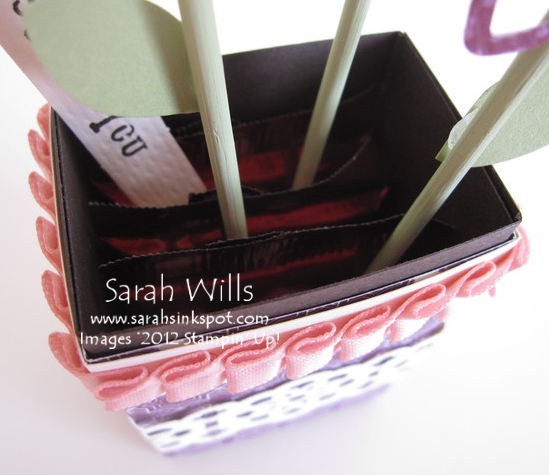 I am going to make another Mini Chocolate Vase later this evening using the Baja Breeze flowers, Pleated Satin Ribbons and papers from the fabulous Everyday Enchantment DSP that you can find in the Sale-a-bration Catalog – I hope to post it tomorrow so be sure to come back and see it…
WANT MY FREE PRINTABLE TUTORIAL SHOWING YOU HOW TO MAKE YOUR OWN MINI CHOCOLATE FLOWER VASE?  Click HERE to find it!
Here are the Printed Die Cuts & Rhinestone Jewels that you get in Blossom Builders Designer Printed Kit – LOTS of them – they are die cut meaning you simply gently push them out to use them and those Rhinestones are self-adhesive too!
Click on the picture below to view this Kit in the online store…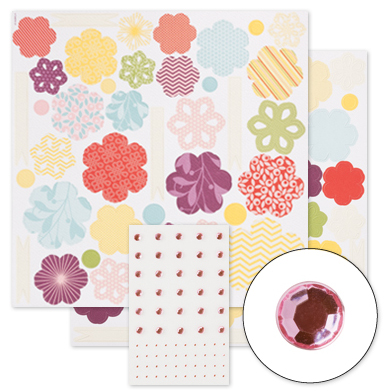 PURCHASE YOUR BLOSSOM BUILDERS DESIGNER PRINTED KIT FOR JUST $9.95 BY CLICKING HERE!
Mini Chocolate Flower Vase using Blossom Builders…