I hope you are having a fabulous Labor Day holiday and hopefully a well deserved day off giving you time to place with your paper crafting goodies for my Holiday Card Challenge…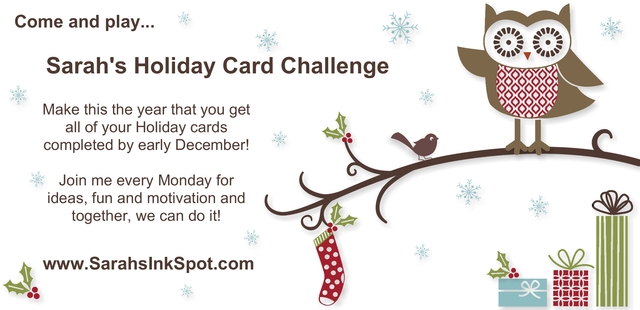 Want to know more about my Holiday Card Challenge? It's free, simple & fun to take part in and if you play along, at the end of it you will have ALL of your Holiday cards made – by early December!
Click HERE to find out all the details!
The winner of last week's Holiday Card Challenge is at the end of this post so please read on to find out who it was!
Sooo…what am I challenging you to use this week?
Stampin' Up!'s Embossing Powders – they add a real WOW factor to your cards with the added bonus of being very fun to use!

My card this week is another clean & simple card – it's what I like to call a One + One + One card…

Meaning it uses just ONE color of Cardstock, ONE color of Ink and ONE Stamp Set – this means it is a very affordable way to make a large quantity of cards – PERFECT for Holiday cards.
Here is my card for this week's challenge to use Embossing Powder…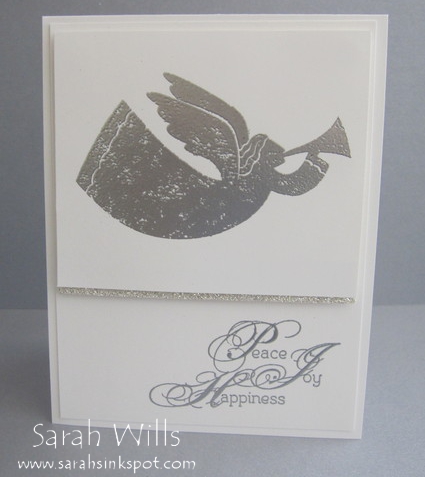 The photo really doesn't do this card justice – I just couldn't get a good photo of it with the bright light bouncing around today but it is just beautiful and so easy & fun to make…
What did I use to make this card?
ONE color of cardstock – Whisper White
ONE 'ink' color which in this case is Silver Embossing Powder
ONE stamp set – Rejoicing with You
Onto my standard sized card base I added another white layer sized 4″ x 5 1/4″ and in the lower corner of this layer I stamped & embossed my first stamp from Rejoicing with you…
It is that beautiful 'Peace Joy Happiness' sentiment that is large & swirly – to emboss it I simply inked up my stamp using Versamark Ink, stamped it onto my paper, sprinkled on the Silver Stampin Emboss Powder and using my Heat Tool to melt it…
Not used Embossing Powders before or need a simple refresher?  I have a Free printable tutorial showing you step by step how to Heat Emboss – click HERE to find it – it is a fun technique!

Then I cut a white mat to be sized 3 1/4″ x 3 3/4″ and stamped & Heat Embossed that beautiful angel from the set Rejoicing with You onto it – you can then add this layer onto your card as-is but I decided to add a little bling…
I cut a small strip of Silver Glimmer Paper and added it to the bottom of my angel layer to add some bling and to give a little character between the two stamped images.
I then attached my angel layer using dimensionals and voila – there is one clean & simple yet beautiful Holiday card…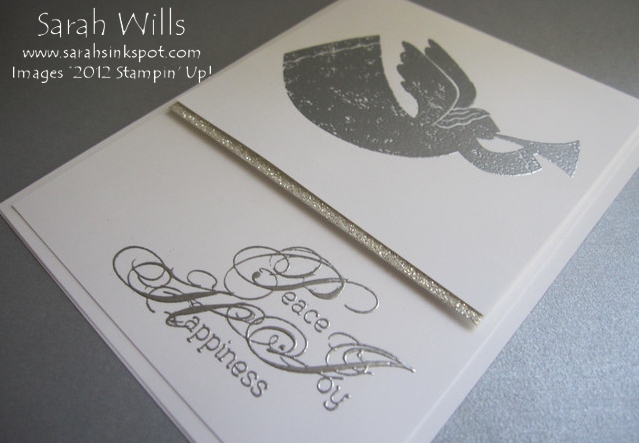 That's my card for this week – I hope that I have inspired you to did out out your Embossing Powders & Heat Tool and make your own card/s…
SARAH'S CARD COUNT: I made THREE of these cards this week giving me a grand total of 8 Holiday Cards made already – how many did you make?
Who made the winning card from last week?
WOW your response was again fantastic and my girls had a hard time judging because you sent in lots of cute holiday cards featuring beautiful background patterned papers!  And unfortunately they are as good as their mother about procrastinating and so this week we ended up with two winners because they just could not decide on one!
So the Winners of Last Week are…
Laura King with this beautifully elegant entry…I love her coloring & how it ties into the colors on that paper…and that beautiful embossed background…gorgeous card…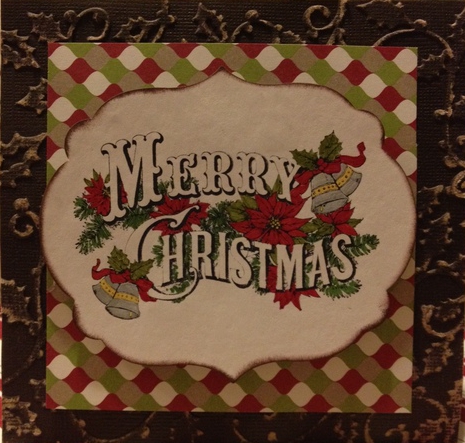 And one of my wonderful Team Members Janet Goshorn – the girls LOVED the bright colors in this one and of course the santa hat – I love how Janet used that Glimmer Brad on there too…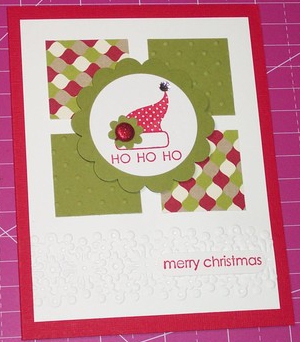 CONGRATULATIONS LADIES – your prizes are on their way to you – enjoy!
Don't forget to take part in my Holiday Card Challenge – you could be the next Winner of the Week!

Email the Holiday card that you make this week using ANY Stampin' Up! Embossing Powders to me at sarah@sarahsinkspot.com and you will get a little gift in the mail from me – be sure to include your mailing address so that I can mail it to you!
your card can be made using ANY Stampin Up Embossing Powders that you have – scented or not – absolutely any!
BONUS – when you use Silver Stampin Emboss that I used above AND an embellishment on your card made using Silver Glimmer Paper on your card this week I will mail two goodies to you!
Be sure to come back on Monday to see if your card was picked by my girls as the favorite of the week!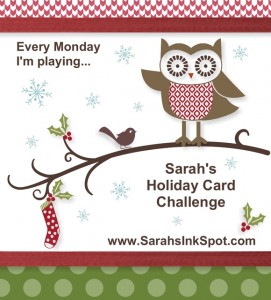 CLICK HERE TO ORDER YOUR STAMPIN' UP! SUPPLIES ONLINE!
Week 3 of my Holiday Card Challenge…