Monday is here again…oh my the weeks are whizzing by…I can hardly believe Halloween is only 2 weeks away!!!
And so Monday brings Holiday Card Challenge day and today I got out some of my favorite tools to play with…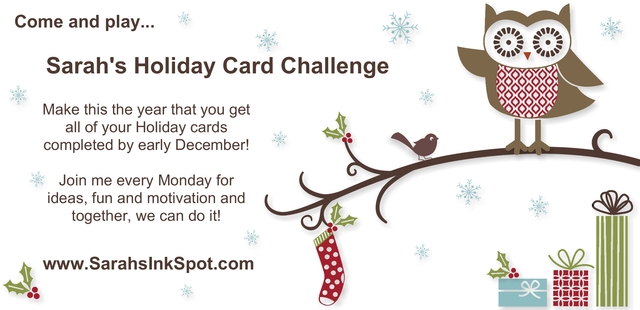 To find out details of what my Holiday Card Challenge is about please look to the end of this post – EVERY participant who takes part & emails a card to me gets a freebie in the mail and you never know, you might be the weekly winner and get a fab prize – so it's worth joining us!
AND the winner of last week's Holiday Card Challenge is at the end of this post so please read on to find out who it was!
Sooo…what product am I challenging you to use this week?  This week your challenge is to use Punches…but there's more…I want to challenge you to use multiple punches meaning at least TWO Punches on this week's card!
Here is my Card for this week's challenge…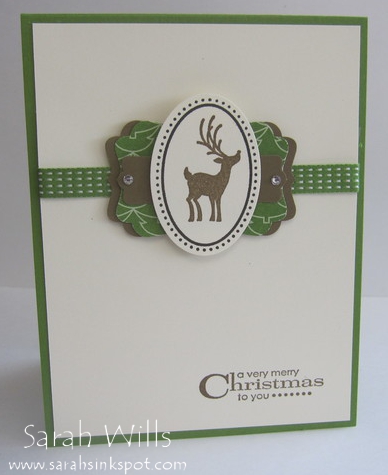 This is a very simple card that features three colors to create a very soft and natural look…
My card base…is Gumball Green and onto it I layered a piece of Very Vanilla and wrapped a piece of Gumball Green Stitched Satin Ribbon (pg 172) around it.
The sentiment…is stamped using Soft Suede Ink and is a stamp from the set More Merry Messages that you can find on pg 15…LOVE that set as it has many phrases in it…
Now my choice of Very Vanilla was it's own challenge for me LOL!!!
Why? Because I ALWAYS make my Christmas cards using Whisper White cardstock – I don't know why, but white for me is for Christmas cards & Vanilla is definitely not…but I have almost run out of White and so made myself use Vanilla instead…and I am so glad that I did because it resulted in this soft look rather than the crisp look that I would have gotten with white!
So I learned from making myself use a different color out of my comfort zone – try it sometime and you might be surprised too!!!

I used three different punches on my card…know what they are?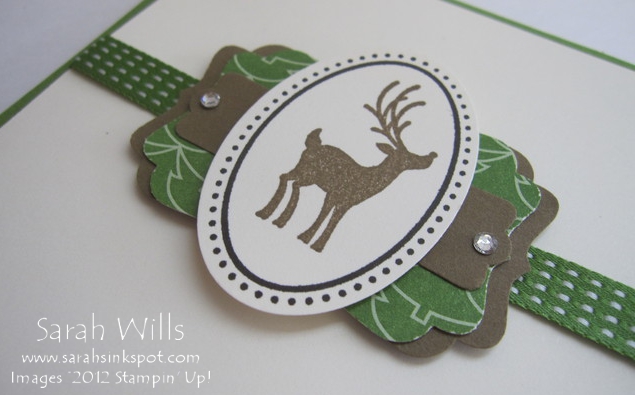 Decorative Label Punch – pg 182 – I used this to punch out a piece of patterned paper from Be of Good Cheer DSP (pg 164) and used the same punch to punch out a piece from Soft Suede cardstock…
I then cut that cardstock piece in half and adhered each end of it behind my patterned paper punched shape, to give that matted look.
Modern Label Punch – pg 183 – I used this to punch out a piece of Soft Suede cardstock and adhered it on top of my other shapes, adding a little Rhinestone to each end.
Extra-Large Oval Punch – pg 184 – I used this to punch out my stamped images…where did I get those stamps from?
The stamps…I found them in the fabulous new set Joyous Celebrations that you can find on pg 7 of the Holiday Mini Catalog – it is a set of 9 and includes the dotted oval frame and reindeer that I used in my card above…
I stamped the oval frame using Early Espresso ink and stamped my reindeer inside using Soft Suede ink…I then punched this oval out using the Extra-Large Oval punch that is sized perfectly for this and added my image to my card using Dimensionals to make it pop out a little…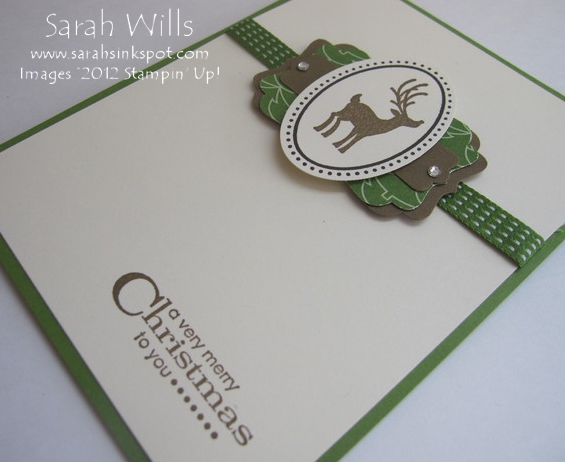 And that is my simple Reindeer Christmas card…so simple, fun & quick to make using my FAVORITE tools – you should see my Punch collection – I am a little addicted to them!!!
Which brings me to my CARD COUNT: I made FIVE of these cards this week giving me a grand total of 25 Holiday Cards made…I'm getting there!!!  How many have you made?
Here are the images included in the stamp set I used – Joyous Celebrations…it is a set of 9 and comes in both wood & clear mount versions…click HERE to view it in the online store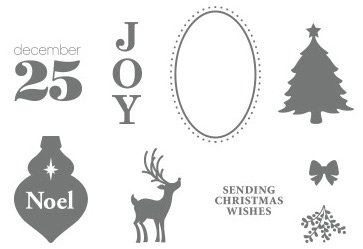 Have fun making your cards this week – and don't forget to email them to me…I'd love to see your creations and you will get goodies in the mail from me PLUS you could be the next Winner of the Week!
Email the Holiday card that you make this week using at least TWO PUNCHES to me at sarah@sarahsinkspot.com and you will get a little gift in the mail from me – be sure to include your mailing address!
EVERYONE who makes & emails their card featuring at least two Punches to me will receive a goodie in the mail!

BONUS – when you use THREE PUNCHES like I did on your card this week I will mail two goodies to you!
Be sure to come back on Monday to see if your card was picked by my girls as the favorite of the week!
WANT MORE INFO ABOUT MY HOLIDAY CARD CHALLENGE?  Find out all about it by clicking HERE
Onto WINNERS CIRCLE – oh my goodness this week was a tough one…every week it seems to get harder to choose just one…but this week was exceptionally hard…your cards are awesome & we all LOVE to see them!
This week we had LOTS featuring reindeer, snowmen, santa, flowers, swirls, trees and glitter galore, but there had to be just one winner…and the girls decided that this is the winning card…
Made by Lora Buehrig, the girls decided it was a winner because they liked it's bright Christmassy colors, glitter, the cute gingerbread man and the edging on the paper…
A BIG congrats Lora!  Your prize is on it's way in the mail to you…enjoy!
FOR NEW CUSTOMERS – PLACE YOUR FIRST ORDER WITH ME USING THE LINK BELOW AND GET A COUPON FOR FREE SHIPPING ON YOUR NEXT ORDER!

CLICK HERE TO ORDER YOUR STAMPIN UP SUPPLIES ONLINE TODAY!
Week 8 of my Holiday Card Challenge with a Reindeer…