TODAY sees the start of the beautiful Spring Catalog – YAY!!!
That's right – YOU CAN NOW ORDER FROM IT – if you don't have a paper copy in your hands you can still view it online – click HERE to check it out in a flip book format…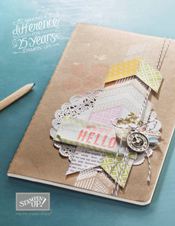 Or click HERE to find the pdf version that you can save to your computer
Want to see how the projects in that Catalog are made?  Click here to find the list of supplies used on each page – you can print this to keep for reference or save it to your computer

THERE ARE LOTS OF FABULOUS BRAND NEW PRODUCTS that you are going to LOVE!
There are new products for all of your upcoming season needs featuring FRESH & VIBRANT colors just perfect for Easter, for Spring & Summer, for Valentine's Day, Baby & Wedding events, Mother's & Father's Day…so many new things!!!
Here is just a sampling of what you will find in there:
FIVE new packs of Designer Series Papers
FOUR new types of Ribbons including the GORGEOUS Flower Trim
DIES & FRAMELITS with co-ordinating stamp sets
TONS of embellishments including shaped Clips, Soda Tops, BIG Rhinestone Jewels…
FUN new products including Canvas to stamp onto, Paper Doilies, Creped Filter Paper…
And GORGEOUS new Simply Sent Kit that you CROSS STITCH onto using pre-made holes – SUPER FUN & SUPER EASY!!!
And SO MUCH MORE!!!
You can make fabulous cards, treats and gifts using them that will wow your family & friends…there are also two limited edition Hostess stamp sets too so be sure to check them out at the back of the catalog.
Not got a paper copy of this fabulous Spring Catalog and would like one?
If you do not currently have a Demonstrator through whom you order, please click HERE to email me and I will get one into the mail to you.
How do you find the new Spring Catalog items?
CLICK HERE TO FIND THE SPRING CATALOG ITEMS IN THE ONLINE STORE!
There are also TWO MORE BRAND NEW PROMOTIONS debuting today – please see the posts below this one for details…
THE SPRING CATALOG IS HERE!!!