The brand new and utterly FABULOUS Bloomin' Bouquet Project Kit has just been released, just in time for Mothers Day and Teacher Appreciation week!
No watering or weeding required LOL for this bouquet of paper flowers – just enjoying!  This gorgeous kit contains all of the flower parts you need to make a Bakers Dozen (13) of absolutely beautiful flowers along with four tags so that you can choose the one that matches your occasion…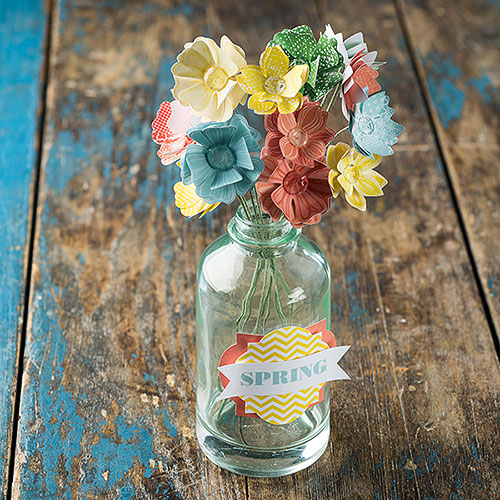 All you need to add is some paper, ribbon or a vase to add the finishing touches to the bouquet.
BUT IF YOU WANT ONE HURRY – THESE KITS ARE ONLY AVAILABLE WHILST STOCKS LAST!
Kit Contents:
2 sheets of pre-printed and precut flowers on 12×12 cardstock
(the colors of those flowers are Pool Party, Gumball Green, Calypso Coral, Daffodil Delight and Rich Razzleberry)
Four Tags
13 Vintage Faceted Buttons
13 Green Floral Wire Stems
What's the cost?
This Kit costs JUST $12.95!!!
Order details – 134542  Bloomin' Bouquet Project Kit – $12.95
How do you get yours?
NEW Bloomin' Bouquet Project Kit is here!!!