Have you ever tried inking up an acrylic block and using it to make a stamped image?
It works – really! – and it gives you the most amazing stamped background and it could not be easier…
I mailed out gift packs to members of my team this week and used this technique on the cards I put in the packages – I also ended up with an assortment of die cut & stamped leaves from projects earlier this month and I incorporated all of those into my cards too…
BLOG CANDY ALERT!!!  I am offering you the chance to win some blog candy this weekend – easy to enter – just leave me a comment – details below…
I love using up leftovers in this way and here are a couple of the cards that I made using them and making a background using an inked up acrylic block…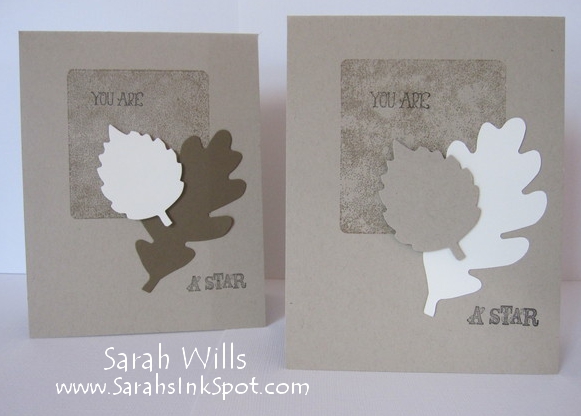 Can you tell that I am loving the natural look right now?!
The card base & background…is simply Crumb Cake and I inked up my acrylic block with Crumb Cake ink and plonked it right down – lift gently away and you get that fab background stamped image – hard to believe, isn't it?
Here is what you do step by step:
Get your card base, ink in the color of your choice (the same color as your cardstock color works really well) and an acrylic block – I am using a Stampin Up Size D Block which is sized 2 7/8″ x 2 11/16″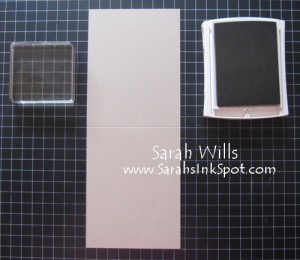 Push your acrylic block onto the ink pad to get a nice coat of ink on there…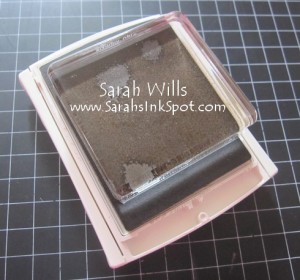 Lift it off carefully and place onto your card base…push down firmly but gently because you don't want to smudge your image…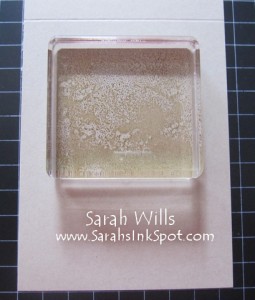 Lift carefully off, again to avoid smudging your image – and voila!  A very cool stamped background image!…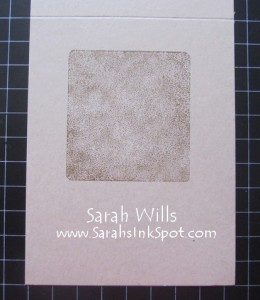 You can stamp images in darker ink straight onto it or do as I have done and place die cut images onto it – whatever you do, your card will look awesome!
Sarah's note – the Stampin Up Clear Acrylic Blocks make this easy because they have recessed edges all around them, which means they are easy to grip and hold them firm & steady…
You can find those blocks on pg 196 of the Catalog or by clicking HERE – they are available individually or you can save money and get them at a 15% discount in a Bundle – I LOVE the Starter Bundle which includes Block D that I used on this card which you can find by clicking HERE – it is just $19.95 and those blocks are an amazing quality and value for money!

The leaves…are made using the Autumn Accents Bigz Die (pg 192) and the cardstock colors I used are Crumb Cake, Soft Suede and Very Vanilla.
I had different leaves too and here is the same card base but with a different style of leaf…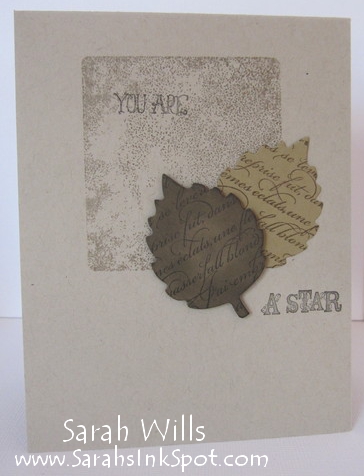 This time they are stamped using the En Francais background stamp  & one is inked on the edges – I love that how they look on this card…
Supplies used to make these cards:
Cardstocks – Crumb Cake (120953), Soft Suede (115318), Very Vanilla (101650), Baked Brown Sugar (131296)
Inks – Crumb Cake (126975), Early Espresso (126974)
Acrylic Block – Size D (118485)
Die Cutting – Big Shot (113439), Autumn Accents Bigz Die (127812)
  CLICK HERE TO ORDER YOUR STAMPIN UP SUPPLIES ONLINE!
WANT A CHANCE TO WIN ONE OF THESE ACRYLIC BLOCKS? 
I have a Size D Acrylic Block up for grabs – the same size I used to make these cards!!!
To enter for a chance to win it, simply leave me a comment and let me know which style leaf you prefer – stamped or not stamped – the winner will be chosen by random.org on MONDAY morning…GOOD LUCK!!!
You can enter ONCE A DAY from through midnight on Sunday- so come back tomorrow and see what project I have to show you and enter again!