Let it Snow, Let it Snow, Let it Snow…I was DELIGHTED to see this month's Best of set has one of my most favorite themes – SNOW!
AND DOUBLE WHAMMY – it features one of my most favorite stamps ever – that cute hedgehog shaped snowman & hedgehog stamp – YAY!!!
This is the 11th 'Best of' set to be released as part of Stampin' Up!'s 25th Anniversary 'Best of' collection and the Best of Snow features 4 fabulous stamps, one of which is never before seen!
In Best of Snow you get the super cute hedgehog snow scene, a beautiful Snowflake, a fab sentiment stamp that co-ordinates perfectly with the Label Bracket Punch (which is featured in the Holiday Catalog) and a cute snowman…
Here are the stamps featured in Best of Snow: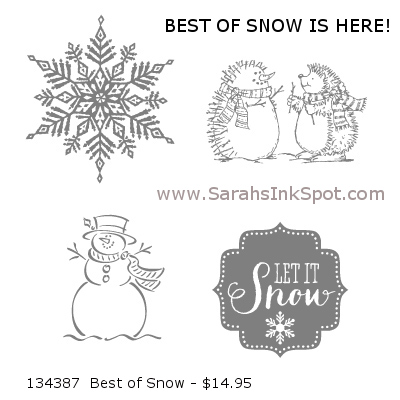 I LOVE LOVE LOVE Snow themed stamps and am so happy that a hedgehog has made a come back as part of them!
How do you order your Best of Snow stamp set?
134387  Best of Snow – $14.95
Click HERE to find it in the online store
Not sure what the 'Best of' collection is all about?
As part of Stampin' Up!'s 25-year anniversary celebration, they're bringing back some favorite stamp images from the last quarter century and combining them into 12 sets, which will release-one set per month during 2013…
Even better, along with some great classic images, each "Best of" set will also include a never-before-seen image!
Each new Best of set will be released for purchase on the 1st of the month
Each month will have a different theme
All Best of stamp sets will include 3-5 images, including that never-before seen image
Each Best of set will be priced at $14.95
All Best of stamp sets are available in Clear-Mount only
AND GREAT NEWS – whilst Stampin' Up! are releasing just one Best of stamp set per month, ALL of the Best of sets will be available until March 31, 2014 giving you time to get em all!
AND EVEN SWEETER STILL…Stampin' Up! are including a Collector's Card and 25-year proof of purchase sticker with EVERY Best of set – collect six stickers, and send it in to redeem a FREE set of your choice valued up to $14.95!
CLICK HERE to print out your Collector's Card and collect those stickers for a free stamp set!
Want to see what other 'Best of' sets are available?
CLICK HERE TO FIND THEM…I update this every month with the newest release being at the top and you will find the images & ordering details with each set
CLICK HERE TO GET YOUR BEST OF SNOW SET TODAY!