When the Holiday Catalog first came out and I saw two of the products in there, I knew that I could combine them into one cute & fun project…
What are those products?  The stamp set Santa's List and Mini Muslin Bags…
Where can you find them?  Both are featured in the Holiday Catalog:
Santa's List is on pg 31 – click HERE to find it!
Mini Muslin Bags are on pg 36 – click HERE to find them

–

THEY ARE ON SALE THROUGH MONDAY 18th FOR JUST $7.46 A PACK!!!

So what project did I have in mind?  This one here – a sack of chocolate 'coal'!  It is so much fun to make and sooo easy – no special ink required – you can stamp on these little bags using any ink pads that you have!  Click on the photo for a larger view…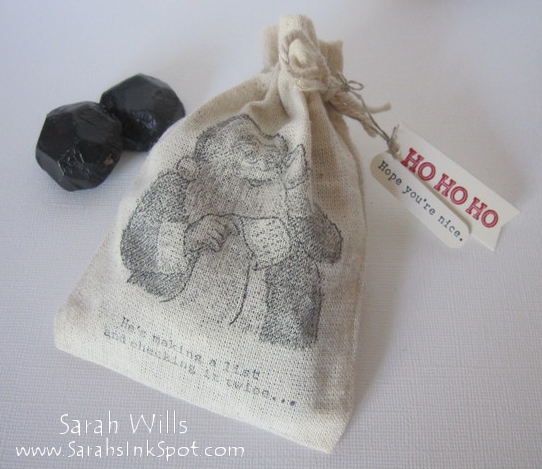 These would make fantastic treats for kids & grown-ups alike and it would take no time at all to make a batch of them!  I plan to make some of my girls & their friends & teachers too!
The bag…Mini Muslin Bags come in a pack of 8 and are super simple to stamp on – I used Stazon Black Ink to stamp my Santa and sentiment because I love the crispness of the images that ink produces but you can use absolutely ANY ink you like – any of the Classic Pads would work just fine!
Isn't that cute?!
I filled my bag with some chocolate 'coal' that I found in my local grocery store – I have seen this in Target & Walgreens too in previous years – it is made called 'Palmer Double Crisp Coal' and cost 99c for a bag – LOVE it!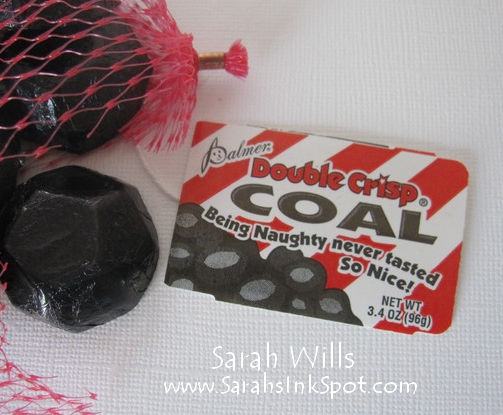 And those bags have a drawstring at the top making it very easy to seal your goodies in place!
The tags…I wanted to make a simple tag to attach to the top and so I stamped the 'Ho Ho Ho' wording using Real Red ink and a stamp from Oh, Goodie! (pg 32 Holiday Catalog) and shaped it using the banner die from Circle Card Thinlits – – the other tag uses the other stamp featured in Santa's List – I stamped that using Black ink and punched it out using my Word Window Punch (pg 180)…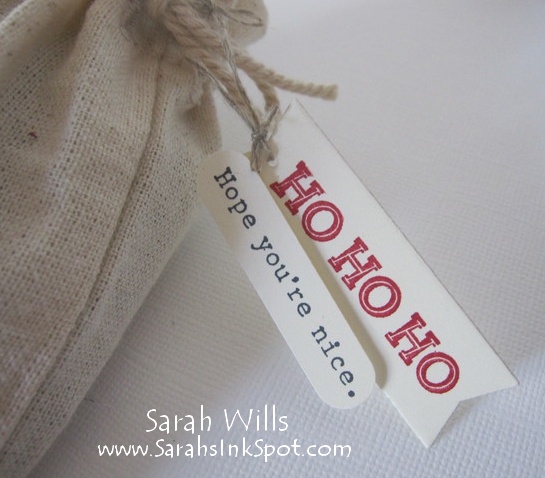 I then made a small hole and threaded through a piece of Linen Thread to tie this to my sack of coal – and that is it – a very simple and very fun project that takes minutes to make!
Here are the images that you get in that super cute Santa's List:
131811 Santa's List Clear Mount – $12.95
131808 Santa's List Wood Mount – $15.95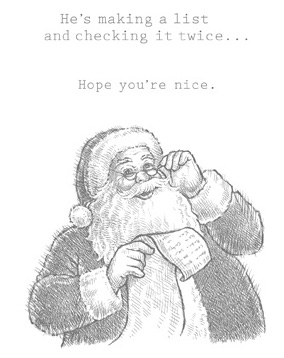 Supplies used to make this project:
Stamps: Santa's List (CM 131811/WM 131808), Oh, Goodie! (CM 131889/WM 131886)
Bags: Mini Muslin Bags (132180)
Inks: Stazon Black  (101406), Real Red (126949)
Cardstock: Very Vanilla (101650)
Tags: Word Window Punch (119857), Circle Card Thinlits (133480), Big Shot (113439)
Misc: Linen Thread (104199), Dimensionals (104430)
CLICK HERE TO ORDER YOUR STAMPIN' UP! SUPPLIES IN THE ONLINE STORE!
So who is the lucky winner who wins my Blog Candy from last week?  She wins a Thankful Tablescape Simply Created Kit, and drawn using random.org, the winner is:
Elsa L – November 9, 2013 at 10:53 pm – who said:
"Such a fun card!  I love delivering meals to people that cant leave their home. My work participates every year with Meals on Wheels."
Congratulations Elsa – please email me with your mailing address and I will get your kit out and on it's way to you!
And don't forget to come back and see what I have to show you tomorrow – I am loving getting back into daily posts and have TONS of ideas coming!!!
And being Veteran's Day I just wanted to take a moment to say a big thank you to those who have served and those who are serving – I am truly thankful for you…
And wanted to show you this cute photo – every holiday our little village has a display featuring geese – and this is how they look today – doesn't that just bring a smile to your face?  Click on the photo below for a better view…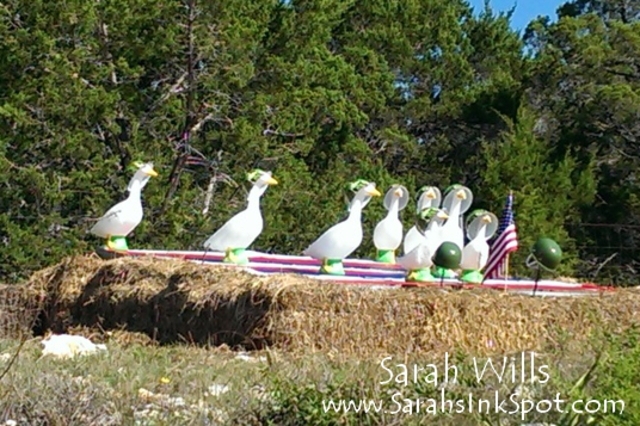 Santa's sack full of coal…