My wonderful friend and upline Stella mailed me a super cute surprise gift – she knows that I love flip flops and she sent me a pair of fab summery polka dotted flip flops which put a HUGE smile on my face (photo of them below!) – what fun happy mail to receive!!!
And so I decided to make her a summery thank you card and it turned out to be a bright, bold & happy one!  In fact it makes me smile so much every time I look at it, that I had to make another to display on my card rack in my stamping studio!
Here it is…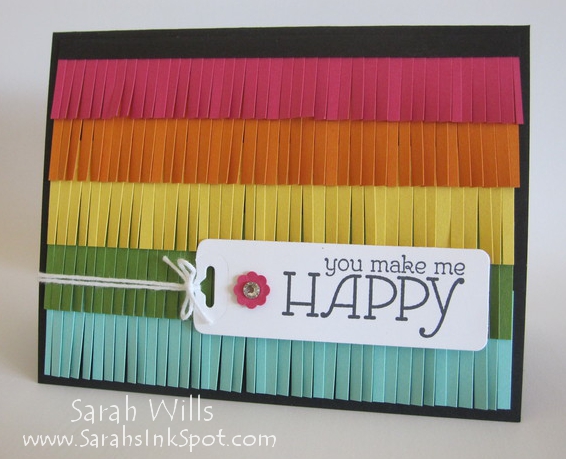 Isn't that fun?  And it was easy and a lot of fun to make using the new Fringe Scissors (pg 31 Occasions Catalog) – you can see below that those scissors feature a row of five blades which means that you can cut a fringe quickly & accurately (without having to cut each bit individually!) – and they are great for upcoming Easter projects where you can easily make grass borders or strips of grass…and by making cross cuts, you can easily make confetti too!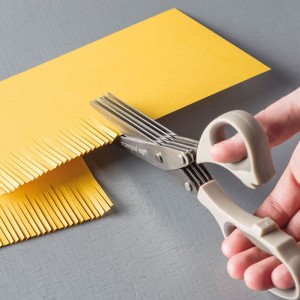 You can find these fun Fringe Scissors in the online store by clicking HERE – and they are a steal of a deal at just $9.95!
The card base…I wanted a dark background so that the colors would pop right out and so decided on Basic Black…
The colorful strips…I wanted bright & bold colors to create a tropical summer theme and went with Melon Mambo, Tangerine Tango, Daffodil Delight, Gumball Green and Coastal Cabana…
I cut a strip of each color to measure 5 1/4″ x 1 1/4″ and then used my Fringe Scissors to cut along each  – I made a 1″ cut to leave a 1/4″ strip along the top edge to give space to run a line of adhesive.
I then attached the first strip to the bottom of the card base by applying a line of SNAIL adhesive along that top edge – I then continued to do the same for each strip, working my way up until the top strip was in place…and to cover the final top edge I added a small 1/4″ wide strip of Black cardstock.
The sentiment…is just perfect for this card and I found it in the set Happy Watercolor (pg 22 Occasions Catalog) – I simply stamped my sentiment using Black ink onto a piece of Whisper White card stock and then die cut the tag shape using a die from Chalk Talk Framelits (pg 187) – to create an opening to thread through my twine I used a small die also in that set to die cut the shaped hole at one end, and then added my tag to my card using Dimensionals…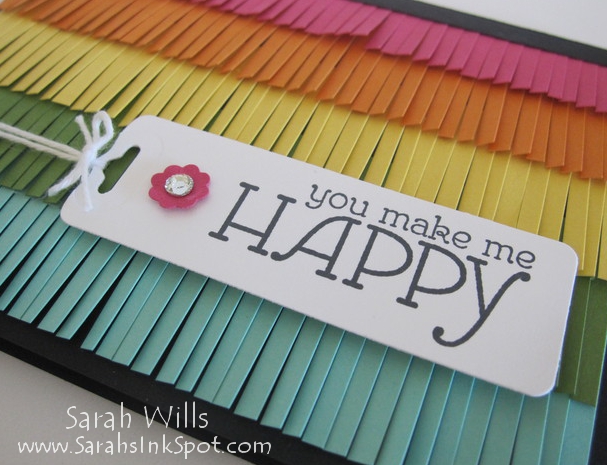 The twine…I then cut a piece of White Bakers Twine (pg 173) to be 6″ long and threaded it through my tag, wrapped it around the edge of my card front and secured it with a piece of scotch tape just behind.  I then tied a little bow onto the end for a cute touch…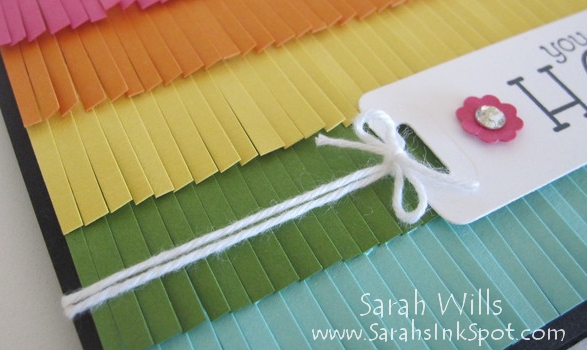 The finishing touch…I wanted to incorporate a bit of color from my card base into the tag and so made a small flower using a scrap of Melon Mambo and the flower punch from Itty Bitty Shapes Punch Pack (pg 180) – I then added a Rhinestone Jewel (pg 171) to the center for a touch of bling…and there you have one cute & summer themed card that would make great invites for summer events!
SARAH'S TIP – ever made a beautiful card and used scotch tape to secure a piece of ribbon or twine to the back of your card front like I did above?  That is great but it doesn't look very pretty on the inside of your card so this is what I do to pretty it up – I simply punch a small shape and adhere it onto my scotch tape like this…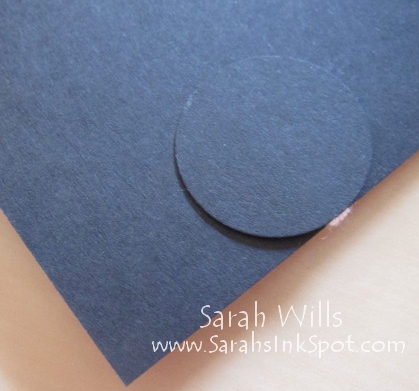 It looks neat and perfectly conceals the not-so-pretty end of your ribbon & tape!
Supplies used to make this card:
Stamps: Happy Watercolor (CM 133191/WM 133188)
Scissors: Fringe Scissors (133325)
Card stocks: Melon Mambo (115320), Tangerine Tango (111349), Daffodil Delight (119683), Gumball Green (126840), Coastal Cabana (131297), Whisper White (100730), Basic Black (121045)
Ink: Basic Black Classic Stampin' Pad (126980)
Die Cutting: Chalk Talk Framelits (129983), Big Shot (113439)
Punch: Itty Bitty Shapes Punch Pack (118309)
Twine: White Bakers Twine (124262)
Misc: Rhinestone Jewels (119246), Dimensionals (104430)
CLICK HERE TO ORDER YOUR STAMPIN' UP! SUPPLIES ONLINE!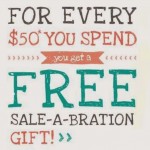 Want to see those cute new flip flops courtesty of Stella?  Here they are, and I absolutely LOVE them – they are so me!!!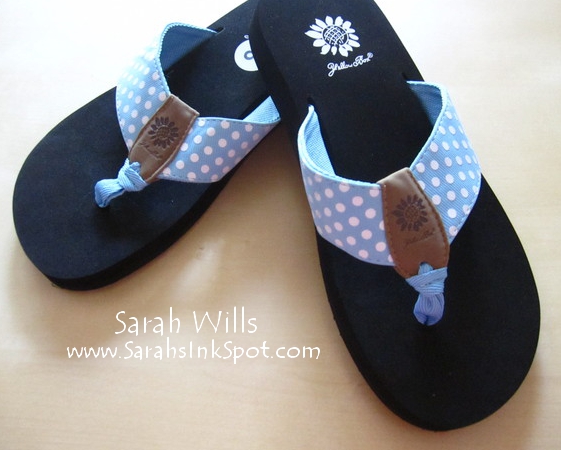 And will be taking them on my upcoming vacation – big hugs & thanks Stella – I hope you like your happy summery card!
Happy Tropical Fringe Card…