Wow what a long time it has been since I have posted!!!  And for a myriad of reasons including being away on the fabulous Stampin Up incentive trip for 7 days…coming home to find a big storm had whacked our internet connection which took 10 days to finally get fixed so I could get back up & running…and then having guests from Australia staying with us for a week…
And so today is my very first day getting back to normal…thank goodness…because there is a lot to tell you about and get done in the next two weeks!!!
To begin with, let me show you some photos from the trip – it was absolutely fantastic – we spent 7 nights on the largest cruise ship in the world – Royal Caribbean's Allure of the Seas – all courtesy of Stampin' Up! and WOW was it huge!!!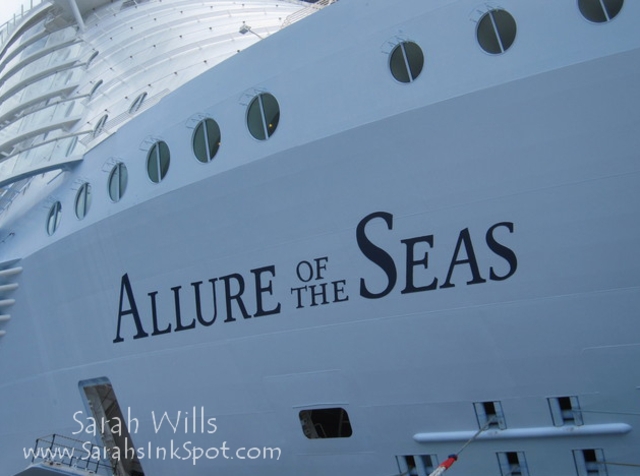 We had not cruised before and we were taking our girls too, so we were intrigued to see how it would be – the ship was absolutely ginormous with so much to see & do – the ship was a destination itself, let alone all of the ports of call!
Here it is at the dock…

Here we are leaving Fort Lauderdale in Florida…the blue sky and sea were the perfect way to start a vacation – my realization that I had left my green card (permanent resident card) at home was not…LOL…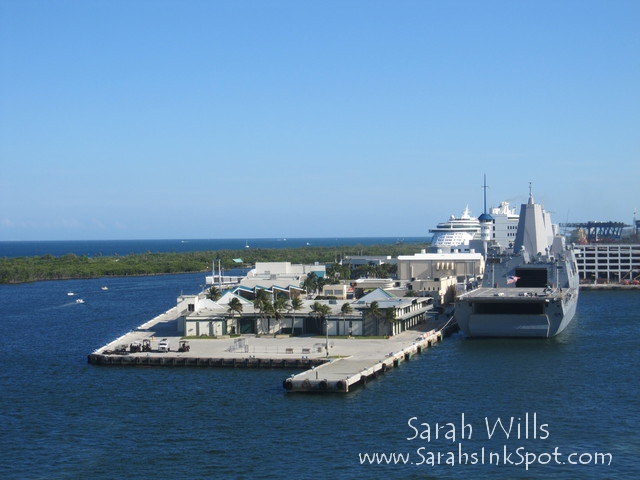 First stop was Haiti…we spent the time on the beach just soaking up the sun and enjoying some fruity cocktails whilst the girls went off to play on big inflatables in the sea…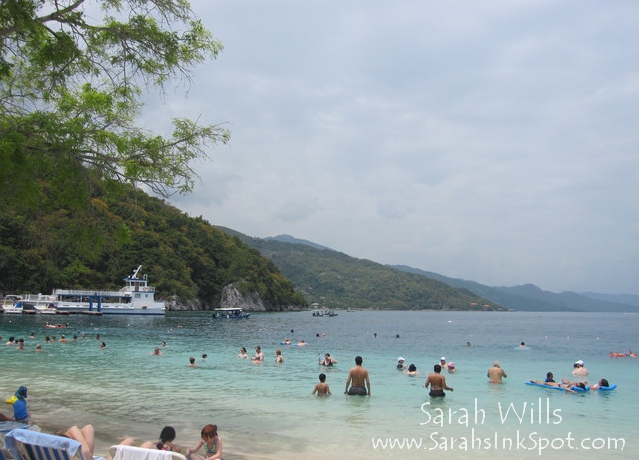 They came back happy and tired…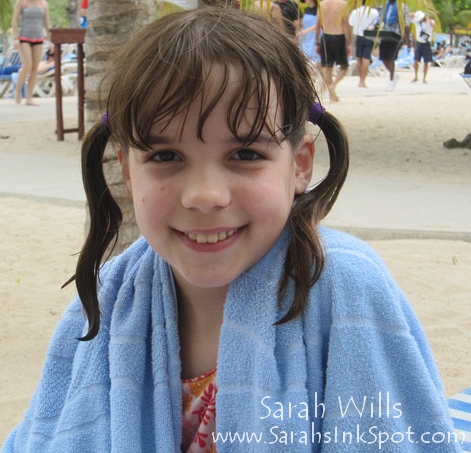 The next stop was Jamaica…we decided to stay on the boat at this port to give the girls a chance to go do some of the fun things without long lines…
Including boogie boarding on one of the two surf machines at the back of the boat…how cool is that?!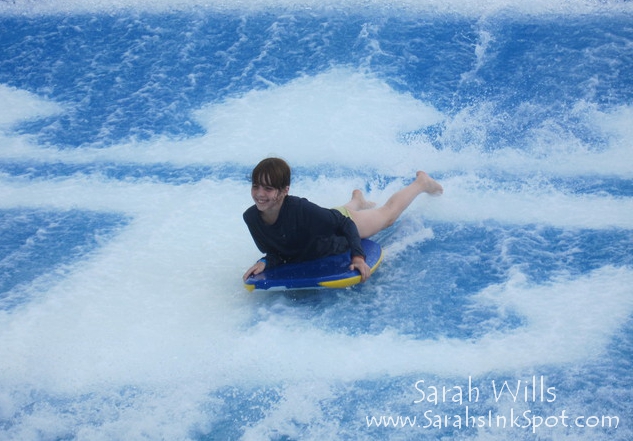 And ice skating…that's right…there is even an ice rink on board!!!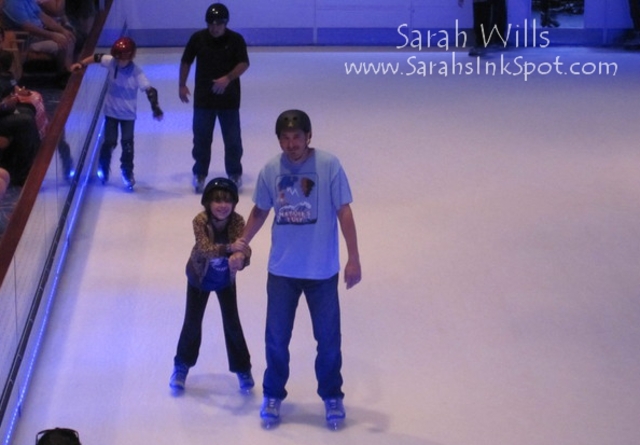 And then on to Cozumel in Mexico…the boats dock near to a big hotel called the Park Royal that you can see below…and we have stayed in that hotel and watched the cruise ships go in and out, so it was pretty funny to be the other way around and be on a ship this time looking at the hotel!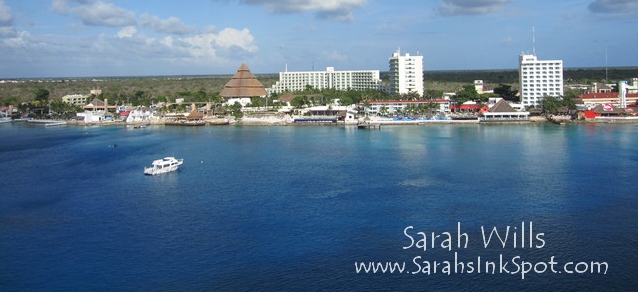 When the ship was moving between ports there was a lot to do…shows to go and see…great food to eat…swimming to be done…the girls brought along some art supplies and got to paint in the stateroom…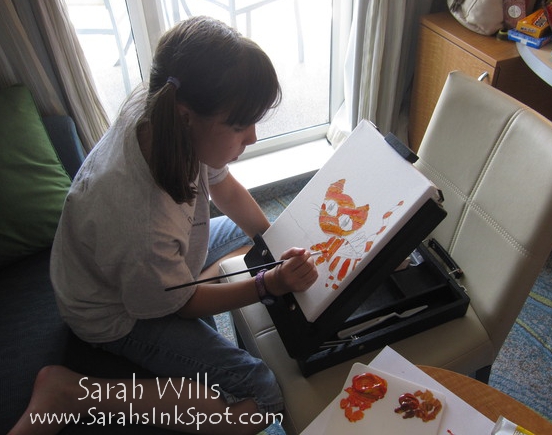 And Stampin Up had a fabulous hospitality room…filled with candy & chocolate, wonderful staff, games to play to win items from the new Catalog and where we could go and hang out, visit with fellow demonstrators from all over the world and old friends.
There were also displays of cards AND some very very cute dress-forms featuring the brand new Ribbons & Designer Series Papers featured in the new Catalog…it was AWESOME seeing these in real life!!!
Here is one of them…isn't that cute?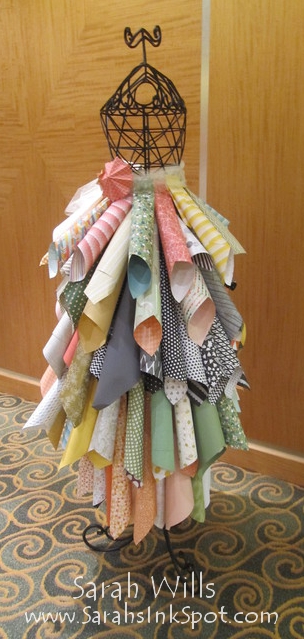 Here is a closer look…I am LOVING these new papers!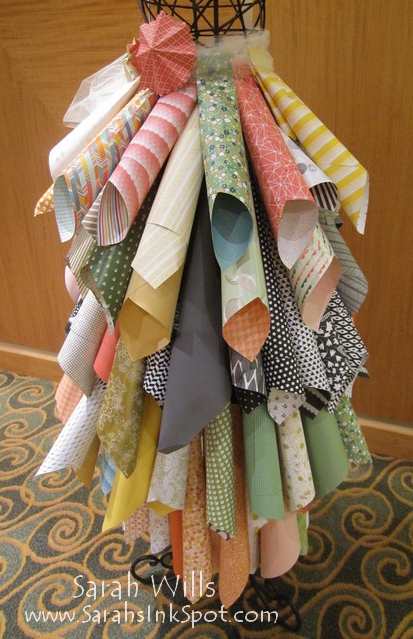 Here is the ribbon one…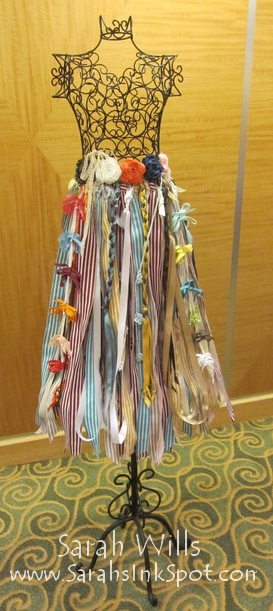 And a close up of that…we have some BEAUTIFUL new ribbons a-comin'…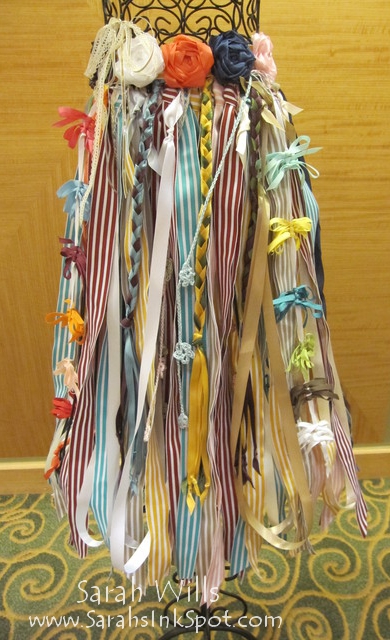 Here is a closer look at my favorite trim…it is called Venetian Crochet Trim and is just one of the new ribbons coming on June 2nd…isn't it beautiful?  Click on the photo below for a closer look…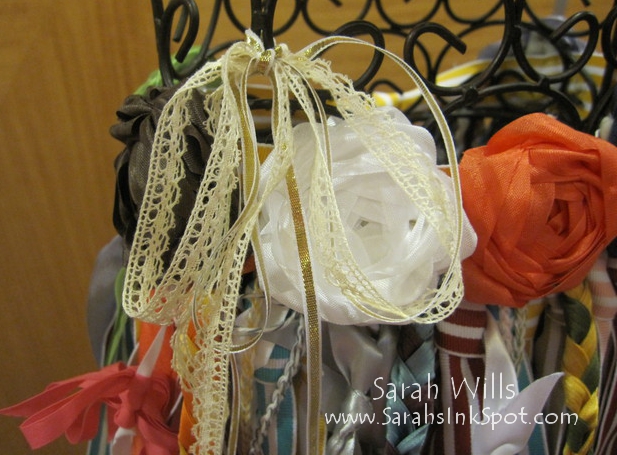 It was a wonderful trip and a great family vacation – thank you Stampin' Up! – we had a blast!
I am catching up fast and will be showing you some fabulous new products over the next week so be sure to subscribe to me so that you get automatic updates into your email when I post new blog entries – you can find the subscribe button is in the left side bar…
Alternatively you can 'like me' on facebook to get my updates in your news feed and to see more photographs that I will be posting to albums there – click HERE to 'like me'!
Back up and running…at last…