I have a bit of an obsession with Mason Jars…the empty ones are beginning to crowd the shelves as we free them up by devouring the produce that we canned last summer and so today I decided to use one of them to show you a cute teacher treat that I love to make.
It's a mason jar that contains a cookie mix – the directions for what to add and how to bake them are on the tag on the back – I love it because it is a unique gift that is a treat but can be put together at leisure…
AND after the cookies are eaten, the jar & lid remain…perhaps the beginnings of another mason jar addict!
Here is my Mason Jar Valentine Cookie Mix gift…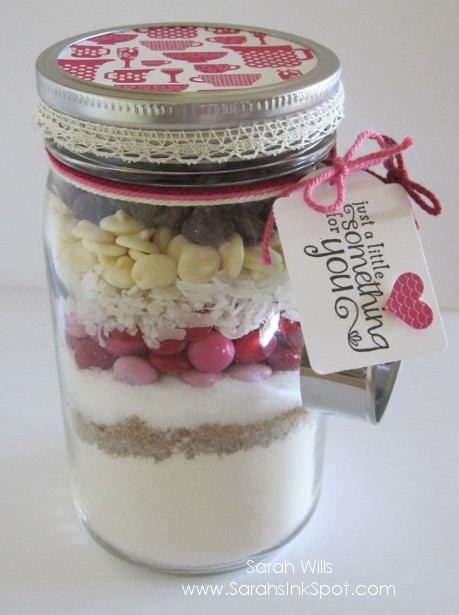 The mason jar…is Quart sized and I like to use wide mouth jars for ease of filling – I use my canning jar funnel to make the process easy…
The cookie mix filling…I found the recipe on www.twomoreminutes.com – I made up a batch and they are delicious and this is the perfect amount to fit into a Quart jar without having to squish it all down…here is a list of those ingredients:
1 1/3 cups flour
1/3 cup brown sugar
1/3 cup granulated sugar
1/2 tsp baking soda
1/2 tsp cream of tartar
1/4 tsp salt
2/3 cup M&Ms
1/2 cup coconut
1/4 cup white chocolate chips
1/4 cup chocolate chips
It layers up absolutely beautifully and you can make this fit for any season simply by changing the color of those M&Ms – I found this Valentine mix at my grocery store and the colors are just perfect for this project…
The lid…I cut a piece of patterned paper from Have a Cuppa DSP Stack that you can find on pg 35 of the Occasions Catalog – I used a die from Circle Framelits to cut it to the exact size I need for the lid of my mason jar – no sticking required – just pop the disk of paper onto the metal lid and screw the band on – quick & easy & the lid is left ready for re-use too!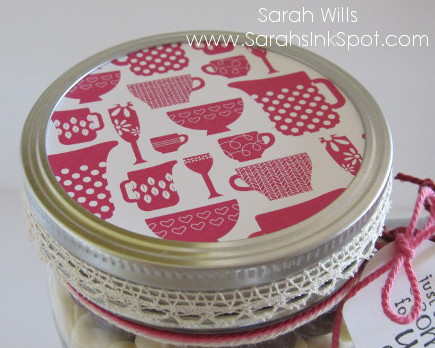 The band…I trimmed it using a piece of Venetian Crochet Trim and love the slight vintage look this gives my project…AND AS A BONUS THIS TRIM IS ON SALE IN THE WEEKLY DEALS THIS WEEK – click HERE to find it!
The tag…I stamped that cute sentiment using a stamp from the set Num Num in Early Espresso ink and punched it out using my Note Tag punch – to turn it into a tag, I punched a small hole in the top using my 1/8″ Circle Punch…
The twines…I wanted to use three colors that are in the jar – pink, red & vanilla – I found two thick twines that were the perfect colors – Very Vanilla and Cherry Cobbler – but struggled with the pink one…
And then I visited the CLEARANCE RACK section of the store and ta-dah – as luck would have it, I found just what I needed – Strawberry Slush twine that is on sale for just $1.40 a spool – a complete bargain and the perfect color to boot!
I wrapped all three around the top of the glass and used the red one to tie a heart shaped silver cookie cutter to my jar and the pink one to tie my tag on…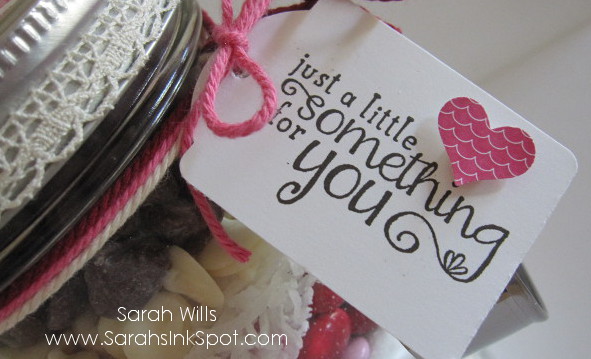 The back of the jar…I printed out the directions on how to make cookies using the contents of the jar ontowhite cardstock, cut it to size and use strong adhesive tape to stick it to the back of the jar…CLICK HERE to find a printable pdf of these directions…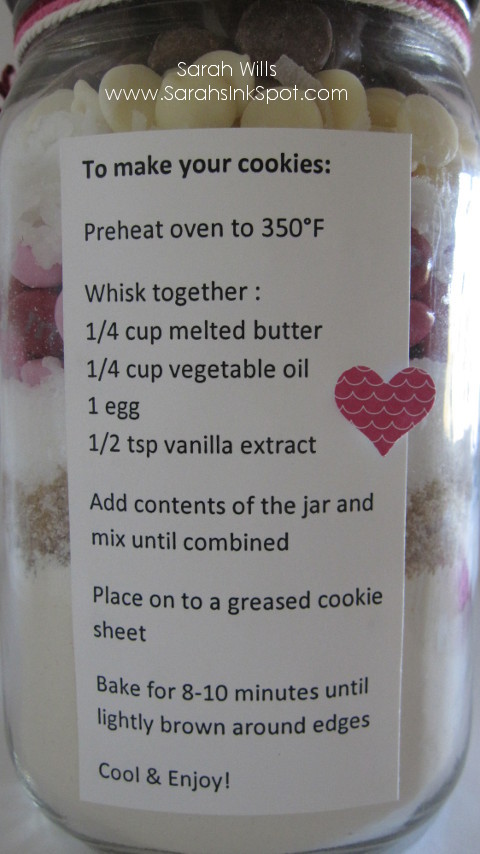 The finishing touch…I punched out two small hearts from another piece of paper from Have a Cuppa DSP and attached them using Dimensionals…this small punch is from Itty Bitty Accents Punch Pack…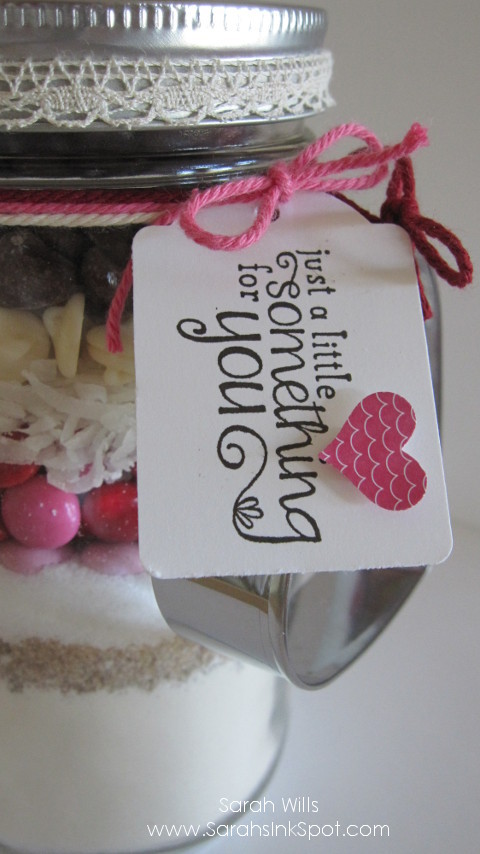 And for me, the lesson learned from this project is to always check the Clearance Rack – you never know – you might find just what you are looking for in there!
Supplies used to make this project:
Stamp: Num Num (CM 134144/WM 134141)
Ink: Early Espresso (126974)
Punches: Note Tag (135860), 1/8″ Circle (134365), Itty Bitty Accents (133787)
Dies: Circles Framelits (130911)
DSP: Have a Cuppa Stack (140567)
Ribbon: Venetian Crochet Trim (134581)
Bakers Twines: Very Vanilla Thick (138411), Cherry Cobbler Thick (138414), Strawberry Slush Thick (135637)
Misc: Mason Jar, Heart Cookie Cutter, Cookie mix supplies
CLICK HERE TO ORDER YOUR STAMPIN' UP! SUPPLIES ONLINE!
Num Num…Valentine's Cookies in a Mason Jar…