A warm welcome to the Inky Friends Suite Designs Blog Hop!  We all picked a Suite from the Annual Catalog to work with and I just couldn't help myself – I chose the Be Merry Suite because…well, Christmas just happens to be my absolute favorite time of the year…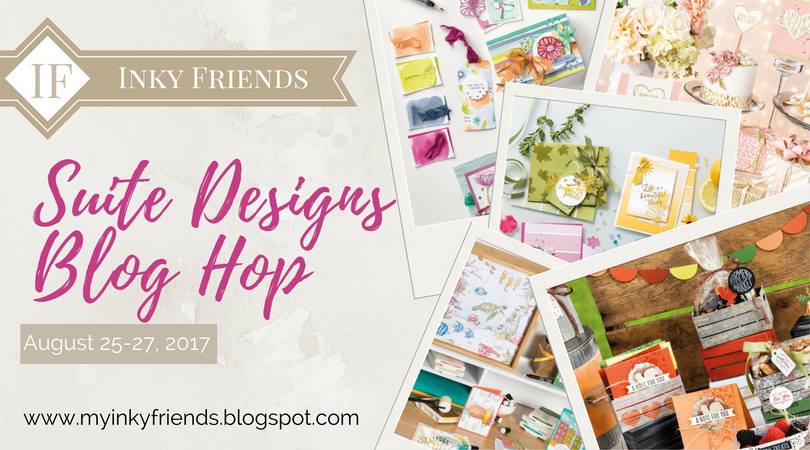 If you are starting here, a big warm welcome – and if you are already hoping in order, you will have arrived from the wonderful Twila Davis' blog who just showed you her beautiful creations using the fab Foil Frenzy Suite…
I have two things to show you today using items from the Be Merry Suite – both are 3-D projects and here is the first…
It's a row of three Clear Tiny Treat Boxes that I connected to one another and popped some wrapped 'gifts' of Hershey Nuggets into the two side ones and a little something different into the center one…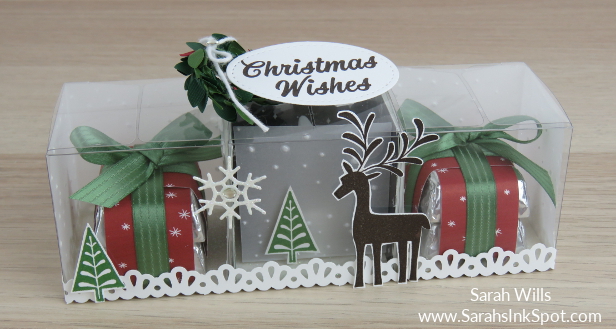 Oh my this was sooo much fun to make and only 1 or 2 Nuggets were eaten during the making of this lol!  The colors in the Be Merry Suite are simply but work so well together – Cherry Cobbler, Garden Green and Whisper White but I did add accents of Early Espresso for things I wanted to stand out…
All stamps that I used are from the set Merry Mistletoe – trees, reindeer and sentiment – and I wrapped the gifts using patterned paper from Be Merry DSP and used embossed vellum for my backdrops…
The tag was cut out using a die from Stitched Shapes Framelits and I added it to one of those absolutely adorable Boxwood Wreaths along with a few berries…you could also pop a gift card under that tag too as there is plenty of room…and do you see what is under that tag in the center box?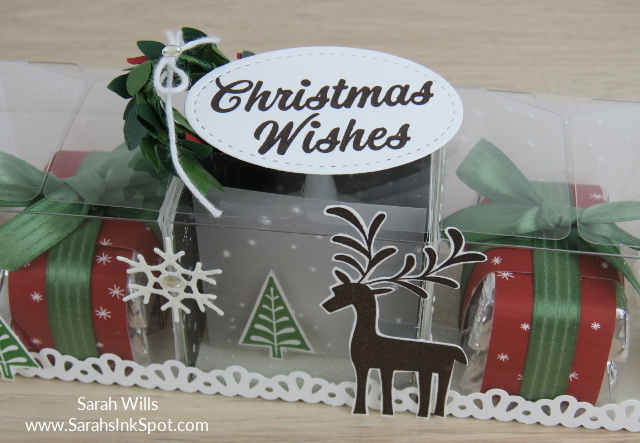 It's a tealight – yes, you can light this little treat up!  Come back on Monday to see it lit up along with more close up photos and there will be a free Project Sheet containing step by step instructions and all supplies that I used to make it.
Now onto my next item – it's a Treat Bag that contains a sachet of cocoa and a square of yummy chocolate – a sweet little package of treats for the upcoming holiday season!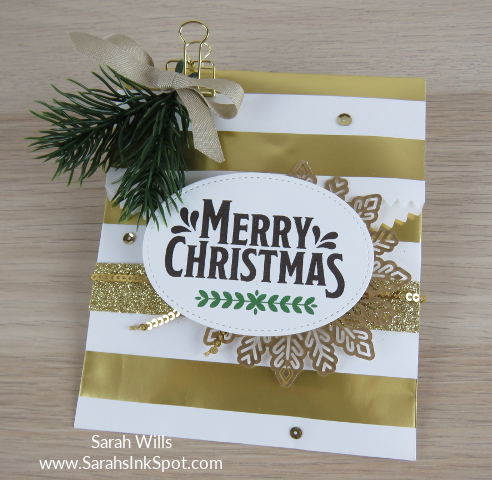 Recognize that gold & white striped bag?  It's the Gold Striped Treat Bag and it's one of the ready made items that Stampin' Up! carries to make gift packaging so much easier – just add a tag and some pretties and what a great way to give some treats!  I modified the bag somewhat so that I wouldn't have a seam showing, and I will have full info about how I did that here on Monday.
The front stamped panel uses two stamps from Merry Mistletoe and can you see the new products I used on it that are coming soon?
The green Sprigs and that beautiful Gold Foil Snowflake will be available for customer purchase on September 1st and I can't wait for you to get them in your hands – I LOVE them both!
I do have a bit of a 'I can't make my mind up' problem with this treat though – I added some circles of Gold Thread to it…then took them off…and then put them back on…and so on…because I just can't decide it I prefer it with or without – what do you think?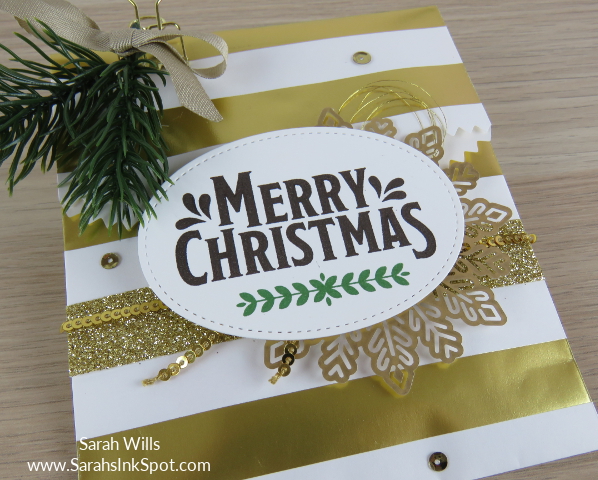 I will have full details & supply lists along with free Project Sheets for both of these projects here on Monday so be sure to check back!
A big thank you for visiting – click on the 'Next Blog' button below to go and visit the talented Shelley and see what beautiful projects she came up with using the lovely Delightful Daisy Suite.
Thanks so much for visiting & enjoy the hop – have a wonderful weekend!

It's the Inky Friends Suite Designs Blog Hop and I am Being Merry…