A warm welcome to the Inky Friends Presenting the Gifts Blog Hop!  We all picked a stamp set to work with and incorporate it into gift giving ideas and I decided to go with the cute set Santa's Suit…

If you are starting here, a big warm welcome – and if you are already hoping in order, you will have arrived from the wonderful Yapha who just showed you her beautiful projects using stamps from You're Priceless.
I am using the cute set Santa's Suit along with it's coordinating set of dies Santa Builder Framelits which you can find on pg 23 of the Holiday Catalog – they are available separately or as the Santa's Suit Bundle – here is what you get in that bundle: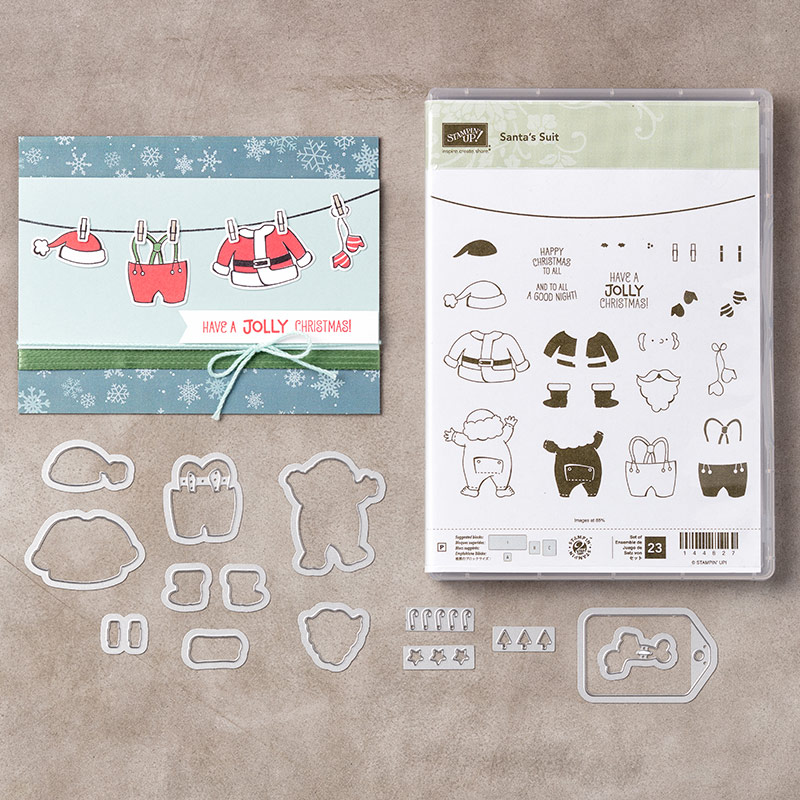 I came up with three gift packaging ideas, all of which are below – because there was not room to describe each in detail, I invite you to come back and visit me next week to find out full details, complete supply lists & more photos along with free Project Sheets for each item starting on Monday!
Here is my first idea – customizing those cute pizza boxes to create window gift boxes to house gift cards, candies or any small items…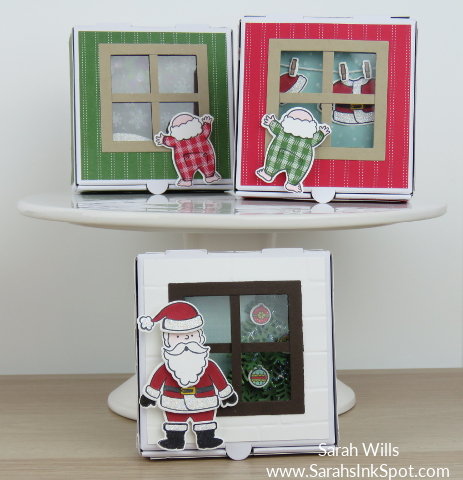 And as you can see, I was having so much fun with these that I made three different ones!  My gosh those stamps & dies are so much fun to work with!
The Mini Pizza Boxes come in packs of 8, are food safe and you can use them as-is or you can customize them if you want to get your craft on like I did!  I wanted to create windows for Santa to peek through – two have Santa indoors in his underwear looking outside and on the third one he is standing outside all dressed up and you get to see a room indoors through the window.
Here is my absolute favorite one…hehehe…I love how he is looking at his clothes on the line outside!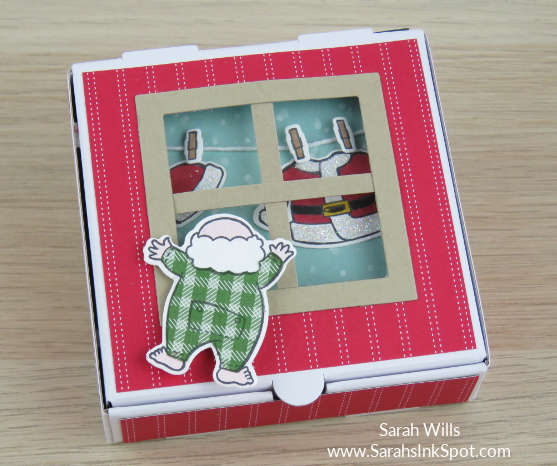 And here is the one where is standing outside the house and through the window you see the Christmas tree…I love how 3-Dimensional that tree looks!  It is fun and easy to make with some dies and glitter for some sparkle!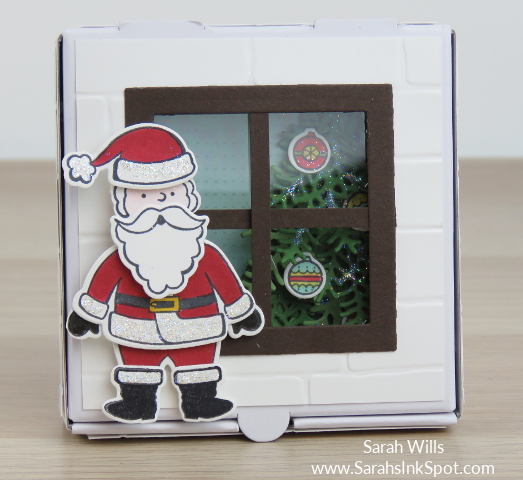 You get ALL of the stamps & dies to create both Santa styles you see above in the Santa's Suit stamp set – it really is a great investment.  I will show a close up of the third one along with full details next week!
Now on to my second idea…I saw a pack of red & black gloves in Target this week and wanted to add tags to them to gift them but how to bling it up…I had a light bulb moment as I was putting away a mason jar this week and I realized that a pair of gloves would fit perfectly into a pint sized one!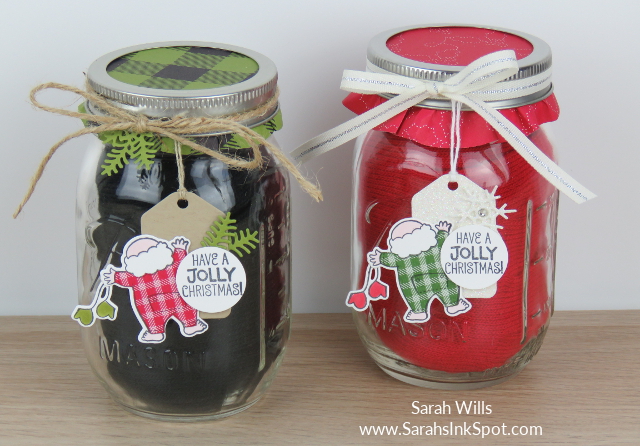 Mason jars are such an awesome and cost effective gift container – and reusable too!  Make a cute gift tag, add some ribbon and circle of DSP and bingo – you have a cute gift ready to go out of the door!
See that basic tag shape?  That is cut using a die that you can also find in Santa Builder Framelits – how neat is that?  And I love how big the hole in the top og the tag is, so that you can get thicker ribbons through it.
Here is a close up of one of the tags…isn't his little gingham outfit cute?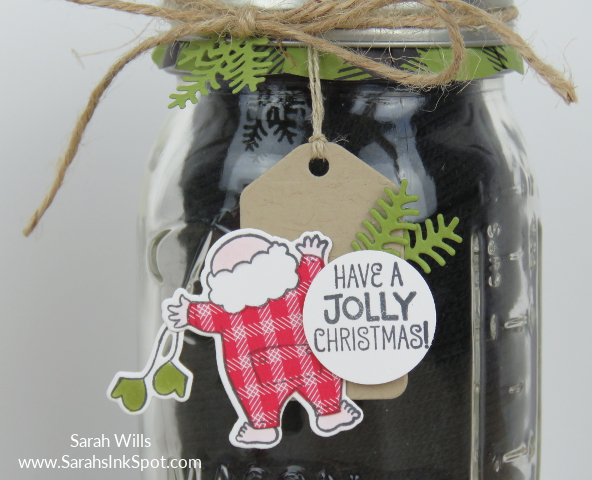 I love paper piecing patterned papers onto stamped images like I did above – it makes them look SO good!
Now for my third idea…I wanted a cute way to package a gift card and I found inspiration from a swap I received from my lovely friend Kelly Acheson a few years ago…
Isn't that cute?  Again, all stamps & dies used to create Santa's face are from the Santa's Suite Bundle – I am totally in love with that bundle!
Slide off the belly band and open that top flap to reveal this…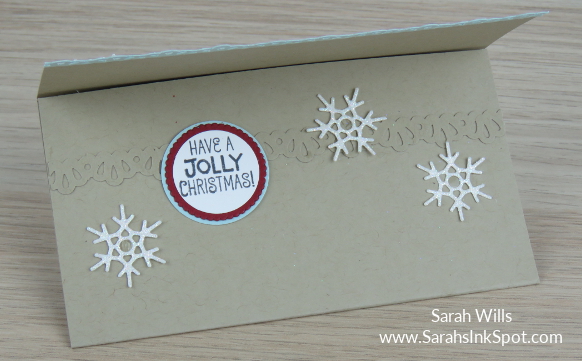 And when that top flap is fully opened, this is what you will see…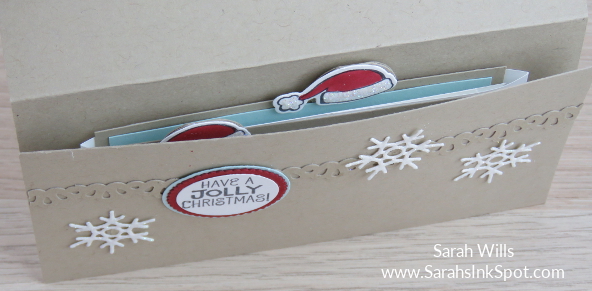 Want to see what's inside there?  You'll have to come back on Monday to get the measurements, more photos and free tutorial sheet as I don't have space to post it all here today but here's a hint – somewhere there is an altered envelope!
A big thank you for visiting – click on the 'Next Blog' button below to go and visit the talented Rhonda and see what super cute projects she came up with…
Thanks so much for visiting & enjoy the hop – have a wonderful weekend!

It's the Inky Friends Presenting the Gifts Blog Hop with Santa's Suit!