If you are here then you likely received November's 'Thank you for your Order' Make & Take Package in your mailbox…
In it you will find a simple Holiday Gift Thank You Card Kit, a Snowman Treat Kit and some Samples of beautiful Designer Series Papers…
If you didn't receive one of these packages and are wondering what it is all about, let me explain…
This is a fun free treat for my customers – both existing and new customers – when you place an order with me I am going to mail you a Make & Take Card package of the month – this will happen for EVERY month that you order with me!
every month will feature a different Card Kit Make & Take
you will also receive a 3-D Make & Take
every month you will also receive some samples in your package too
the Make & Takes will contain current & seasonal images & embellishments incorporating new products
There is NO dollar amount of spending required to get yours – EVERY customer who places an order with me for ANY amount will receive that month's Make & Take – I have done this so that my Digital Download customers get treats for even their smallest orders too!
Please note – this is limited to one Make & Take package per customer per month
This is what you will be making with your kit contents…instructions are below…

The card…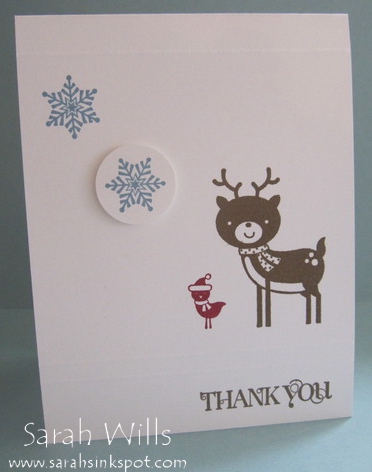 And Snowman Treat Tube…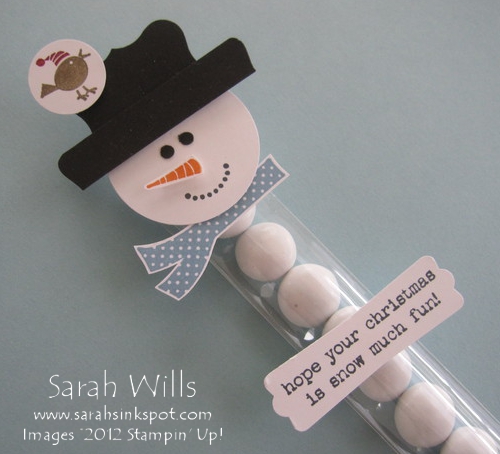 PLACE AN ORDER WITH ME DURING DECEMBER AND YOU WILL RECEIVE MY NEXT PACKAGE!
What will be in it?
A Spring themed Card Kit containing all the pre-cut, scored & embossed cardstock, DSP & embellishments

A

Valentine Treat Bag Kit containing a bag, a pre-cut topper base, and everything you need to complete it

A sampling of goodies FROM THE BRAND NEW UPCOMING SPRING CATALOG!!!

How do you place your order?
Place it in my online store by clicking HERE

Add items to your Shopping Bag, checkout using any debit or credit card and you items will ship directly to you!
NOVEMBER'S 'THANK YOU FOR YOUR ORDER' MAKE & TAKE PACKAGE
This month you received samples of Designer Series Papers, a simple Holiday Gift Thank You Card Kit and a Snowman Tube Treat Bag with Topper.
Sample Baggie:
In your baggie you will find the following samples ALL from the Holiday Catalog – cut to be a useable size so that you can get a good hands on look at them and can use them on a card or project…

Cute papers from Snow Festival DSP – pg 10
A square of paper from Orchard Harvest DSP – pg 28 – and co-ordinating die cut corn cob made using a stamp from Perfectly Preserved & cut out using a die from Cannery Set Framelits
Core'dinations Cardstock – in both Cherry Cobbler and Early Espresso – pg 6 – the textured look is gorgeous but you can also tear & sand this paper for an easy distressed look!
Big piece from Festival of Prints DSP Paper Stack – pg 20 – fab value as you get 48 sheets of paper in this pack for JUST $6.95!
Snowman Tube Treat:
You received all of the supplies that you need to make this adorable Snowman Tube Treat…isn't it cute?  This would make a great kid, friend, co-worker and teacher gift…or table placement treat for your Holiday dinner table…

You will need to provide the candy to fill the tube – I found some white minty M&Ms in Target…

To put your treat together:
Snowman:
Take your two black punched pieces (made using the Curly Label & Decorative Label punches)…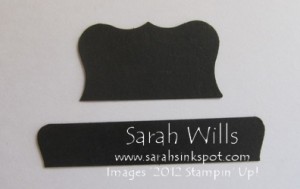 Attach the long piece to the short piece to make the hat – I used Dimensionals to do this…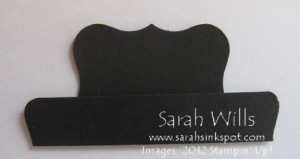 Take your white circle and onto it you need to make the face – you can use a Black & Orange Marker to draw the features or do as I did and use stamps from the set Stylin Snowfolk…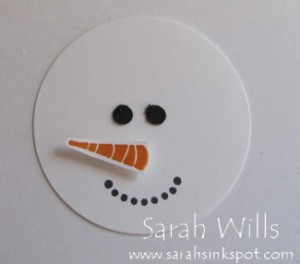 Then simply add the hat to your snowman's face and it is as easy as that!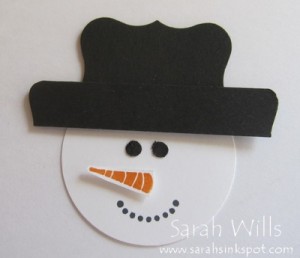 Add any other little features you would like to – such as the bird & scarf like I did on mine (again, using stamps from Stylin Snowfolk) – if you would like, you can add a sentiment to the tube – I used a sentiment stamp from the set Snow Much Fun.
Lastly, fill your tube with candies and seal at the top – attach your snowman the top of your tube and there is one CUTE treat!
Simple Holiday Gift Thank You Card Kit:
In your Card Kit you will have all the consumable supplies you need to make this card…and I have pre-scored it for you…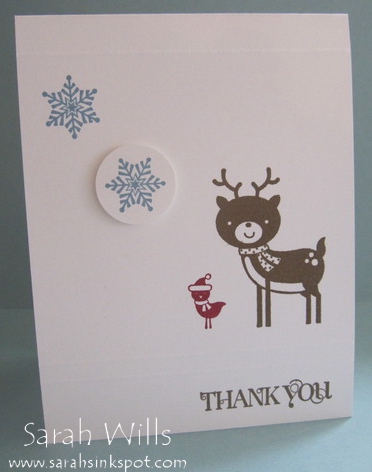 It's tough to see but there are 3 score lines on this card front which provide some depth and feature to it…
Two lines are scored below the deer, providing the perfect place to stamp a sentiment beneath it – you can also tie around a thin piece of ribbon or bakers twine between them if you chose…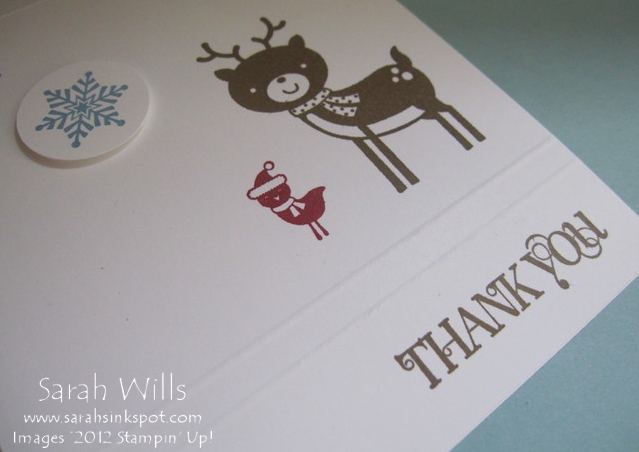 And one is scored near the top…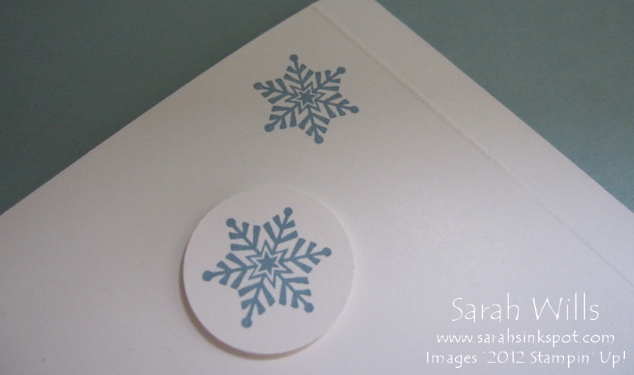 Your card is scored with those 3 score lines – ready for you to stamp whatever images you would like onto it!
I went for 'cute' and used stamps from the set No Peeking (pg 28) to stamp the deer & bird…and a stamp from Jolly Bingo Bits (pg 22)…and my sentiment is from the set Curly Cute (pg 138)…
Have fun making yours!
Those scored lines are super easy to create using the Simply Scored Scoring Tool that you can find on pg 181 of the Catalog…click HERE to find it online!

That tool comes with markers that you can set for all 3 of these score lines which is fab when making a bunch of the same card – you don't have to remember measurements, the markers show you where to score
Wishing you a WONDERFUL Holiday season full of fun festivities!
Kind regards,
Sarah