I've been wanting to make some of these for a while, so yesterday when I was in a home improvement store I picked up a stack of tumbled travertine tiles to play with…and look how they turned out…
What fun they are to make…and what a wonderful gift to give…by simply stacking 4 of them and adding some beautitful Satin Ribbon* you can package them up and they are ready to give…and oh so cost effective – the tiles cost just 50c each!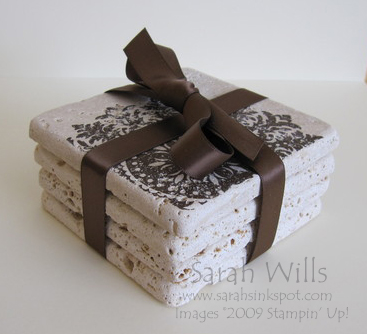 I used my Medallion stamp that you can find on pg 133 and Stazon Ink – I took my tiles and washed them to get rid of any loose dust.  Once completely dry, I stamped my image and then placed the tiles in a 350F oven for 15 minutes to heat set the ink…
Once your tile is cool simply apply some cork or felt 'feet' to the back to avoid scratching your furniture – I have a photo of the back of the tile in my gallery which you can find to the right.   If you use a waterproof ink such as Stazon then you are done – it is that easy!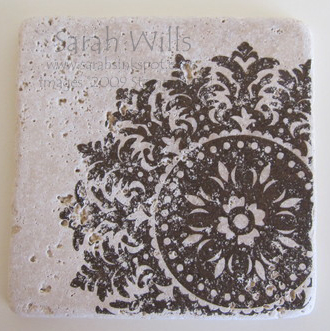 If you use other inks or pastels to color in an image then after heat setting your tile you will need to use a sealer to protect your image.  Other stamps to try that would look fabulous on these tiles are the background stamps found on pg 134 – I think Tres Chic, En Francais and Bella Toile would give fabulous results.
You can find different tile types to suit your style – I love these tumbled travertine tiles as they are absorbant and have a very rustic look – you can get some other types of natural stone tiles that are smoother and will give you a more elegant smooth finish.
RIGHT NOW SALE-A-BRATION IS GOING ON – this means you get a free product for every $50 you spend – if you were to buy the Medallion stamp ($17.95) plus a Stazon or Craft Ink Pad ($7.50-7.95) as I used above  you would already be halfway to getting your free item!  Click here for more details…
* Nine new colors of the beautiful Satin Ribbons are available in the Occasions Mini Catalog – I also have spots available in a Satin Ribbon Share – please click here to find out more information…