Did you enjoy the Blog Hop?  I hope you gained lots of ideas and inspiration from the fabulous work…Below you will find further details of how I made my items along with the delicious and easy to make Banana Bread and Load Pan  Wrapper template and the lucky winner of my Blog Hop Candy…you can find close-up photos in my gallery which you can find in the sidebar or by clicking here…please read on for details…
I used the stamp set Good Neighbors – you can find it on pg 6 of the Sale-a-bration catalog which you can view online by clicking HERE – it is a set of 10 stamps featuring cute houses, trees and clouds making me think of spring time, moving house and new neighbors…totally versatile…very fun to play with and it jumped out at me as soon as I saw it…
I got the new Clear Mount version of this set and let me tell you – I LOVED using it with those Acrylic Blocks – all 4 sides are grooved giving you a fabulous grip – you can find them on pg 6 of the Occasions Mini Catalog and more details about this new option by clicking HERE
For my first project I made a very simple but elegant moving announcement…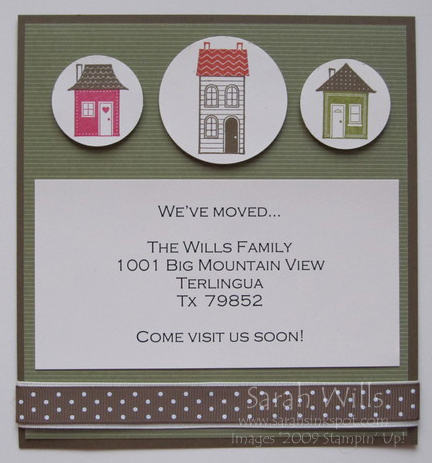 The card is sized 6″x6″ and the base is Soft Suede – I matted onto it a piece of paper from the Welcome Neighbor DSP Stack – which you can get for FREE in the Sale-a-bration Catalog and it has an amazing 72 sheets of paper in it!  I tied around a piece of Very Vanilla Satin Ribbon from the Occasions Mini Catalog and a piece of Soft Suede Polka Dot Ribbon on top of that – I have a Ribbon Share open right now for the new Satin Ribbons that you can find in the Occasions Mini – please click HERE for details…
I printed my text onto a piece of Very Vanilla cardstock and adhered it to my card –  I stamped my houses using Melon Mambo, Soft Suede, Old Olive and Dusty Durango inks and used my 1 1/4″ and 1 3/4″ Circle Punches to punch them out – I then attached them using dimensionals for a 3-D look…
Then I got to thinking about what you could do for a new neighbor gift and what they would really appreciate – home-baking always goes down well and I love to give gifts in re-usable containers…but how to combine these with paper, stamps and ink…so I put my thinking cap on and this is what I came up with…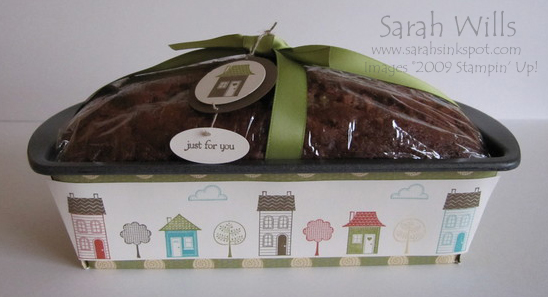 Here is my loaf of delicious Banana Bread – although I think it's identity is a bit confused as I think it is more like a Banana Cake LOL – I took a standard 2 lb loaf pan and baked my bread…cake…whatever it is, it is yummy!  Once I had removed it to cool, I washed the pan and made a loaf pan wrapper using papers from the Sweet Pea DSP Stack that you can find in the Occasions Mini on pg 33 – TO MAKE IT EASY FOR YOU TO MAKE YOUR OWN LOAF PAN WRAPPER I HAVE THE DIMENSIONS AND DIRECTIONS THAT YOU CAN FIND BY CLICKING HERE
I then took my cute house stamps and stamped them onto two 12″ strips of  Very Vanilla cardstock and adhered them to each long side of the wrapper- to make it easy to line my houses up along the bottom edge, I simply used my Stamp-a-majig and drew a faint pencil line that I gently erased once I had finished stamping –  the ink colors I used are: Soft Suede, Dusty Durango, Old Olive, Bermuda Bay and Crushed Curry
The Stamp-a-majig (SAMJ) is one tool that I reach for almost everytime I stamp – want to know how this essential tool helps you to easily position your  stamps perfectly? CLICK HERE FOR MY TUTORIAL!  You can find it on pg 191 of the main Catalog and it is priced at just $11.95 – and using your SAMJ you can create positioning sheets for each stamp set that you own by cutting squares of  translucent papers such as vellum sheets, stamping on the images and storing the sheets with each set making for super fast and easy stamping!
I wrapped my Banana Bread in clingwrap and tied around some gorgeous Old Olive Satin Ribbon from the Occasions Mini and made a tag to hang from it with Linen Thread – the tags are simply made using Circle and Oval Punches and the Just for You sentiment is from the set Teeny Tiny Wishes that you can find on pg 145 of the main Catalog.
And so that the recipient can make the Banana Bread themselves, I stamped a Recipe Card using the set From the Kitchen of (pg 126) to give to them too – I matted it onto a mat that I made using the Scallop Trim Border & Scallop Trim Corner Punches – you can find the corner punch in the Occasions Mini and you can get the Border punch FOR FREE in the Sale-a-bration catalog – how cool is that? You can write the recipe onto the card using a co-ordinating Stampin Write Marker…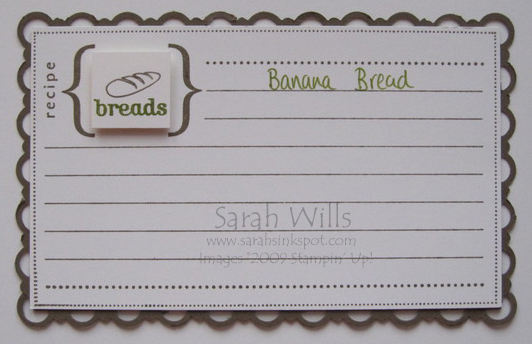 That Banana Bread/Cake is sooo yummy – would you like the recipe?  Here it is…courtesy of my fabulous friend Jennie:
2 cups all purpose flour
¾ teaspoon baking soda
½ teaspoon salt
1 cup sugar
¼ cup softened butter
2 large eggs
1 ½ cups mashed ripe bananas (about 3 bananas)
1/3 cup plain low fat yogurt
1 teaspoon vanilla extract
1. Preheat oven to 350 degrees F.
2. Combine flour, baking soda & salt in a bowl.
3. In another bowl, beat sugar & butter at medium speed until well blended, then add eggs one at a time beating well after each addition.
3. Add banana, yogurt and vanilla and beat until well blended.
4. Add in flour mixture and beat at low speed just until moist.
5. Spoon batter into a 2 lb or 8 ½" x 4 ½" greased loaf pan
6. Bake at 350 for 1 hour or until a wooden pick inserted in centre comes out clean.  Cool 10 minutes in pan, then cool completely on a wire rack.  Note – Banana Bread should form a crack down the centre as it bakes.
For my final project, I decided to use these stamps for reasons other than the moving house theme and made a general occasion card that you can give to anyone, anytime…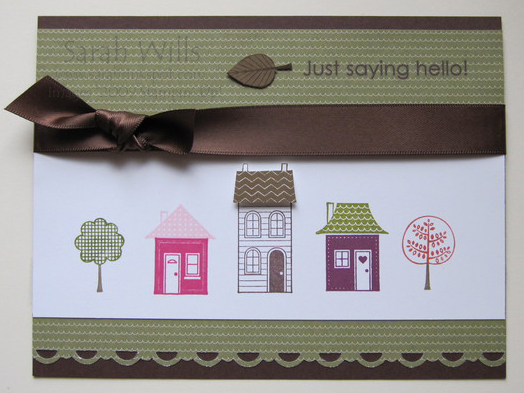 The card base is Chocolate Chip onto which is layered a piece of paper from my free Welcome Neighbor DSP Stack – I trimmed the bottom edge using my fabulous  free Scallop Trim Border Punch.  I stamped my house scene with the aid of my Stamp-a-majig onto Whisper White cardstock and adhered it to my card. For my  sentiment I took a rub-on from Chit Chat Rub-ons that you can find on pg 177 of the main catalog (LOVE that pack – it has 2 sheets of sentiments covering all occasions and is fab value for money!) and then added a little embellishment that I made using a tree stamp to the side.
Finally I tied around a piece of Chocolate Chip  Satin Ribbon from the Occasions Mini Catalog and secured with a knot in front – voila – a cute and elegant all-occasion card…
And they are my project details…I hope you enjoyed them…if you have any questions  please Contact Me and I will be very happy to help.
And finally the winner of my Blog Candy…it is comment no. 36 – congratulations PATRICIA HOFFMAN!  She said:
"All of your projects are great! I really like the Just Saying Hello Card. The We've Moved Card is super cute too and who wouldn't love to receive some of that yummy Banana Bread with the pretty decorated pan? You are very creative. I have been following your Blog, although I don't comment often. I know I should do a better job of it. Thanks for the generous offer of the Blog Candy, and I can't wait for that receipe. You've put me in the mood for some banana bread. Lol.  Trish in Wisconsin"
Congratulations Trish – I'll be emailing you shortly…
Thank you so much for visiting me – if you would like to be notified automatically every time I post to my blog you can  find a link to subscribe in my sidebar to the right – have a fab Tuesday!
Sale-a-bration Blog Hop Tutorials, Candy Winner and Details…